11 Benefits Of Using RC Toys For Children
We may earn commission from links on this page at no extra cost to you. We only recommend products we back!
Using RC toys can be a lot of fun for children. They are of the age that they are. They are even for adults! There are a lot of different types of RC toys, from helicopters to tractors. And each one teaches your son or daughter different skills. Even very young children can enjoy toys of this type. 
Babies love to see the RC toy move on its own, and when they are a little older and learn to move on their own, they will enjoy chasing the remote control like never before.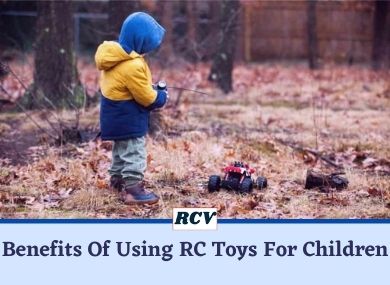 Young children love to play with remote-controlled devices, and for those who are slightly older, these types of toys can be a great source of fun and a great way to socialize with others.
The 11 Benefits Of Using RC Toys
If you are doubting whether to buy a radio-controlled toy for your children or not, we have prepared a list with all the benefits they have:
They will improve your ability to have fun.
They will learn different skills with them.
They will enjoy a new hobby.
They are a great way to socialize.
They develop their motor skills.
They learn about the action-reaction effect. They will see that an action they take can have consequences.
It will increase and enhance your imagination.
They will develop hand-eye coordination.
They will learn to relate better to others.
They will be able to improve their artistic and engineering skills.
They will discover new outdoor places where they can spend time.
Benefits of using remote control toys for toddlers
Young children can develop their motor skills through the use of remote control toys. They will learn about the action-reaction effect as they discover which buttons make the toy move in one direction or another.
Many of the radio-controlled toys for young children have fun features that make them even more attractive to them. They can feature sound and lighting effects that further encourage imaginative play.
Also, parents can organize obstacle courses with ramps for their toddler to drive the car up and down, or tunnels for them to pass through. This is a great way to develop a toddler's hand-eye coordination.
Benefits of Using RC Toys for Older Children
For older children, these toys offer a great way to build relationships with siblings, friends, and even their parents.
By choosing a toy with more than one channel so that several vehicles can compete at the same time, children will learn to respect turns and establish a respectful relationship by avoiding colliding their toys with those of others.
There is an incredible variety of remote control toys that must be built before they can be used. Building a toy together is another great way for parents and children to spend quality time together, collaborating, and getting to know each other better.
Some radio controlled toys can be painted and decorated, and others can be customized to suit your little one. Doing these types of tasks is great for kids to practice their engineering and artistic skills.
Using an RC vehicle is a perfect way for your child to start learning math and physics on their own without even realizing it. If they also have a more complicated toy, such as an RC plane or a remote control helicopter, the benefits will be even greater.
These toys require more skill to learn to use them well, and children will take great pride in themselves when they show all the new tricks they have learned to their parents and friends.
Social benefits of remote control toys
Radio-controlled toys are great for children to play outside and interact with other children. While some toys can be used indoors, many are much more enjoyable outdoors, especially if you don't have enough space at home to fly a plane or navigate a boat. And I assure you that nobody has it.
Taking your son or daughter to experiment with their new toy is a perfect way to spend some quality time together – take your kids out for the day. Whether it is to the field or to a training track, it will be a different day that will make you have a great time and bond.
You may also be able to find new exciting training and competition venues to hang out using the RC toy.
Can you think of any other benefits that we missed? Let us know in the comments.