7 Best 1/8 Scale RC Trucks 2023 Review & Buying Guide
We may earn commission from links on this page at no extra cost to you. We only recommend products we back!
Looking for the best 1/8 scale RC trucks? Perfect! You're in the right place!
In this RC Valleys guide, you'll learn:
Top 7 best 1/8 scale RC trucks
How to choose the best one
And much more!
In A Hurry? Here Is Our Top 5 Picks!
Image
Product
Key Features
Price
★ Overall No #1 Choice ★

1. Arrma Kraton 1/8 Scale Truck
● Spectrum 2.4GHz.
● 4S or 6S Li-Po battery.
● 2050Kv brushless motor.
● ADS-15M metal gear servo.
Check Price
★ Best Alternative ★

2. Redcat 1/8 Scale Electric Truck
● Li-PO batteries.
● EZRUN-80A brushless ESC.
● Landslide XTE monster truck.
● 1920kv RC-550 Brushless Motor.
Check Price
3. Arrma Notorious 1/8 Scale
● ADS-15M servo.
● 6S NOTORIOUS BLX.
● 2050Kv Brushless Motor.
● Waterproof BLX185 ESC.
Check Price
4. RTR 1/8 TYPHON Mega 4×4 RC Buggy
● Speed is up to 48km/h.
● 2.4GHz radio technology.
● 8.4V 2400mAh batteries.
● Waterproof ESC & 550 motors.
Check Price
Best 1/8 Scale RC Truck Review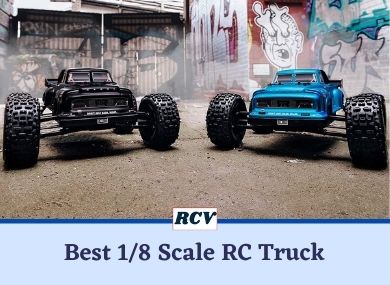 1. ARRMA KRATON 1/8 Scale BLX Brushless RC Truck
ARRMA KRATON is one of the best 1/8 scale RC trucks having monster speed, monster tough, and monster fun. What else do you need then?
The waterproof RC is built for speed, explicitly designed to thrill and bash with its mind-blowing acceleration, torque, and incredible speed to reach up to 60mph.
You can easily hit the roughest terrains in all the weather conditions with its radio receiver box that works in all conditions.
The radio control speed is fast and powerful and ready to blast over grass, asphalt, dirt, or all the terrains. A 6S brushless power system drives KRATON; this helps the RC reach 60 mph.
All your speed expectations will be smashed by this monster truck. You can add 4S or 6S Li-Po batteries with RC; they are sold separately.
RC is fully equipped with fast, all-terrain bashing and has a 2.4GHz spectrum radio system. It would help if you had some accessories to complete it: Li-Po battery, balancing charger, AA batteries for the transmitter, and charging bag.
2. Redcat Racing Landslide XTE 1/8 Scale Electric Monster Truck
Landslide XTE 1/8 scale is an electric monster truck that is fully assembled and ready to run; just install the batteries, charge them, and go. Brushless ESC regulates the power till 1940kv, which provides plenty of low-end torque for quick off-line acceleration.
The landslide can reach adrenaline pumping top speeds by pulling front wheels off the ground. Redcat monster truck is a dream of all bashers, and it has sealed differentials, aluminum capped oil-filled adjustable shocks, adjustable suspension, and a powerful brushless motor.
The aggressive truck has excellent wear characteristics and is made to tear up the terrains; it can even blast off into the dust-filled distance. If you have this landslide XTE RC truck, there is no need to look around for another great 1/8 RC truck. 
Read More: Best Battery for Redcat Gen 8
3. ARRMA Notorious 1/8 Scale 4WD RC Stunt Truck RTR
If you have been a frequent winner, you must be ready for extreme stunts anywhere. For that, you need a tough, robust vehicle that works for all terrains. The best choice for this is AARMA Notorious 1/8 scale.
The 6S notorious BLX delivers the speed, acceleration, and torque that helps to perform donuts, flips, wheelies, and all the tricks with ease. The superb vehicle is built to make a stunt superstar and is equipped with outrageous action with a one-of-a-kind style.
A stiff roll cage balances all kinds of punishment and comebacks. 8th scale RC can blast over asphalt, grass, dirt- overall, all terrains with multiple back-flip tires and all the traction you need to grip, flip, spin and wheelie. The vehicle is kept grounded by a high downforce.
All the things present in AARMA contribute to maintaining the control range and managing thrilling high speeds. There are some components that RC needs to complete, and they are lipo battery, EC5 connectors, balancing chargers, AA batteries for the transmitter, and charging case. 
Read More: Best 6s Lipo Battery for Arrma Notorious
4. Racing Kaiju – 1:8 Scale Monster Truck
Racing Kaiju 1/8 Scale RC Pickup Truck is designed with top quality material that never fades, adopts non-toxic engineering age material, is shockproof and waterproof.
The tire is equipped with crash-worthy material that is good for outdoor and indoor. High speed of 25km/h and improved flexibility are because of flexible wheels.
No matter where you are, sandy beach, wetlands, or grassland, your truck can smoothly go breakthrough. Excellent four-wheel-drive performance is through differential and powerful Motor that helps to provide power torque and off-road capability.
Rubber is used for making tires, and plastic is used for the entire body of RC. 2.4GHz uninterrupted frequency keeps the truck under control. A great gift and super fun for both children and adults.
You can choose this fantastic package for New Year, Birthday, Christmas, home entertainment, and hobby collection. Rechargeable battery and charging cables come with this truck. One thing you must consider is that please charge the battery 3-4 hours before use.
Read More: Best Remote Control Monster Truck for 5 Year Old
5. Electric 1/8 Scale Brushless Truck Frame & Shell
Brushless electric truck Frame & Shell 1/8 has a high stimulation design, and through its high performance, it can conquer all terrains. RC is just like a tiny real racing truck; maximum speeds get up to 100km/h; this will surely add more fun to your life.
The vehicle can withstand higher speeds and a more significant impact because of its sturdy body structure and precision machining chassis.
A robust hydraulic shock absorber helps to superior shock absorption. The truck remains stable on all types of terrains and is configured with 46T 25P steel medium differential gear.
The body of the RC is made with aluminum and plastic and is firm. Stability is also maintained because of four wheels drive. Adjustable motor mounts can adapt to more types of Motor and motor gear.
You may need an additional 4-6S battery, brushless motor 2000KV, 15kg servo, 120/150A brushless ESC, and a 2.4GHz controller.
Read More: What Are The Best 1/18 RC Cars?
6. ARRMA 1/8 TYPHON 4WD Electric High-Speed Monster Buggy
1/8 Scale RC truck is an off-road cross country vehicle with 2.4GHz radio technology, and the control range is wide up to 150M. The high-speed stunt RC has a powerful Motor, and the maximum speed is up to 30km/h.
You can rely on its forward, brake, and reverse transmission that never fails. High suspension shocks and oversized anti-skid tires ensure maximum durability.  No matter whatever environmental condition is, you can enjoy it easily.
You don't have to worry about driving on sands, grassland, and bumpy grounds. 8 scale RC is a perfect gift for children and adults. Charging time is almost four hours, which offers 15 minutes of playing; RC is equipped with 7.4V 3000mAh rechargeable batteries.
Get ready for an adrenaline explosion by this fast and powerful RC equipped with a powerful electric motor and a heat sink. The truck will heat the neighborhood, take it out from the box, and it's ready to bash.
A stable structure helps protect from any abrasion and crash. It stays on the ground because of the enormous torque. You can quickly run it on grass, sand, or marshy lands with no difficulty. 2.4GHz frequency encourages strong anti-jamming capability.
Read More: Best Battery for Arrma Typhon 6s
7. SummitLink Compatible Custom Body Eagle Style Replacement for 1/8 Scale RC Truck
SummitLink Compatible is a custom buggy Truggy body 1/10 1/8 scale perfectly designed to have body eagle style.
RC truck includes a four-wheel-drive system, excellent front or rear camber, toe-in setup, powerful RC 540 motor, anodized aluminum center long driveshaft, and high-performance front/rear differentials.
The body of SummitLink RC is an unpainted, highly detailed, transparent body and cutting lines. RC has decals for 1/10 scale slash T-Maxx E-Maxx summit thunder and others. The body is already trimmed, and holes are not drilled.
By adjusting the mounting post height and drilling holes in a specific location, you may fit into many different models. You can paint any color, according to your choice.
Read More: What Are the Best RC Truck For Mudding?
Final Words
We have reviewed our top picks; choose the best 1/8 scale RC truck that fits perfectly with your choices. We gave the winner title to ARRMA KRATON 1/8 Scale because of its incredible features.
Our runner-up is Redcat Racing Landslide, which users most love because of its fantastic body and excellent performance.
Give your friends or your kids a perfect gift of 1/8 scale RC, because they deserve a superb pleasant.
We have done our part by helping you find out unique products, and now it's your turn to make this dream of RC into reality and dive into the world of racing and bashing confidently!
You May Also Be Interested In