7 Best RC Crawler Tires Review & Buying Guide In 2023
We may earn commission from links on this page at no extra cost to you. We only recommend products we back!
Today we are going to show you some best RC crawler tires in the market that are eligible to boost your crawling performance. These crawler tires are suitable for all-scale RC crawlers and very easy to assemble.
Most importantly these are durable and able to perform on any terrain. As the market is filled with a range of brands, so it is hard to find the right one. Among a dozen reviews, we include the seven best RC crawler tires for crawling in this article. Let's have a look.
Quick Comparison
Image
Product
Key Features
Price
★ Overall No #1 Choice ★

1. INJORA RC Crawler Tires
● Quantity: 4PCS.
● Width: 54mm.
● Weight: 70g/pcs.
● Material: Rubber.
Check Price
★ Best Alternative ★

2. Pro-Line Rock Crawler Tires
● 1.9″ inch.
● Superb Grip.
● Stepped tread blocks.
● Soft predator compound excels.
Check Price
3. INJORA 4Pcs Tires for RC Crawler
● 1.55 Inch.
● Quantity: 4Pcs.
● Weight: 86g/pcs.
● Aluminum Wheel Tires.
Check Price
4. Shaluoman Wheel & Tires Set
● 1.9-inch tire.
● Aggressive lugs.
● For 1/10 RC Crawler.
● Metal alloy beadlock wheels.
Check Price
5. RCLIONS Beadlock Wheel Rim
● Scale 1:10.
● Two-color available.
● Material: alloy metal.
● 2.2″ Beadlock Wheel.
Check Price
Best RC Crawler Tires Review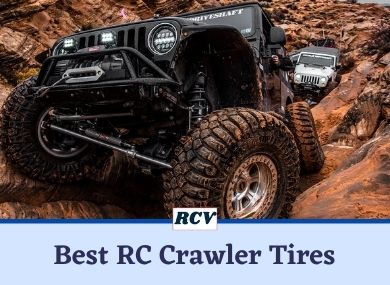 1. INJORA 1/10 RC Crawler 120MM Tires
Upgrade your RC crawler with this INJORA 120mm tire and boost your crawling experience. The best part of this tire is it comes with a rim attached. So you don't need to buy tires and rims separately. It not only save your money but saves your time as well.
As the title suggests, this INJORA 1.9 inch allows you to use with a range of crawlers including Axial SCX10 D90 and Traxxas TRX4. If you want to consider the design this tire is one of the best crawling tires in the market.
High-quality metal and rubber make it durable and best for a muddy surface. Besides, its wide Beadlock wheels will add extra advantage whiles you are on off-road.
2. Proline 1013214 Hyrax 2G8 Rc Rock Terrain Crawler Truck Tires
Get ready to take the most memorable drive with this Hyrax 1.9" Predator rock terrain super soft tire. The RC tire is specially designed for the highest grip on the toughest terrain. Its compound excels will provide an awesome grip on wet or ultra-low traction surfaces that you never experienced before.
At the same time, this RC crawler tire has an aggressive and open tread pattern for incredible tread flex. To give you unmatched side-hilling performance the tire comes with an extended sidewall. The key feature that makes it ahead of other scale tires is it has futuristic stepped tread blocks.
The feature will create more forward gripping edges that dig into the slick rock. As a result, you will get the highest performance both on-road and off-road.
3. Hobbypark 1.9 Beadlock Wheels and Tires for 1/10 RC Crawler Car
This list definitely wouldn't be complete without Hobbypark RC crawler tire. With its high wear-resistant and excellent durability, the tire is one of the best RC crawler tires in the market. To produce your smooth and super crawling experience the tire is made with quality rubber, with a foam insert.
Besides, it comes with true Beadlock wheels so you can conveniently change the tires or wheels. At the same time its large, deep lugs will provide you excellent grip over all kinds of terrain.
As the tire is made with durable material, you will get exceptional traction in mud, rock, and dirt. Like the other competitor, we mentioned above this tire is also designed for 1/10 RC Crawler including Traxxas, Axial, Redcat.
4. INJORA 4Pcs 1.55″ Aluminum Wheel Tires 1.55″ Tyre for RC Crawler
The next on our list is INJORA Wheel Tire which is great for not only excellent performance but traction. Besides, it's a great quality crawler tire that is worth every penny. This tire is completely able to drive over off-road surfaces with its 1.55 Inch wheels. The tire shows off excellent workmanship and a novel appearance.
At the same time, its unique tread patterns will ensure a comfortable ride, along with great traction. Its design will also keep mud, water, and even stones from getting jammed between the treads. As the tire will respond to the driver's directions quickly, it will make the driving a lot easier even for a beginner.
To provide you with a much better grip the INJORA Wheel Tires are made with very soft but durable material. Considering the quality and performance this RC crawler tire will be great for any 1/10 RC Crawler.
5. Shaluoman 1.9-inch Tires & Metal Alloy Beadlock Wheels For 1:10 RC
Next up we have Shaluoman Tires Set. It's a bit pricy than the other competitor we mention above. Undoubtedly the tire has a lot more to offer. As we know more aggressive, the better the holding capability. This is the area where the Shaluoman crawling tire works best.
It comes with aggressive lugs and narrow features to allow you for mountain or off-road areas. If you are looking for a crawling tire for in deep wood areas you should think of this one. The tire is designed with an extreme scale to allow it for all-terrain. 
Besides, the tire set is made with high-quality metal and rubber so you don't need to worry about crawling on pavement or rocky lands anymore. With its metal alloy Beadlock wheels, the tire is extremely suitable for a 1/10 RC crawler.
6. LAFEINA 4pcs 100mm 1.9″ Rubber Tires with Metal Beadlock Wheel Rim
The LAFEINA Rubber is another brand new tire on our list. The crawler tire is a perfect combination of durability, softness, and smoothness. Its wheel is made with high-quality metal to make it durable and the tire comes from rubber to feel soft on muddy or rock surfaces.
On the other hand, the tire has a foam insert so you will get a smooth drive. Especially 1.9 Inch wide design made the tire stable enough to drive it easy even for a beginner. If you consider an ultra-durable RC crawler tire at a reasonable price, you should go for this LAFEINA Rubber Tires.
7. RCLIONS Aluminum Metal 2.2″ Beadlock Wheel Rim for 1/10 Scale RC
If you just want to upgrade your RC crawler with a wheel rim these RCLIONS will be perfect for you. With 2.2″ aluminum metal, the rim is extremely durable. At the same time, this lightweight upgrade will instantly enhance overall performance in handling. With 1.24″ Thickness, the wheel rim will be best for 1/10 Crawler Wraith RC. 
The key feature of this wheel rim is it comes with different lengths of screws to ensure a perfect fit. As a result, you will get a lightweight but strong tire to get excellent off-road performance. Most importantly it is an excellent rim for the price. With the optimum quality and lightweight design, you can't beat them for the price.
Summery
The best RC crawler tire we mention above is made with high quality and the best technology. But if you want to choose the best tire here is our opinion. Considering the longevity, durability, and price we found INJORA 120mm RC crawler tires are the best.
High wear-resistant, extreme-scale, and a decent price make it top of the list. But if you want an aggressive one you should go for Shaluoman Tires Set as it is budget-friendly as well.