7 Best RC Rock Crawler For Beginners In 2023
We may earn commission from links on this page at no extra cost to you. We only recommend products we back!
Looking for the best RC rock crawler for beginners? Perfect! You're in the right place!
In this RC Valleys guide, you'll learn:
Different types of beginners RC rock crawler

How to choose the best one
Top 7 RC rock crawler
And much more!
Quick Comparison
Image
Product
Key Features
Price
1. LAEGENDARY 1:10 Scale RC Rock Crawler
● 1:10 Scale.
● Waterproof.
● RTR with 5Ch Remote.
● 1800 mah nimh battery. 
Check Price
2. Axial Deadbolt 8″ RC Beginner Crawler
● LED Lights.
● 100% assembled.
● 3-Ch 2.4GHz Transmitter.
● 350mAh 2S 7. 4V LiPo battery. 
Check Price
3. Redcat Racing Everest 4WD Rock Crawler
● Steel metal.
● Waterproof.
● Adjustable wheelbase.
● 7.2V 3000mAh NiMH battery. 
Check Price
4. WLtoys RC 4WD Off-Road Rock Crawler
● 1:12 Scale.
● Powerful brush 540 motor.
● The speed limit up to 32MPH.
● 7.4V 1500mAh Li-ion battery. 
Check Price
5. Exceed Maxstone RC Crawler For Beginner
● Aluminum Metal.
● Waterproof Electronics.
● 7.2v 1800mah ni-mh batter.
● Dual High-torque 540 motors. 
Check Price
Best RC Rock Crawler For Beginners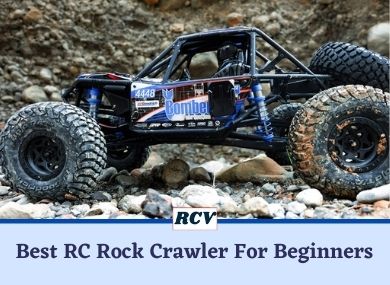 1. LAEGENDARY 1:10 Scale 4WD RC Rock Crawler
The LAEGENDARY RC Rock Crawler is the best RC rock crawler for beginners that is ready to provide great adventure. With7.2v 6s 1800 mah NiMH battery and charger the RC rock crawler offers long-lasting excitement.
Besides, the crawler design with a front bumper with D-rings, mirrors, and a roof rack, to feel your real drive experience. A transmitter with 4 incredible wheels makes the crawler perfect for muddy surfaces and to shift into low range.
If you haven't experienced it before the RC rock crawler still will be ideal for you. Its unmatched versatility makes the remote-control crawler suitable for any situation and driving style.
Plus, a LED light ensures your experience at night time crawling. Most importantly its rc550 motor torque is turned into powerful, straight, forward motion rather than waste energy.
A heavy-duty and formed-steel ladder frame makes the crawler strong enough so you can enjoy both in off-road and on-road.
2. Axial Deadbolt 4WD 8″ Beginner RC Crawler with LED Lights
The Axial Deadbolt RC Crawler is another beginner-friendly RC rock crawler that is perfect for outdoor or indoor RC adventure. The RC crawler is built for durability with a three-link front, sealed cartridge bearings, and four-link rear suspension.
So you don't need to be scared about the surface you are driving. At the same time, the crawler offers great off-road and on-road performance as the crawler is made with Nitto Trail Grappler M/T Tires and licensed KMC XD Machete wheels.
Most importantly the crawler is very easy to run and comes with 100% assembled. Thus you won't face any problem playing with the RC crawler still being a beginner.
For the smooth drive, the crawler includes a worm gear drive setup that offers a high ground clearance. Similarly, its low gear ratio amazingly reduces torque twists. As the RC rock crawler constructs with water-resistant electronics so it will be eligible for extreme conditions. 
Read More: Best RC Rock Crawler Under 100
3. Redcat Racing Everest with 4WD RTR Beginner Rock Crawler
The Redcat Racing Rock Crawler is the highly constructed and standard quality beginner-friendly rock crawler in the market. The key feature of the crawler is it extremely durable. The crawler especially comes with a powder-coated 3mm ladder frame chassis and Two Guys Trail Gear.
So, it is tough enough to allow you for any type of surface. The highlight feature of the crawler is its low-slung forward mounted battery tray and steel electronics bridge. The feature will create a highly tenable platform that usually performs in twice costing crawlers.
Conversely, a 3000mAh NiMH battery pack, a 2.4GHz radio system, and a NiMH charger make it the very best value in the RC market. So this will be the best crawler for the beginner as you will get the most benefits without spending a lot of money.
Especially you don't need to fumble with, easily lost, body clips as the crawler design with front high strength hook and loop system.
Read More: Best RC Rock Crawler Under 200
4. WLtoys Electric All-Terrain Off-Road Beginner RC Rock Crawler
Want to buy a powerful and amazingly fast beginner-friendly RC rock crawler? This 4WD RC Off-Road Racing crawler will be a great choice for you. Thanks to its powerful brush 540 motor that is the largest in class.
At the same time, as a speed love, you can break the speed limit up to 32MPH. It has an independent shockproof system. Thus, you don't need to worry about getting hurt while in dangerous conditions.
To make it charming and get fun at night the crawler is equipped with LED lights. With a 4-wheel driving system, the RC rock crawler provides trafficability and super strong power.
Even it is so strong that you can easily drive on the sand, mud, and rugged roads. Besides, hollow rubber tires offer you a super smooth attitude. Most importantly 7.4V 1500mAh Ni-Cd battery allows you to enjoy a maximum of 20 min.
Finally, as a beginner in the RC world if you want to try something new with powerful speed you should buy this WLtoys RC rock crawler.
5. Exceed 1:5 Scale Maxstone RC Crawler For Beginner
The next best RC rock crawler for beginners in our list is Exceed RC 1:5 Scale Maxstone Rock Crawler. The RC Car Remote Control Radio crawler is made with waterproof electronics.
Especially, the intent was to provide something bigger with an excellent crawling platform-level base kit. Thus the manufacturer adds Multi-link suspension and axles to provide tremendous grip and torque.
Similarly, the feature allows the crawler to overcome any problem that it may meet its path. With an all-aluminum chassis, the RC rock crawler ensures rigidity and firmness combined with durability.
As the crawler includes dual high-torque 540 motors and a high-performance ni-mh battery, it will surely provide long-lasting enjoyment.
On the other hand, the crawler is made with heavy-duty special hardened metal to ensure durability. Most importantly as a beginner, you won't face any trouble as the crawler is very easy to use.
6. Losi 1/10 Scale Night 4WD Beginner Friendly RC Rock Crawler
If you are a scale crawling lover and want something for night driving, this Losi Night Crawler will rock your world. The RC rock crawler comes with front and rear rock lights to offer more lights and allow you for night-time enjoyment.
On the other hand, the crawler doesn't shy away from mud or water. Thanks to its waterproof electronics and a high-power battery that makes it possible.
The most amazing feature is that the manufacturer didn't compromise about the performance or durability. Thus, they provide impressive scale details of the cage and body.
Besides, the crawler is remarkably designed with a reliable scale body with an exoskeleton cage to keep from harshest conditions still without compromising performance.
Additionally, the exoskeleton cage not only prevents damage but boosts durability. With realistic looks, the Losi Night Crawler is also perfect for a beginner as it is very easy to drive. 
7. Axial Capra 4WD RC Rock Crawler Trail Buggy for Beginner
The Axial Capra RC Rock Crawler will be perfect for any advanced RC fan eager as well as a beginner for cutting-edge crawling. The key advantage of the crawler is it offers extra ground clearance at the diff pumpkin for the top crawling performance.
Even with the Dig transmission, the RC crawler allows you to switch on the fly between 4WD and FWD instantly from your 3-channel transmitter.
With the realistic tube chassis and metal gears, the crawler confirms its durability. Most importantly its universal joint axles offer up to 45 degrees of steering.
At the same time, the feature provides smoother action for a higher-performing. Especially the RC crawler is incredibly designed with an M4 Screw Shaft along with a larger diameter cross pin for greater strength.
An excellent gear ratio makes it perfect for a beginner to control the crawler easily. With roof-mount LED light bar, molded plastic front grille, and realistic interior make it worth of cost. 
How to Choose the RIght RC rock crawler for beginners
Battery life
The most important feature to consider before buying a beginner-friendly RC rock crawler is battery life. There are two types of better that a crawler usually offers, such as Ni-Mh and Li-Po.
For a beginner, Ni-Mh will be perfect as it is not only very easy to use but isn't as powerful. Conversely, Li-Po produces higher speeds that will be suitable for an expert. But it is expensive as well.
Speed
As a beginner, you should not go for speedy as it will be tough to control. However, the RC rock crawler offers a maximum of 40 mph but you should choose a crawler that offers average. In this case, a WLtoys RC rock crawler will be suitable for a beginner as it allows up to 32MPH.
Durability
Another key feature is durability which ensures you don't have to spend lots of money. So pick a beginner-friendly crawler that is made with high-quality metal with resistant chassis.
Some also offer exoskeleton cages to prevent damage in extreme conditions. Besides, check that the internal components are protected.
Control range
This feature ensures how far you can drive the crawler. Usually, the range of 30 meters is pretty good for a beginner. A long-range remote control allows you to enjoy your drive keep you safe on mud surfaces.
Other features
If you are going to buy an RC rock crawler for the first time you have to consider its, terrain, ease of use, wheel drive system, and price also. All the feature makes sure you get the best experience and makes the crawler your most loveable hobby.
Beginners RC Rock Crawler (FAQs)
1. How fast RC Rock Crawlers are can go?
The main intend of designing an RC crawler is to make it perfect to overcome all kinds of terrain with low speed rather than racing. However, they offer pretty good speed with a maximum of 40 mph.
2. Is RC crawling fun?
Obviously. It's every part is ready to offer you fun. It's a Realistic look, perfect for the muddy condition; LED lights will make your every moment funny and full of adventure. Even it's a great change to explore you within budget.
3. What is better DIY RC or Ready-to-Run Crawler?
As a beginner, you should go for a ready-to-run model that we mention above. The main reason is, all you have to do just unpack it and enjoy riding. Later, when you get familiar with everything about RC then you can try a DIY kit. 
Summary
Our top pick for the best RC rock crawler for beginners is Redcat Racing Everest 4WD RTR Scale Rock Crawler.  It is durable, water-resistant, suitable for extreme conditions, and most importantly beginner-friendly.
With LED light and high power battery, it will make your day. If you want a budget-friendly option you may consider Axial Deadbolt RC Crawler.