9 Best RC Battery Charger Recommendations In 2023
We may earn commission from links on this page at no extra cost to you. We only recommend products we back!
Looking for the best RC battery charger recommendations? Perfect! You're in the right place!
In this RC Valleys guide, you'll learn:
What are the best features of RC battery charger
Top 9 choices of RC battery chargers
How to find the best one

And much more!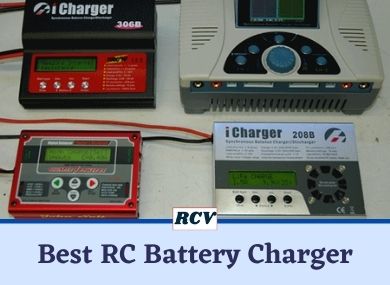 Quick Comparison
Image
Product
Key Features
Price
1. Tenergy TB6-B 1S-6S Digital Battery Pack Charger
● Broad range of voltage compatibility.
● Measures 5.12 x 3.35 x 1.3 inches.
● Dual power input.
● Battery data memory of up to 5 data.
Check Price
2. Venom Pro Duo LiPo Battery Charger
● Equipped with advanced features.
● The weight is 3.14 pounds.
● 80W integrated power supply.
● Built-in brightly backlit LCD screen.
Check Price
3. Traxxas 2970 EZ-Peak Battery Charger
● The dimensions are 6 x 6 x 2 inches.
● Easily usable interface.
● Developed high-resolution peak detection.
● Faster LiPo balance charging.
Check Price
4. LiPo Battery Charger Duo
● Touch screen balance charger.
● Simple heat dissipation.
● Compact multi-charger.
● Customizable DC power.
Check Price
5. SKYRC B6 AC V2 Battery Charger Discharger
● Simple design.
● The measurement is 9.4 x 7 x 2 inches.
● Lightweight structure.
● Adjustable terminal voltage.
Check Price
6. Tenergy TB6AC+80W Balance Charger
● Intelligent digital battery charger.
● Easily readable LCD screen.
● Discharge power of 5W.
● Maximum 80 watts charging power.
Check Price
7. Venom Pro Quad LiPo Battery Charger
● Dual powerful USB ports.
● Safe charging.
● Five-button control interface.
● Reliable and portable device.
Check Price
8. HTRC LiPo Charger RC Battery
● Multifunctional properties.
● Controllable end voltage.
● 20 memory of data storage capacity.
● Built-in smart cooling fan.
Check Price
9. HOBBYMATE D6 Duo Pro LiPo Battery Charger
● Pocket size portable model.
● Auto detecting LiPo cells.
● Two independent charging ports.
● Efficient balance charging.
Check Price
Our Overall #1 Rated Pick
Tenergy TB6-B Balance Charger is one of the top-notch products on our choice list. This charger comes in a versatile option meaning it's suitable for different battery packs, including LiPO, LiFePO4, Li-ion, SLA, NiCd, and NiMH. This one charger can be utilized for multi-charging functions.
You can use this AC balance charger to recharge a wide range of battery packs like XT60, Deans, Tamiya, JST, mini Tamiya, HiTec, and EC3 connectors. This excellent feature enhances usability. A built-in LCD screen is available with this RC battery charger. It displays all charging related statuses so that you can navigate the modes and selections.
The massive monitor allows you to read the screen easily. It also offers a broad range of voltage utility. You can balance the voltage mode for individual batteries. There are some popular options for LiPO/Li-ion (7.4V, 11.1V, 14.8V), NiMH/NiCd (6V, 7.2V, 9.6V, 12V), and LiFePO4 (9.6V, 12.8V, 16V).
This charger is relatively better than a regular digital balance charger. Tenergy provides some incredible features such as data storage, quick charging, discharging, cyclic charging, and many others.
The overall dimension of the product is 5.12 x 3.35 x 1.3 inches. Most importantly, for DC input, the suitable voltage parameter is 11~18 volts. In the case of AC input, it's 100~240 volts.
The weight is approximately 246g. Also, the maximum charging receptivity limit of 10 to 20,000mAh, and you should maintain it for a safety feature.
During the charging operation of Airsoft, RC, or Hobby LIPO battery packs, make sure that you use the balance connector and even the balance charging mode.
Top 9 Best RC Battery Charger Recommendations
Short on time? We understand. Check out this quick overview of our favorite RC battery charger.
Tenergy TB6-B Digital Balance Charger Discharger 1S-6S
Venom Pro NiMH LiHV LiPo Balance Charger Discharger
Traxxas EZ-Peak Plus 4-Amp NiMH/LiPo Fast Charger
Lipo Battery Charger Touch Screen Dual Balance Discharger
SKYRC AC V2 50W LiPo LiFe LiIon NiMH NiCd Battery Charger
Tenergy TB6AC+80W Balance Charger Discharger 1S-6S
Venom Pro Quad LiPo 4 Ports Battery Fast Charger Discharger
HTRC LiPo Charger RC Balance Fast Charger Discharger
HOBBYMATE D6 Duo Pro Balance Charger Dual Ports
If you have a fascination for RC devices, then it's quite natural that you need a good charger for the best RC performance. That's why RC battery chargers come in handy.
These rechargeable chargers are designed to deliver a user-friendly linkage with multiple kinds of battery packs. Integrated and high-quality features make these devices quite reliable and also valuable for money.
RC Battery Charger Recommendations
Venom Pro NiMH LiHV LiPo Balance Charger Discharger
Venom rechargeable LiPo Battery Charger is an exceptional one than the ordinary charger. It perfectly balances the charges of the particular cells of different types of batteries quickly and safely. So, you don't have to worry about charging and balancing.
This is not an average battery charger. It's a multi-chemistry charger for several kinds of batteries, including Lead ion, Lithium, and Nickel. Also, it comes with a charge lead adapter for JST, EC3, EC5, XT60, Deans, Tamiya, and Alligator types.
Venom safe balancing charger offers convenient usability. So, you can charge your 1S, 2S, 3S, 4S, 5S, or 6S LiPo batteries in a suitable method. Two built-in dedicated charging circuits deliver 160 watts of power together and a secure voltage to maintain charge batteries again and again. It's a good option for a great racing experience.
This charger is equipped with advanced features that make it one of the eligible competitors in today's market. It features fast charging, storage charging, cycling, balance charging, battery meter, and discharge.
The overall measurement of the charger is 6 x 5.75 x 7.75 inches. Two different input voltage for AC & DC. Moreover, it offers a lightweight formation and comes in 1.8 lbs. weight.
The integrated 80W power supply is a massive footprint compared to most other charging solutions. A digital onboard LCD screen is incorporated, you have to use a five-button control interface to navigate the menu, and it's also used as a temperature monitor.
The current drain balancing is 300 mAh for individual cells. A bundle of charge leads, a charger, AC & DC power cables, two balance blocks, and an instruction manual are included within the package.
You can get a limited lifetime warranty from Venom products that solve all materials related problems for the product's life. Venom will serve you at free charge for one year from the original date of purchase.
Traxxas EZ-Peak Plus 4-Amp NiMH/LiPo Fast Charger
Traxxas battery charger is loaded with an automatic programming system and can optimize charger settings. It's one of the easiest and safest way to charge your RC batteries. As it's an ID-equipped battery, this charger can instantly recognize the batteries and automatically put them in a particular form.
This RC battery charger NiMH is easy to operate; there is no need to learn how to navigate the complicated menus. You can optimize your charging options conveniently as well as swiftly. It can charge both 2S, 3S LiPo batteries and 5-8 cell NiMH batteries without the hassle.
These multifunctional chargers are better than any type of conventional chargers. Also, it comes in a simple design with a one-button operating system. All you have to do is plug in your iD-equipped battery and push the start button. It will automatically detect the battery type and performs all essential operations instantly.
There are three built-in modes to charge the LiPo batteries appropriately. While charging LiPo or NiMH batteries, you can customize your store settings, fast, and balance three available options. If you want to protect the investment of your LiPo battery, you can set up your battery in storage mode for extended periods.
To balance the charging process, you have to select balance mode. On the other hand, when you have limited time, fast charging mode is a suitable choice. A built-in LED progress bar always informs you about the battery's charging status.
After plugging the iD-equipped battery, the rating bar shows the level. When the charging process is finished, the charge status light turns green. This Traxxas battery charger can also support non-iD equipped batteries. It features individual balance connectors with a front port for older LiPo batteries.
Traxxas Customer Support is always here to help their users in any necessity. Also, we can communicate with them via website or email. Their main motto relies not only on the quality of the products but also on customer satisfaction.
Lipo Battery Charger Touch Screen Dual Balance Discharger
If you are looking for a functional and practical RC battery charger, this one can be an excellent addition to your RC collection. This RC battery charger Lipo comes in an advanced design with a lightweight structure. So, you can carry it anywhere you want to go.
A built-in touch screen with balance mode makes the charger easy to operate. Input voltage is available in AC (100-240V), & DC (11-18V) settings. It's a twin-channel charger means you can charge two completely different types of batteries simultaneously.
The charger features high-powered and effective performance circuits. In the AC model, the circuits are distributed, and each supply 150W. On the other hand, in the DC model, each circuit power can reach 120W.
This one is used for multi-purpose activities like charging, fast charging, discharging, storage charging, trickling, cycling, etc. You can also gather 20 battery profiles to recall it rapidly. It has an auto shut-off function. While the battery is completely charged, the charger will stop charging.
It's also a versatile charger that comes with the compatibility to support several types of batteries like LiPo, NiMH, NiCd, LiHV, Pb based, and some other smart batteries. Make sure that you choose the correct type of battery during the charging time.
This compact multi-charger includes a battery voltage meter and an internal resistance meter. Also, it has fantastic settings for processing time and temperature threshold. A cooling fan and emission holes are incorporated with the charger for easy and faster heat dissipation. So, the charger interface always stays cool.
This charger measures 8.8 x 6.5 x 3.2 inches. You will get two T240 battery chargers, two T-Tamiya, two charge cables to T-plug, two balance boards, two extension cables to XT60, two cables for each AC and DC mode, two T-Crocodile clip, and a user manual are included with the package.
SKYRC AC V2 50W LiPo LiFe LiIon NiMH NiCd Battery Charger
This one is the upgraded version of the famous iMAX B6AC charger. It comes with some new features and functions and gives more accurate information than the old version. Users can set the terminal voltage. You can connect it to the PC for firmware upgrade, view charge data via real-time graphs, and PC control. It includes an internal resistance meter and a lithium battery meter.
This RC battery charger NiMH has some great functions like temperature threshold, capacity limit, processing time limit, auto charging current limit, and convenient safety features.
This highly qualified charger comes with a microprocessor control charge or discharge station. You can also manage the charger with numerous batteries, including LiPo, LiIon, LiFe, and Lithium high voltage.
Maximum charge current of 6A, and it provides maximal 50W charge power. The weight stands at approximately 2.2 pounds. It offers dual current power input for both AC & DC. For AC input, the available voltage is 100~240 V. The 11~18 voltage is for DC input.
It has a built-in temperature probe socket to protect the charger from excessive heat. When the temperature has reached its limit, the charging process is terminated.
The XH plug-in balance sockets are incorporated for charging balance. One to six cells for LiHV, 2 to 20 cells for Pb, 1 to 15 cells for both NiCd & NiMH, 1 to 6 cells for LiFe are available additional modes. It has integrated different charging modes like cycling, storage charging, standard charge, automatic charging, and re-peak.
The package comes with one B6AC V2 charger, T-plug with an alligator charging cable, a banana connector charging cable to T-plug, XT60 charging cable, an AC power cord, and a DC cable alligator clip connector, T-plug with Futaba connector cable, and an instruction manual.
Tenergy TB6AC+80W Balance Charger Discharger 1S-6S
Whether you are an RC hobbyist or someone who loves to spend his free time with an excellent RC experience, Tenergy TB6AC+80W Balance Charger is one of the best chargers that you can test.
This charger offers a broad range of compatibility. You can use it for a variety of battery packs like lithium, nickel, and lead. Not only can you use it for regular charging, but it can also be used for balance charging or discharging.
Included bonus accessories such as octopus multi-charging harness with EC3, Tamiya, Mini Tamiya, Deans, and HiTec connectors, which are compatible with several charging connectors.
Additionally, the package also appears with a power supplier—the approximate operating voltage for DC input of 11 to 18 volts. In the case of AC, it's 100 to 240 volts.
Tenergy balance charger offers all in one feature. You can utilize it for multi-purpose operations such as data storage or load, charging balancer, cycling charge, fast charging, and so many others.
An incorporated LCD screen comes with this intelligent balance charger. So, you can easily select and navigate the modes. You have to use the balance plug with balance charging mode while charging any LiPo battery packs.
Make sure not to charge any LiPo or Li-Ion battery packs without a balance plug. Avoiding this caution can cause fire or property damage.
The package contains one TB6AC+80W balance charger, one power supply, one multi-charging harness cable for many connectors, and one adapter from DC to Alligator Clips.
Venom Pro Quad LiPo 4 Ports Battery Fast Charger Discharger
If you want an eligible multi-chemistry charger, you can explore Venom Pro Quad RC Battery Charger LiPo. The 4.6 pounds lightweight with compact structure allows you to carry it from one place to another.
You can balance the charging procedure in four batteries simultaneously. This multi-chemistry charger is compatible with a broad range of connectors.
Whether you want to utilize it for a Lithium Iron LiFe or Metal Hydride NiMH or Lead Acid Pb based battery packs, this one can supply perfect power to those connectors.
It's a battery charger, discharger, or balancer, with four integrated and dedicated interfaces that supply 100W and 7A power. This ensures high performance as well as fast charging efficiency. This one provides the best service for your RC gears, Dromida car, Traxxas slash, and other toys.
The package includes charging cables and suitable USB charging adapters. This LiPo charger has compatibility to connect with different types of lead adapters as well.
Two powerful built-in USB ports are located on the back of the balance charger. These ports supply 2.3A power to various devices, just like phones or tablets.
This RC charger features safe and rapid balance charging. There are six available cells for LiPo battery packs, and other battery types are easier to charge with appropriate connectors.
The safe voltage setting lets you balance the battery charges again and again. Also, it has a useful option to prevent damages due to overcharging. So, there is no unnecessary wear or impairment in your cells.
This qualified charger is equipped with multiple features that increase the chargers' maneuver to a large extent. Incorporated LCD monitor and a five-button control interface make the navigation process easy and also fast.
HTRC LiPo Charger RC Balance Fast Charger Discharger
HTRC LiPo RC Battery exhibits both high power and high-performance circuit. It supplies a maximum of 150W power with a 0.1-10A charge current.
This charger comes with dual input for AC & DC. The AC voltage is 100 to 240 volts, while the DC voltage is 11 to 18 volts. The quantity of discharge current is 0.1 to 2 A, and 10W is the maximum discharge power.
There is a built-in power switch, cooling fan, and a 5V USB port for proper operation. You shouldn't use AC and DC cord simultaneously. Make sure that only one cable is being used at the same time.
Also, it offers versatile functionality. You can use this smart charger to support several different batteries, including PB, LiFe, NiMH, LiHV, NiCd, and some other types.
Moreover, this RC battery charger LiPo can automatically identify the lithium battery cells. It has integrated multiple charging modes for easy and convenient usage. It will automatically shut-off when the charging procedure is complete.
Whether you want to count cells or know the battery percentage or cell voltage, an incorporated battery meter displays all essential information. Some great functions like balancing, internal resistance checking, smart battery, and digital DC power are an added advantage.
It comes with the facility to set up the terminated voltage. You can set up 4.2V as an end voltage for LiPo batteries, so it adjusts the ranges from 3.85V to 4.3V. However, this feature applies to expert users only. The overall dimension of the product is 8.8 x 6.2 x 3.3 inches. The 2.05 pounds indicate lightweight gesture allows you to handle it easily.
You can also use this charger for data loading and storage as it serves 20 memory data space. Also, it allows you to update the firmware. Processing time limit and temperature threshold give it a superior quality. You can control voltage as well as charging capacity.
HOBBYMATE D6 Duo Pro Balance Charger Dual Ports
HOBBYMAE D6 Duo Pro RC battery Charger lipo comes in a portable design with some advanced qualities. This charger can detect the LiPo batteries automatically and then operate the next process. Two independent charging ports are also used to optimize the software.
An integrated and independent battery balancer is available. While battery discharging, it maintains the balance of individual cells. The balancing feature protects the charger from overcharging or excess heating. Also, it saves your device from short circuit, time-exceeding, over-voltage, or any unwanted situations. It cuts off the possibility of damage.
Different multi-functional modes give it a high-end performance. You can set up the end voltage, control temperature, and also use storage mode. Additionally, it features a rapid charging capacity. So, you can conveniently customize your charging time.
It's easy to operate. All you have to do is plug your LiPo charger with a suitable connector and then power it to start the operation. By pushing the shuttle key on the charger interface, you can move into the menu bar and choose any option you want to utilize.
Though it is a pocket-size charger, it offers highly efficient power that makes it very capable amongst its market competitors.
Why You should use an RC battery charger?
No matter how much your battery is eligible for your RC devices, you can't get a good service without an efficient charger. The best quality RC charger has some exquisite features that ensure you a long-lasting, fun, and refreshing experience. Moreover, these unique characteristics separate the RC battery chargers from other similar battery chargers in the market.
Some chargers deliver overpower or even under power, which should be the primary concern as it hampers the battery life. In the case of suitable RC chargers, you can perfectly balance the charging mode to protect your device.
Most remarkably, a good RC charger offers incredible safety features that make it a safe device to operate. Also, a safety guideline is provided with the package to avoid short-circuit or fire accidents. Their customer service is always active as well as co-operative since user satisfaction is their primary motto.
What are the best features of an RC battery charger?
RC battery chargers offer some great features which set them apart from other average batteries. They usually come in portable units that let you handle them with ease. Also, some chargers ensure reliability and sturdy structure.
Most RC chargers come with versatile design means it's suitable for different batteries like LiPO, NiMH, NiCd, and so on. This feature enhances the product's usability. So, you can easily use one charger for multipurpose activities. This also reduces the overall cost.
They also have a dedicated and intuitive interface help to operate multi-charging functions. The best part of RC chargers is that you can balance the charge according to your demand. Also, some offer a wide range of options meaning you can charge more than one battery simultaneously.
Charging, discharging, voltage maintenance, capacity, temperature control, time processing are some incredible features of the RC battery chargers.
Tips to Find the Perfect RC Battery Charger
While choosing an RC battery charger, you need to consider some important factors and make sure that the main features do not compromise in any case. You should pay attention to product quality rather than the price. A wrong charger is a reason for a loss and can hamper the battery condition, directly affecting your RC devices. Here we are mentioning some notable features that an RC battery charger should have.
1. Versatility
The first and foremost consideration in our buying advice is versatility. Your charger should be qualified enough to be compatible with various kinds of connectors—for example, Lithium battery packs, Ni-ion batteries, and even SLA-based chemistry battery packs. If your charger comes with a low interface quality, it will be a matter of inconvenience. Make sure that your charger has an independent and dedicated interface for different connectors.
2. Safety
This is a basic fact that anyone should take into account to avoid hazardous situations. Some RC chargers are equipped with safety features, while others can't operate the process safely.
The balancing feature is something that cuts off the risk of overarching or overheating. Also, the voltage limit allows you to control the range of voltage. And the time limit can be maintained for the advantage of fast and convenient charging. This programmable safety feature saves your device from accidents.
3. Quantity of power
This is another essential issue to consider. The power output is generally measured in watts. Firstly, you have to know the capacity of charge and how much it can deliver. If your charger supplies a lower amount of power than the batteries, then it's not an appropriate one for your RC battery. Therefore, your charger should be more capable of delivering charging power than the batteries. Also, you should check the maximum cell count that can support suitable connectors. This feature will assure the probability of getting a sufficient amount of power.
4. Warranty & Price
Your product should have a warranty policy so that you can fix your charger for a significant time. Try to go for the most prolonged period of warranty policy and also make the best use of the money you spend on it.
Sometimes cheap products don't serve you the same as the pricey ones. But, it can differ also. We suggest you not to consider the price in the first place because quality matters a lot in this case.
5. Additional Features
Best RC chargers come with a built-in LCD screen that will give you the capability to navigate the menu bar. In many devices, you can set-up the terminal voltage to protect your charger. Some offer an auto shut-off function, and while the charge is full, it terminates the operation.
Dual power mode with incorporated and compact multi-charging functions enhances the usability of the product. So, choose a product that's integrated with advanced characteristics.
Since there are plenty of brands in the current market, it may be tough to find a suitable one. We have compiled a list of 9 RC Battery Chargers for your convenience. Let's check out the products!
FAQs
1. What LiPo battery charger should I buy?
To buy a good LiPo charger, you have to consider its support capacity. Some low priced RC battery charger lipo can support only 1S or 2S cells. But a few chargers are available to support a wide range of compatibility from 1S to 6S. Also, with those chargers, you can balance the charge from two to four batteries at a time.
2. What amp should I charge my RC battery?
The charge current varies from battery to battery. If your battery is 3000mAh, you should use a 3A charger. On the other hand, for a 4500 mAh, 4.5A is a suitable charging current.
3. How quickly can you charge a LiPo battery?
This feature depends on the entire formation of the chargers. Mainly LiPo batteries provide a 1C of a charge rate that takes 1 hour to complete, and sometimes it completes within 30 minutes with a 2C charge rate.
4. What is the overall best brand for RC battery charger?
In our recommendation, the HTRC LiPo Charger RC Battery charger is one of the best items for a perfect RC life. This multifunctional charger offers impressive features and also worth buying.
5. Can you charge a car with an RC battery charger?
If your charger supplies not more than 14.8 volts, you can use it for charging your cars. Otherwise, the charger that's not capable enough to tolerate the high current might end up in damage. So, you should be more concerned about the charge voltage.
Final Verdict
Since the RC battery chargers are an essential addition for RC hobbyists, it's reasonably true that you have to research some detailed features to avoid mistakes. Moreover, it relies on personal requirements. Some want advanced features, while others prefer to choose based on charging performance. It ultimately depends on you and which product can fulfill your needs.
Nowadays, plenty of RC chargers are available with a pile of standard and unique qualities. Choose a perfect and appropriate one for a comfortable and refreshing experience. In our article, we have added the nine best RC battery charger recommendations to make better your RC experience. Hope you will have a great time with your RC toys!