Top 10 Best RC Tracks In Minnesota, USA
We may earn commission from links on this page at no extra cost to you. We only recommend products we back!
Though Minnesota people are known for fishing in their 10,000 lakes, now the trend is towards RC racing and drone flying activities. Over the last decade or so Minneapolis- Saint Paul metropolitan area has seen a massive growth of RC tracks.
Today we will walk you through some of the famous RC tracks in Minnesota. First, let's have a look at the list. A short description will follow it.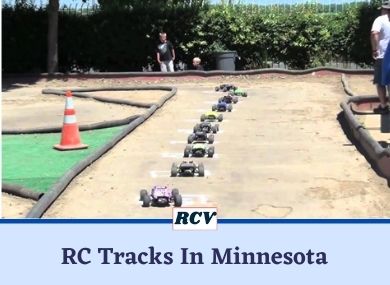 Top 10 RC Tracks In Minnesota
Short on time? We understand. Check out this quick overview of our favorite .
Thunder Road RC Raceway
Full Throttle RC Raceway
Genesis RC Raceway
R/C Car Kings
Southern Minnesota RC Club
Bakers Hobby Town
Hub Hobby Center
King Kong Hobbies
Tea's Hobby Shop
510 Raceway
Thunder road RC Raceway
It is one of the more premium racecourses in the state of Minnesota. It has a 1/10th race track. It is an indoor facility. You do have the option to rent cars from this facility but only on Wednesdays and Thursdays. It even has a dedicated rock crawler course too. It consists of an outdoor dirt track; however, it remains closed for the winter.
It has a state-of-the-art pit and gaming area. Snacks and beverages are available too. It has a variety of prices depending on the class of the car you use and the season of the year. Base model entrée fees start at 15 bucks. There are always tournaments going on. You can earn huge prize money by winning the game.
It is at 500 sundial drive, Waite Park. The zip code is MN 56387. It remains closed on Monday, Tuesday, and Wednesday. It closes early on Sunday. For further inquiry, contact them at info@thunderroadraceway.com or call at (320)252-0460.
Read Also: Ultimate Guides On Indoor And Outdoor RC Tracks
Full throttle RC raceway
This RC raceway is situated at 10374 85th street NE Foley. The zip code is MN 56329. You can call them at 320-291-1557. Or mail them at ftrcr@rocketmail.com
It is an entirely outdoors dirt RC track. So sometimes, the weather can pose a severe challenge to the racers. They have enough parking space and a rest-room. It is a great friendly family place.
It is closed on Monday, Tuesday, and Thursday. And for other days it opens up from 12 pm to 9 pm. They hold weekly race events.
Read Also: Top 7 RC Track In San Diego
Genesis RC raceway
Genesis RC raceway boasts not only a fantastic indoor track but also a top-notch hobby shop as well. You can find all kinds of RC cars and drones. It is a thoroughly modern RC track. You can call them at 507-828-8697. Their email address is sales@genesisrcraceway.com
They are at 1300 Susan drive, Marshall MN 56258 USA. They started their journey back in 2010. The raceway available is for Thursday 3-9 pm and Sunday at 11-5 pm. You do not have the option to rent cars. However, this establishment here provides you with all kinds of RC miniature cars and planes.
R/C Car kings
This is an entirely indoors r/c car track. They run a joint operation with one component made of a hobby store and another raceway. It may not be the biggest race track, but it sure is lots of fun, with lots of turns, corners, and slopes. They do not host events. You can freestyle practice on the track. You can call them at +1 952-895-9643, but unfortunately, they do not maintain an email address.
They are situated at 1307 State Hwy 13, Burnsville, MN 55337. They have an entrée fee of 20 bucks. They remain closed on Sundays. On weekdays they operate from 10-6.30 pm. But on Saturday at the close early at 4.00 pm.
Southern Minnesota RC club
Unlike the other establishments in this list, this is not a business operation. It is a social club. You can buy a membership here to race anytime you want. Or you can pay around 15-30 dollars depending on your RC vehicle. They are based out of 498 Main St E, Clarks Grove. And the zip code is MN 56016.
Unfortunately, they do not have a phone or email as it is not a traditional business entity. Their track is outdoors. Enthusiastic RC racers run it.
Bakers hobby town
Originally this started as a hobby shop. They maintain several chain shops throughout the greater mid-west. Some of the chain shops do keep race track. One we listed here does have a racetrack. They are all indoors tracking. Their tracks are the best any indoor facility can get. They charge their patrons around 20-30 USD. It all consists of all the modern facilities a track can get.
On weekdays they operate from 10 to 7 pm. On Saturdays, they close early 1 hour, and on Sundays, it ends the day at 4 pm.
Hub hobby center
It is a store out of Richfield, Minnesota. They serve you in both twin cities Minneapolis and Saint Paul. They have been operating in the state of lakes for more than 40 years. They are a hobby shop and maintain a track for testing as well. The track is there for more testing and marketing purposes. They let you test out RC cars before buying them. Testing out them is free.
Their email address is info@hubhobby.com. And contact number is (612) 866-9575 (Richfield, MN) or (651) 490-1675 (Little Canada, MN)
They open every day from 10 to 6 pm. Their actual address is 500 Sundial Dr, Waite Park, MN 56387.
King Kong hobbies
The address is 6415 US-10, Ramsey, MN 55303, United States. They are much like the above-mentioned hobby center. Their track is merely for testing and marketing purposes. You can drive various RC before purchasing.
Call them at (763) 390-0490. They operate weekdays from 10 to 7 pm. Close at 5 pm on Saturdays, and operating hours for Sunday are 12-4 pm.
Tea's hobby shop
They remain closed on Fridays, Saturdays, and Sundays. Rest of the days, they operate from 12 to 6 pm. They are at 1177 Chester Ave SE, Rochester, MN 55904. You can email them at ths.charlie@gmail.com or give them a ring at 507-289-7733 or 800-503-8327.
Their track is designed especially for the kids. 10 years or smaller will have a great time here. Their operation is limited to kids only for races; however, they sell all kinds of RC and provide repair services. They accept Visa, PayPal, or discover.
510 raceway
This is touted as quite possibly the best indoor dirt raceway in Minnesota. Their cellphone number is +13204233578 and email them at 510raceway@gmail.com
They are open every day from 5 to 9 pm. The price range depending on the car, is 20 to 40b bucks. It started its operations in early 2012. It regularly holds events and tournaments. It has designated time slots for different races. They are focused more on adults, but that does not mean kids are not welcomed here.
Conclusion
Above, we have tried to give you a comprehensive list of RC tracks in the great state of Minnesota. We know the winter can be harsh sometimes in Minnesota. So before going on, do consider the weather and give them a call if they are open. Suddenly closing shops due to bad weather is a common occurrence there.