Top 10 Best RC Tracks In Wisconsin, USA
We may earn commission from links on this page at no extra cost to you. We only recommend products we back!
The great state of Wisconsin is known for its dairy production. But perhaps there is one thing that you would be surprised to learn that Wisconsin is getting publicity for – RC racing. Yes, it seems Wisconsinites have taken a keen interest in miniature automobile racing.
It is positively reflected in the recent growth of RC tracks. In this article, we will explore the top 10 tracks in the DairyLand of uncle sam. So, buckle up, here we go!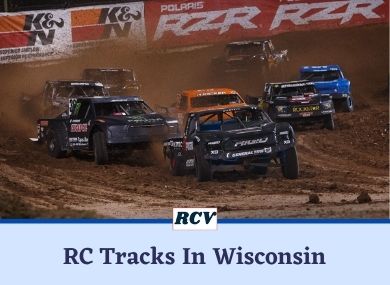 Top 10 RC Tracks In Wisconsin
Burlington Hobbies & RC Track
Trackside Hobbies And Raceway
Clark RC Park
Tracks Hobbies And R/C Raceway
HobbyTown / Revolution Raceway
Dirt Heaven Hobby & Raceway
Rug Burnerz RC Raceway
Discount America Hobby & Motor Sports
Ricks Hobby farm
Madison Hobby Shop
1. Burlington Hobbies & RC Track
This track is situated in Milwaukee county. 456 Milwaukee Ave, Burlington, WI 53105, to be specific. You can call them at +1 262-767-7241. This is a decent indoor dirt track to have some fun with your RC. There is a pit area to work with your cars too.
The owners are known for being knowledgeable and friendly. If you are new to RC racing, it is a great track to start learning. They do repairs and other services.
2. Trackside Hobbies And Raceway
Initially, it started as a hobby store. Later the operators added a raceway. It is at 3635 N 124th St, Brookfield. The zip code is WI 53005.  +1 262-783-4699 is the contact number. From Tuesday to Thursday, it operates from 12–9 PM. And for Saturday and Sunday, it operates between the hours of 11–4 PM. It is closed on Monday.
This is a family-oriented place. This outdoor track has a giant pit. It has very few people in the pits when there is no race. You have a lot of different cars to rent from. You can also decide to bring your vehicle. Weekly they hold two events. Rest of the days, you can freestyle practice.
Read Also: Ultimate Guides On Indoor And Outdoor RC Tracks
3. Clark RC park
This is an outdoor dirt RC track. This track started its journey back in 2005. Quickly it has gained popularity in reeseville. You can email them at info@clarkrcpark.com. The track is modeled on a 1/18 scale. It also has a driver's stand. In 2008 the track was expended to the dimension of 125'x 75' size. Racing now includes 1/8 buggy and tuggy.
They have an AMB RC3 timing system complemented by RC3 scoring pro software. The track even has its timing booth. The actual address is N1852 Speller Ln, Reeseville, WI 53579
Read Also: Top 7 RC Track In San Diego
4. Tracks Hobbies and R/C Raceway
The tracks here have dual capacity to serve as a hobby store and RC track. Its primary track is outdoors. You can race 1/10 scale electric RC vehicles here. You have a secondary track here with multiple circuits to enjoy here too. Their cellphone number is (608) 416-5629. Email is info@trackshobbies.com. The address is 2710 Todd Drive, Madison, WI 53713.
You can race for 20-40 bucks depending on your car and the track you choose to race. Their hours are Friday, 2–7 PM. Saturday Closed Sunday, 1–5 PM Monday Closed. Tuesday Closed. Wednesday 2–7 PM. Thursday Closed.
Read Also: Top 10 RC Tracks In Minnesota
5. HobbyTown / Revolution Raceway
They actually own two stores. One is in HobbyTown 807 Oregon St.
Oshkosh, WI 54902. Another one's address is HobbyTown USA 122 S. Memorial Dr.Appleton, WI 54911. Both stores have a dirt track and carpet track. They hold races on Friday, Saturday, and Sunday.
Rest of the days, you can freestyle practice. Their operating hours are 10–8 PM except for Sunday. They close early on the week's end. Depending on your vehicle and your class, you will be charged. They accept Visa, PayPal, and discover.
6. Dirt Heaven Hobby & Raceway
They are open only two days of the week. Their operating hours for Saturday are 2–12 AM. And on Wednesday it's 5.30–9 PM. Their cell number is +1 920-866-9096. They are at 6028 county road, New Franken. The zip code is WI 54229. This is for adults. Not everybody will get good vibes from this place. The entry fee here is 15 dollars.
It's ok if you do not own any RC vehicles. They will let you try out their cars for a few laps free. This outdoor dirt track is more focused on pro training rather than a family fun time.
7. Rug burnerz RC Raceway
This racecourse address is 145 Kaukauna St, Menasha, WI 54952. They are open every single day from 12 PM to 9 PM. This place is open for all. They do not hold any official events here. No matter which car you bring, your entry fee is only 15 dollars. You can freestyle practice as much as you want here. It is a decent, enough indoor track. You can come and have a serious race with your friends here. If you are a newbie, you can train here too. They accept only cash.
8. Discount America Hobby & Motor Sports
This is a hobby store and raceway too. They have an excellent collection of RC trucks and buggies. They maintain a track also. It is purely for marketing and testing purposes. Even though it was not built first with racing in mind, later, the track was reinvented. Now regularly, races are held here. Depending on your class of vehicles, the fee is 20 to 40 bucks.
Their cell number is +16083254502. And address is 910 30th St, Monroe, WI 53566. The track is indoors. The owners also provide repair and other servicing.
9. Ricks Hobbyfarm
This is hands down one of the best tracks in the Midwest. The rick family owns it. This is a really family-oriented place. You can hope to have lots of fun with your family here. It has a soothing atmosphere to it. The track itself is a long, challenging, and fun course.
The address is 1439 WI-65, New Richmond, WI 54017. The entry fee is only 15 USD for all kinds of automobiles. Open every day of the week. One thing is sure; you will have a great day of racing here. No fixed time to close down the track.
10. Madison hobby shop
Their address is Clock Tower Court, 6622 Mineral Point Rd, Madison, WI 53705. And the cellphone number is 1 608-829-3820. They remain closed on Sunday. For Saturday, their hours are 10 AM to 5 PM. The rest of the days, it is 10–8 PM. It is one of the top indoor racetracks in the state capital.
The entry fee is 30 bucks. It can vary depending upon the class of your vehicle. If you have a membership card, the cost will be reduced. They do not hold events there. The track is for freestyle practice. You can test RC vehicles before purchasing tickets for this track.
Conclusion
These are the top tracks in the great state of Wisconsin. The interest is significant in this mid-western state. These tracks will surely be more than enough to quench your thrust for RC racing. Why wait? Have a blast in these fantastic tracks!