Top 10 Best RC Tracks In California, USA
We may earn commission from links on this page at no extra cost to you. We only recommend products we back!
RC racing is cheap, easy, and fun. Therefore, it is gaining traction among the Californians. The tracks have also become a place for social meetings and engagements. The millennials hang out on these tracks in hopes of having a good time. The top 10 tracks in California are listed below: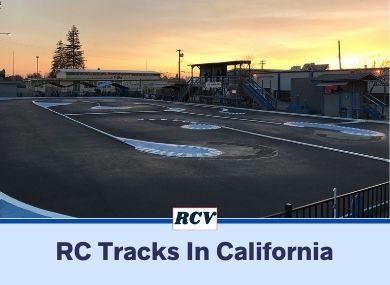 Top 10 RC tracks in California
Thunder Alley R/C Raceway
Silver Dollar RC Raceway
Modesto RC Raceway
Central Valley RC Raceway
SoCal Nitro Raceway
OCRC Raceway
Rescue Raceway
Empire RC
Freedom Park R/C Car Tracks
The Yard R/C
1. Thunder Alley R/C Raceway
This track is situated at 38900 Oak Valley, Beaumont. The zip code is 92223. Their phone number is +1 951-772-2325. This is the biggest outdoors track in the state of California. The track was built for 1/8 scale RC cars. It is a great place to hang out with your family. It also has a large wheelchair accessible drivers' area.
They remain closed from Monday to Wednesday. Rest of the days of the week, the opening hours are Thursday 06:00 pm – 10:00 pm, Friday 06:00 pm – 10:00 pm, Saturday 10:00 am – 06:00 pm, Sunday 10:00 am – 06:00 pm. They regularly hold events. Entry fees vary for the class of vehicle.
2. Silver Dollar RC raceway
This fine raceway is based out of 101 silver dollar way in chico county. The zip code for this racetrack is 95928. You can give them a ring at +1 510-282-2450. This is an off-road track for RC cars. It has a gallery stand for spectators. There is a particular green carpet area, also. You can perform many dazzling stunts here.
The crew that runs this place is known for their in-depth knowledge of RC vehicles and soft-spoken friendly behavior. There is a hobby shop related to RC track just across the street. They regularly hold large events. When these events are held, you can get their catering service. Folks never miss out on the chance to taste their buffalo wings. Also, many kinds of drinks and beverages are available.
During the events, a wholesome and fun atmosphere is created. It was the venue for the electric RC world championship in 2013. It also hosted the 2015 off-road RC championship and the 2017 manufacturers cup too. It has state of the art lighting. Every enthusiastic racer should at least come here once and race. There is a comfortable pit for drivers. It can cover 15 drivers at a time.
For further inquiry, email them at tracks@amainhobbies.com. We highly recommend this racetrack. They hold weekly race events every Saturday of the week. Other times you can freestyle practice. The time for that is 12 pm to 6 pm every day other than Saturday. 
Read Also: Top 10 RC Tracks In Wisconsin
3. Modesto RC raceway
This is a dirt flat outdoors track. It is located at Funworks Modesto. The actual address is 4307 Coffee Rd, Modesto, CA 95357. Contact number is +1 209-551-3586.Young children are going to have an exquisite time here. The owners are nice and friendly. No outside food is allowed here. They have their diner where they serve various things, including a delicious blueberry cheesecake and juicy tacos.
It's not the longest course out there, but it sure packs a lot of punch. It will test your ability as a driver. Lots of twists and turns in this course. Their email address is inquiry@modestorc.com.
Their facilities include but are not limited to Mylaps RC4, Scoring System, RC Scoring Pro Scoring Software, Raised Drivers Stand Pits with A/C Power, Indoor Restrooms, Paved Parking, Snack Bar, and more. You should bring with you Folding Table, Extension Cord, Power strip, Folding Chair, Pit Light (if racing at night), Easy Up Canopy (optional to keep out of the sun).
This is a 1/10 scale electric car facility. No nitro's is allowed. There are three classes. First-class fees are 20 bucks, 2nd class is 10, and 3rd class is 5 dollars. You must have an ROCR membership. You can practice every Friday. Gates open at 6 pm. The rest of the days are reserved for regular events.
Read Also: Top 10 RC Tracks In Minnesota
4. Central valley RC raceway
Central valley RC raceway is at 17777 Rd 24, Madera, CA 93638. This is a hand-made track made by a gentleman named Frank. You can expect a wholesome atmosphere here. Give them a call at 1 209-715-8211. Or email them at cvr559@yahoo.com. It is a medium-sized up to date RC racing track. It is a 1/8 scale dedicated.
They regularly hold events at weekends. The entry fee here depends on the class of your vehicle. You can practice here any weekday for just 15 bucks. The time is 11- 5 pm.
Read Also: Top 7 RC Track In San Diego
5. SoCal nitro raceway
Its address is 14800 Seventh St, Victorville, CA 92395, United States. This is a fun track with plenty of room to set up your trailer or RV. This is the perfect place to have a good time with your kids. They race 1/8th scale. They hold events every weekend. The track is medium but bumpy with lots of turns.
The entry fee for every kind of vehicle is the same. It is 20 $. it also has a time slot dedicated for weekdays for practice from noon onwards.
Read Also: Ultimate Guides On Indoor And Outdoor RC Tracks
6. OCRC raceway
This track is at Huntington Beach, 15282 Jason circuit. The zip code is CA 92649. You can call them at +1 714-892-6699. This is a hobby shop too. You can find all kinds and classes of RC cars and planes here. They serve snacks and drinks. This is a fun compact indoors track.
Do not worry if you don't have a car. A rental option is available to race. This establishment started its journey back in 2007. It is all the modern world-class facility a racer wants. Its operating hours are Monday – Friday 12 PM to 11 PM
Saturday – 11 AM to 9 PM
Sunday – 12 PM to 8 PM
They regularly hold races every Friday at 6 pm. Their prices for entry access start at 20 dollars onwards. 
For further information, email them at ocrcraceway@gmail.com.
7. Rescue Raceway
This is a small off-road raceway run from a rescue center but is no less fun. It is a nonprofit endeavor. All the money goes to the health care of our veterans. Because of this, a lot of families show up in a cordial mood for a picnic-style get-together. It remains closed from November to march.
It starts racing from 10 pm to 5 pm. Races are held every day. You can come with your group for a race and rent the whole track for a single race or participate individually against others. The choice is yours. The entry fee is 20 bucks for each race. Their contact number is +1 530-317-7704. The address is 4180 Green Valley Rd, Rescue, CA 95672.
8. Empire RC
This indoor dirt racetrack has a state of an art lighting system. It is at 3460 Orwood Rd, Brentwood, CA 94513. Driving here has been described as smooth as butter. One of the top racers in the world championship justified that this track tests a driver's skill, and he practiced day and night to get a good lap time. He credits his success at the professional level because of this course.
According to him, if you can hold your own and maintain control, you can dominate any dirt racetrack anywhere in the world. This track is an up-close personal track for pro racers only. The entry fee varies depending on your class.
9. Freedom Park R/C Car Tracks
People seem to always have fun with their family and friends here. The owners are friendly, and the track is designed to have fun. The track is watered every day and maintained. You can race 1/10 or 1/8 scale buggies or cars here. No nitro here, though. They have two tracks; one is a dirt one, and another is paved.
The arena has a professional stadium feeling to it. They also are super welcoming to newbies. They are friendly and answer all your questions to help you out with your RC. Give them a call at (805) 910-7157. Or email them at roadrunner.rc@gmail.com. Operating hours are Monday – Saturday: Sunrise to Sunset and Sunday Racing 8:00 AM -8:00 PM.
10. The yard R/C
The Yard RC is in Orange County, California. The actual address is 760 N Batavia St, Orange, CA 92868. The phone number is +1 714-404-6516. The place is super friendly, and the layout of the track changes every two months to make things interesting. It's a great place for kids. You can expect to find a quality environment here. It is an off-road dirt track. They regularly host BBQ party.
They have state of the art scoring system with LED TVs and such. The tables for pit space to change your car's tires and servicing. They remain closed from Sunday to Tuesday. The rest of the days, their operating hours are 5 pm to 11 pm. Their entry fee depends on your class of the vehicle.
Bottom Line
This was our list of top 10 tracks in the great state of California. California has the richest collection of RC tracks in the country. Some of the tracks listed here are regularly hosting professional level tournaments. Other tracks are used for practice by pro players. Give a visit to one of them regardless if you are a newbie or just looking to sharpen your skills. You will surely not be disappointed.