7 Best RC Rock Crawler Under 100 Dollars
We may earn commission from links on this page at no extra cost to you. We only recommend products we back!
Looking for the best RC rock crawler under 100 dollars? Perfect! You're in the right place!
In this RC Valleys guide, you'll learn:
Top 7 RC rock crawler under $100

How to choose the best one
Buying guide & faqs
And much more!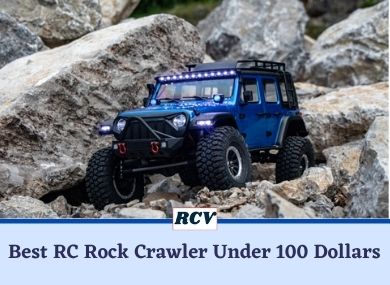 Quick Comparison
Image
Product
Key Features
Price
1. WLtoys All Terrain Rock Crawler 
● Battery: 7.4V 1500mA.
● Distance: About 100m.
● Frequency: 2.4GHz Radio.
● Playing Time: 10 – 20 minutes.
Check Price
2. RGT Mini Monster Crawler   
● Frequency: 2.4GHz.
● 2.4GHz Radio System.
● Control Distance: 262 ft.
● 3.7v 500mah lipo battery.
Check Price
3. The Perseids Minitary Crawler
● Frequency: 2.4G.
● Battery: 7.4 V Li Battery.
● Control Range: 100 meters.
● Working Time: 20-30 minutes.
Check Price
4. RC Electric Crawler Rock Racer 
● USB is connected.
● Driving time: 15 minutes.
● Battery: 7.4V/650MA*2 li-on.
● Charging time: about 150 minutes.
Check Price
5. GoolRC WLtoys Rock Crawler
● Frequency: 2.4G.
● Distance: ≥ 100m.
● Driving speed: 50km/h.
● Battery: 7.4V 1500mAh lithium.
Check Price
Our Overall #1 Rated Pick
Introducing the best RC rock crawler under 100 in our list is the WLtoys 1/12 scale RC crawlers. The RC rock crawler is perfect for kids as it comes with an independent shockproof system. So you don't need to worry about getting hurt while playing. The key feature of the RC rock crawler is it is equipped with LED lights.
Thus, it will allow your kid to enjoy even at night! Besides, their additional spare tires will protect from the hindrance of joy. If your kid is a speed lover, still the crawler will be a surprising gift for him.
Thanks to the powerful brush motor along with a powerful Li-Ion Battery that allows breaking the speed limit up to 32MPH. Plus, the toy can bear 10-20 minutes to continue to play that is pretty enough. At the same time, its independent suspension system offers to enjoy various types of racing games.
So, your kids will enjoy racing like rocks, packed dirt, asphalt, and a cobblestone street. Above all, the toy will be the best party and Christmas gift to increase kid's intelligence and practicing ability.
Best RC Rock Crawler Under $100
RGT 1/24 Scale Off-Road Hobby Grade Mini Monster Crawler
The RGT RC Crawler is another high-speed RC crawler suitable for the unstable surface of the ground. Its four-wheel will give you support to prevent unexpected dropping and make sure the enjoyment for a longer period. To make it perfect for high-speed racing, the RC rock Crawler is specially equipped with full four-direction control.
Most importantly, the crawler is designed with pocket size. Thus, it allows you to take anywhere easily including the office, Kitchen, garage, garden, or bedroom. To ensure superior control the best toy comes with an ergonomic transmitter of the radio remote and highly responsive steering and throttle. 
Additionally, The RC Crawlers will provide both kids and adults a super realistic driving experience as it especially designs with scale detailed. With a high-quality PVC shell, the best RC rock crawler is completely shock-resistant. At the same time, it offers protection for electronic components inside.
Don't worry if your kids want to play with the crawler on sand, beach, rock, or concrete road. Thanks to the Splash-proof design that makes it ideal for extreme conditions under your 100 dollars budget.
Perseids 1/12 Scale Off-Road High-Speed Minitary Rock Crawler
Are you looking for a best RC crawler under $100 that is perfect to uphill at 45-degree climbing? This Perseids Crawler will be ideal for you. As the toy has a Powerful motor with four driving forces, it will provide powerful climbing and greater torque. Its full proportional throttle turn will also allow your kid to perform functions of forward/backward.
Besides, with high-quality rubber material, the Crawler is suitable for rocky trail paths, muddy patches, or rugged roads. Similarly, Metal chassis makes the RC rock crawler strong enough to support anti-collision and 3KG load. On the other hand, its professional metal chassis steering system makes the crawler suitable for flexible performances and strong torque.
The highlight feature of the best crawler is its four suspension springs. So, the feature will protect the toy from vibration cause while playing on craggy road surfaces. Moreover, its 2.4 GHz remote controller offers you to perform crawler racing without radio interference.
MDGZY 1/14 Scale 4WD Off-Road Remote Control Crawler
The next in our list is the high-speed monster RC rock racer. It is extremely able to run on both mountain roads and deserts. As it is equipped with a powerful motor, you can run the RC rock crawler at a speed of up to 30 km/h. To give you a 360-degree advantage the racing crawler especially comes with full-scale steering.
Most importantly, its easy operations allow you to enjoy the real racing experience. With a 7.4volt battery, the crawler offers your kid to enjoy for a longer period and its wheel has a pretty good grip on the floor. The crawler is so well constructed that its acceleration, power, and endurance are awesome.
However, the RC rock racer is not indestructible, but durable enough. The battery of the crawler is also amazing. It takes 3-4 hours to charge as well as offer 15-20 playing time. Most importantly they offer two NI-MH batteries for ensuring long time enjoyment. Even, you can play and charge together with very little downtime.
Thus, it's not only an RC rock crawler toy under 100 dollars but a very accurate model of a real vehicle. Finally, if you are searching for a fun toy that will give your kids both the best racing experience and teach them about mechanical engineering, you should buy this RC rock crawler.
GoolRC WLtoys 1/12 Scale 4WD High-Speed RC Rock Crawler
With 50km/h racing opportunity, the GoolRC WLtoys is the highest speed RC Rock Crawler in the market. Not only take apart but the Crawler offers you to win the competition. Thanks to its 1500mAh Li-ion Battery that allows you to drive powerfully. With 2.4G remote radio control, you get the change to control it from 100m distance.
Besides, a well-constructed frame, shock absorbers, and motors make the RC Rock Crawler super strong. At the same time, four huge anti-slip stable wheels allow you to control the Crawler comfortably. Are you wanted to use this WLtoys Rock Crawler on any type of ground surface?
Don't be panic, as the reinforced and elastic rubber makes it suitable for rugged usage. Especially, its four-wheel-drive system gives the advantage for smooth control and superior handling. On the other hand, this 100 dollars budget rock crawler has a rechargeable battery to ensure longer playtime.
Kolegend 1/18 Scale Remote Control Car with 720P HD FPV Camera
The Kolegend RC Rock Crawler will take your toy racing experience into another level. The Crawler comes with versus mode to interact with your family. Especially, it allows playing 5 people at the same time. To increase kids' eye-hand coordination skills, the crawler offers A contest between reality and virtual.
The key feature of the crawler is it has a pretty awesome camera. As it is equipped with a 720p HD wifi camera, the Rock Crawler offers you to view and take clear photos and videos also. Similarly, its Movement camera will also widen your shooting range.
The manufacturer made the crawler with a G-sensor design so you get the change to control it via the HK Tank App on your phone. It is pretty hard to find an awesome RC rock crawler less than 100 dollars like this model.
Final Words
While searching the best RC rock crawler under 100 dollars we found RGT RC Crawler is the best within the budget. Besides, it meets the entire feature that considers the best RC rock crawler including, high quality, top speed, material, and function.
However, all the products we mention above are Monster Crawler. So choose according to your kid's style and the way he wants to get enjoy.