5 Best RC Stadium Trucks 2023 Review Guide
We may earn commission from links on this page at no extra cost to you. We only recommend products we back!
Looking for the best RC stadium trucks? Perfect! You're in the right place!
In this RC Valleys guide, you'll learn:
Different types of stadium trucks

Top 5 RC stadium trucks
How to choose the best one
And much more!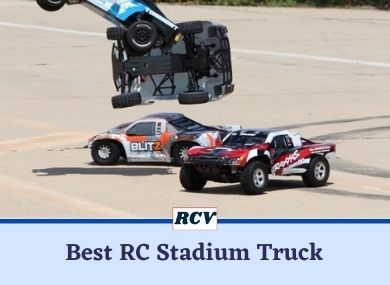 In A Hurry? Here Are Our Top Picks!
Image
Product
Key Features
Price
1. Traxxas Rustler XL-5 Stadium Truck  
● Equipped 3000mAh.
● 2.4GHz radio system.
● XL-5 electronic speed control.
● Titan 12T 550 modified motor. 
Check Price
2. Losi 1/18 Mini-T 2.0 Stadium Truck
● Ready-to-run.
● Aluminum Chassis.
● Waterproof electronics.
● Threaded Oil Filled Shocks. 
Check Price
3. Arrma 1/10 Senton Stadium Truck    
● 2.4GHz radio.
● 2400mAh 8.4V.
● Waterproof electronics.
● 12T 550 brushed motor. 
Check Price
4. Team Losi Racing Stadium Truck      
● Aluminum Chassis.
● Polycarbonate Body.
● 2.5Mm Hard-Anodized. 
Check Price
5. HPI Jumpshot Stadium Racing Truck  
● Waterproof.
● Ready to Run.
● 12-turn 550-size motor. 
Check Price
Our Overall #1 Rated Pick
Traxxas Rustler has a premium power system because of the powerful titan 12T 550 modified motor, enhancing the torque and power handling capabilities. RC trucks ideal for both adults and kids are hard to find, but Traxxas has all its features.
High current connectors in it are designed for handling high current applications that ensure maximum power in the vehicle. The XL-5 electronic speed control makes it the best electric RC stadium truck.
RC features an entirely waterproof design that removes all the hindrances in your entertainment. We suggest Traxxas as our top product because of its three-throttle profile, 2-cell LiPo compatibility, 4-7 cell NiMH and built-in BEC.
The super-fast charging makes it easy to go through, and that is because it is equipped with an iD 3000mAh, 4 amp 12-volt DC peak detecting fast charger for reliable charging and power. Traxxas also has long-range radio with advanced programming that provides long-range control.
Best RC Stadium Truck List (Expert Picks)
Short on time? We understand. Check out this quick overview of our favorite stadium RC truck.
Traxxas Rustler XL-5 Stadium Remote Control Truck
Losi 1/18 Mini-T 2.0 RTR 2WD RC Stadium Truck
ARRMA 1/10 SENTON MEGA 4X4 RC Stadium Truck
TEAM LOSI RACING 1/10 2WD Stadium Race Truck
HPI Jumpshot V2 RTR RC Stadium Racing Truck
RC Stadium Truck Reviews
Losi 1/18 Mini-T 2.0 RTR 2WD Stadium Truck
Losi 1/8 scale mini is a reinvented version with all the features and options of modern technology that you never dreamed of back in the day. Everything here takes a step above the Mini's on the market because of its updated suspension geometry, waterproof electronics, and 2.4Ghz radio system.
RC enthusiasts love the performance of this Mini-T 2.0. a mid-motor configuration for better balance, aluminum chassis, oil-filled shocks, and a full range of options are ready to run the package.
Losi has a dynamite 7.4V 650mAh 20C Li-Po battery and dish wheels that make its performance excellent. The transmitter, receiver, motor, metal gears are all included in the package.
Read More: Best RC Trophy Truck
ARRMA 1/10 SENTON MEGA 4X4 RC Stadium Truck
Fast, fierce, fully equipped, and fully-assembled, the AARMA RC stadium 4×4 truck is ready to bash right out of the box. The exciting bashing speeds of RC makes it a fantastic ride for beginners and experts both.
2.4GHz radio included dependable control with throttle and servo reversing, throttle limiting, throttle, and steering travel adjust. Powered by 550 brushed motors, it is durable and safe to run on all terrains without difficulty. The waterproofing feature also makes it easy to use under all conditions.
The motor, slipper clutch assembly, motor plate, and gear cover are included in a single module and can be easily removed from the chassis just by taking out one screw. Super-sized lightweight differentials, oil-filled shocks, slider driveshaft all are designed tough and in a unique way. Interference-free performance in the extended range is its quality feature.
Read More: Top 10 Best Arrma RC Car Review
TEAM LOSI RACING 1/10 2WD Stadium Race Truck Kit
The TLR (Team Losi Racing) is one of the top-rated RC stadium trucks for racing, based on the championship-winning record. The stadium truck kit takes competition and gives it an advanced, mid-motor laydown transmission treatment.
RC truck has wider track width and a relatively short chassis of the truck that results in next-level domination in the championship. The laydown transmission helps to move the motor forward to a central location. LOSI drives more consistent, flatter, and easily on high grip surface.
Drivers can maximize the performance with equal weight bias for all surfaces, fitting brick pas, shorty pack mounted across the chassis, and saddle pack. The clear, polycarbonate body has an adjustable toe, durable aluminum plate rear, long-lasting pads, and anti-squat capabilities. Battery, charger, radio system, motor, tires, ESC, and servo are needed to complete it.
HPI Jumpshot V2 RTR RC Stadium Racing Truck
HPI is the Jumpshot Stadium Racing Truck is another perfect RC stadium truck for racing. Factory-built RC features cool and stylish looks that set it apart from the original Jumpshot. Under the body, the chassis is a durable and great looking style design that gives drivers a reliable, tough truck with a fun driving feel and easy handling.
Motor with enhanced gearing gives astonishing acceleration and fantastic punch at all speeds making jumps and donuts easy. RC's completely revised version has newly optimized gearing, new metal idler gear, new durable spur, and a newly revised servo.
All these upgraded features make it great for racing. You can easily access the battery from the bottom of the chassis. The battery box has 6-7 NiMH flat style packs and 2S LiPo packs.
To keep the fun uninterrupted, gears are made with heavy-duty material and have a design that eliminates damage during hardcore sessions. For all kinds of driving, extra crash protection is ensured through firm suspension. You can blast through all types of terrains quickly.
Buying Guideline For The Best RC Stadium Truck
Before buying an RC stadium truck, you must consider the following features. Let's discuss some serious considerations.
Budget
It doesn't matter we discuss this factor openly or not, but this is undoubtedly one of the most crucial elements. Hobby-grade RC stadium trucks can get expensive; our experts recommend you to purchase RC at the best value. You can go for extra such as chargers, batteries, and special tools, etc.
Durability
Who wants to repair his RC truck again and again due to its inferior quality? Choose a product made with top-notch materials having a rigid structure.
Run time
Run time is how long you can run your RC stadium truck before stopping and charging the car battery. The run time of RC depends on the capacity of batteries and the efficiency of motors. Select an RC having a longer run time. Usually, 2wd trucks have more run time than 4wd.
Speed
Who wants his RC stadium truck not to go fast? But extra fast speed can tend to break earlier. So, make sure that the speed of your RC is balanced. Otherwise, you may not be able to handle with super-fast speed.
Usability
Some of the RC trucks require more maintenance than others. It depends on your choice that which RC stadium truck you want to purchase and its purpose. You may prefer choosing an electric or nitro RC truck. You may also plan to have an RC stadium truck for racing or bashing. So choose a dream truck according to your usability.
RC Stadium Truck (FAQs)
What are RC stadium trucks?
RC stadium trucks are vehicles that are similar to buggies but have open-wheeled layout. For improved stability and ground clearance, they have large and wide tires.
How long does the battery of the RC stadium truck last?
Batteries generally last for 15 to 20 minutes, but you can swap the default battery with an expensive battery that lasts longer around 30 to 35 minutes.
Are RC stadium trucks waterproof?
Not all of the RC electronics are waterproof. Please read the description of models carefully to know whether it is waterproof or not. Having a waterproof kit is a plus point.
What is the top speed of the RC stadium truck?
RC trucks are built for off-roading, and the fastest speed of a truck is over 65 miles per hour. Racers can also customize their RC trucks using upgradeable parts that have even more speed than this.
From where can I buy RC stadium trucks?
These days most enthusiasts purchase RC stadium trucks from Amazon or similar online stores. We have helpfully provided some of the RC stadium truck from Amazon in our review guide above.
Final Thoughts
We hope this guide is helpful for you in finding out the best RC stadium trucks. Our top-pick is Traxxas Rustler RC, as it is the best electric RC stadium truck. And if you have been frequent winners, you must go for Team Losi Racing that is the best stadium RC truck for racing, and it will help you maintain your winning record.
So, if you want to provide countless hours of fun to you and your family, then straight away rush to these amazing RC stadium trucks.
You May Also Be Interested In
10 Tamiya RC Cars Review
Best Beginners Level Traxxas RC Car