How To Make Nitro Fuel In A Cheap Way In 2023?
We may earn commission from links on this page at no extra cost to you. We only recommend products we back!
Ever wondered how to create your own nitro fuel without breaking the bank?
In a world where cost efficiency matters, finding affordable ways to power your RC vehicles is a game changer.
Ready to unleash the potential of nitro fuel on a budget?
Today, we reveal a simple, cost-effective method to make nitro fuel at home.
Save money and enjoy the thrill of DIY chemistry with this step-by-step guide.
In addition, you'll also have some safety tips, testing methods, and troubleshooting tips.
How To Make Nitro Fuel In A Cheap Way 
Making nitro fuel at home can be an affordable and satisfying process.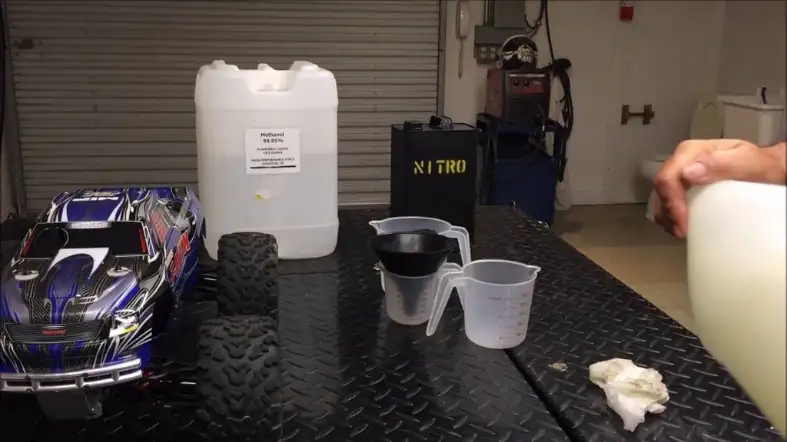 By following these steps, you'll be able to create a high-quality fuel that powers your nitro engine efficiently and cost-effectively.
Gather Your Essential Ingredients
To make nitro fuel inexpensively, you need to start by gathering the necessary ingredients.
Procure methanol, nitromethane, and high-quality synthetic oil. Methanol, the primary component, can be sourced from various suppliers or online stores.
Nitromethane, a powerful additive that boosts performance, may be purchased from hobby shops or online.
Select synthetic oil compatible with nitro engines for proper lubrication.
Choose the Right Nitro Fuel Blend
Consider your nitro engine's requirements when selecting the ideal fuel blend. The blend depends on the nitromethane and oil percentages in the mix.
Most nitro engines function well with a blend of 10-20% nitromethane and 12-20% oil.
If you're unsure, consult your engine's documentation or manufacturer for guidance.
Measure and Mix Your Ingredients
To create your nitro fuel, carefully measure the ingredients based on the blend you've chosen.
For example, if you want a 10% nitromethane blend with 15% oil, combine 750ml of methanol, 100ml of nitromethane, and 150ml of synthetic oil.
Use a large, clean container and a measuring cup for precise measurements.
Slowly pour each ingredient into the container, stirring the mixture gently to ensure a thorough blend.
Store Your Nitro Fuel Safely
Proper storage of your nitro fuel is crucial for maintaining its quality and ensuring safety. Keep the fuel in a cool, dry place away from direct sunlight or heat sources.
Always use a tightly sealed, fuel-specific container to prevent evaporation, contamination, or accidental spills.
Label the container with the fuel blend and date of creation for easy reference.
Test Your Homemade Nitro Fuel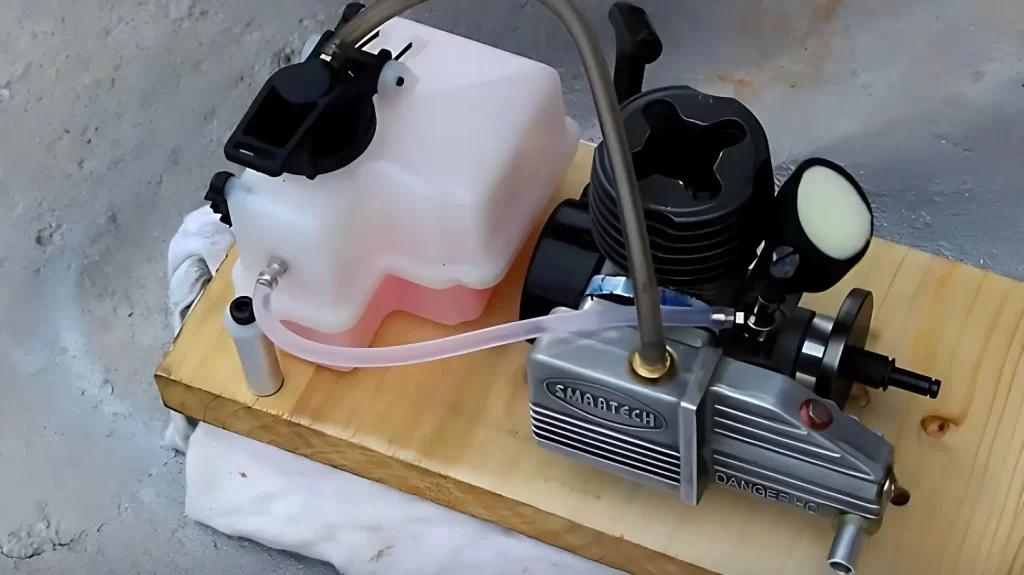 Before using your homemade nitro fuel in your engine, it's essential to test its performance.
Start by running your engine with a small amount of fuel to observe its behavior.
Listen for any unusual sounds, watch for excessive smoke, and monitor the engine's temperature.
Make adjustments to the nitro fuel blend if needed to achieve optimal performance.
Maintain Your Nitro Engine
To get the most out of your homemade nitro fuel and keep your engine running smoothly, perform regular maintenance on your nitro engine.
Clean the air filter, check the glow plug, and inspect the fuel lines for any signs of wear or damage.
Proper care will ensure that your engine performs at its best, even with inexpensive nitro fuel.
Safety Precautions: Handling and Storing Nitro Fuel Responsibly
By following these steps, you can ensure that you're handling and storing nitro fuel responsibly, keeping yourself and those around you safe.
Protect Your Skin and Eyes
While working with nitro fuel, always wear gloves and safety goggles. This way, you prevent skin irritation and protect your eyes from potential splashes.
Additionally, consider wearing long sleeves to cover exposed skin.
Ensure Proper Ventilation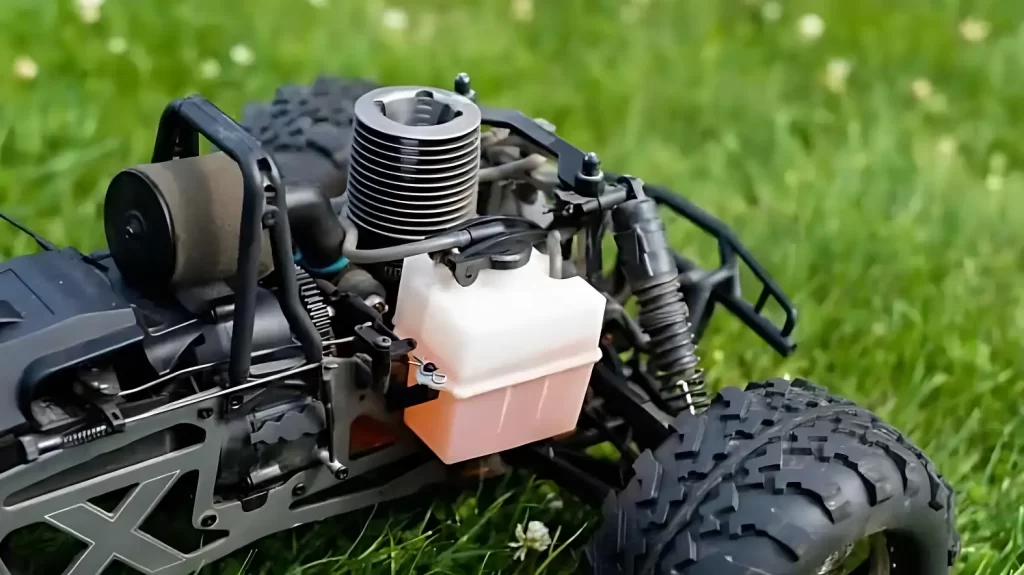 Work in a well-ventilated area when handling nitro fuel. Good airflow dissipates harmful fumes and reduces the risk of inhaling toxic vapors.
If possible, carry out your tasks outdoors or in a room with open windows and doors.
Use Approved Containers
Store nitro fuel in approved, tightly sealed containers. These containers help prevent accidental spills and reduce the risk of fire.
Also, make sure you label the containers correctly, indicating the contents and any hazard warnings.
Keep Away from Heat Sources and Open Flames
Always store nitro fuel away from heat sources, sparks, and open flames. Its highly flammable nature makes it a potential fire hazard.
Choose a cool, dry storage area that is not exposed to direct sunlight or high temperatures.
Avoid Mixing Different Fuels
Never mix nitro fuel with other fuels or chemicals. Mixing can create unexpected reactions, making the fuel unstable and dangerous.
Stick to the manufacturer's recommendations for your specific engine to ensure optimal performance and safety.
Store in a Secure Location
Keep your nitro fuel in a secure location, away from children and pets. The toxic nature of the fuel can cause severe harm if ingested or if it comes in contact with sensitive skin.
Lock the storage area or place containers on a high shelf, out of reach.
Dispose of Empty Containers Responsibly
When you're done with a nitro fuel container, don't just throw it in the trash. Puncture the container to release any remaining vapors and let it air out in a well-ventilated area.
Then, dispose of the container according to your local hazardous waste regulations.
Respond to Spills Immediately
In case of a nitro fuel spill, act quickly. Wear gloves and use absorbent materials like sand or cat litter to soak up the fuel.
Then, place the soaked material in a sealed container and dispose of it following local hazardous waste guidelines.
Remember to ventilate the area thoroughly to disperse any lingering fumes.
Testing Your DIY Nitro Fuel: Performance Evaluation Techniques
By following these safety guidelines, you'll be able to test and optimize your DIY nitro fuel blend with confidence.
Gather Essential Tools and Materials
Before you begin, gather all the necessary tools and materials. You'll need a nitro-powered RC vehicle, a new fuel blend to test, a stopwatch or timer, and a safe area to run your vehicle.
By having everything ready, you'll be able to effectively evaluate your DIY nitro fuel's performance.
Run a Baseline Test
First, establish a baseline using commercially available nitro fuel. Fill your RC vehicle's fuel tank with commercial fuel, start the engine, and let it warm up for a few minutes.
Once warmed up, drive your vehicle around the test area to get a feel for its current performance.
Pay close attention to acceleration, top speed, and engine stability. Record your observations and time how long it takes for the tank to empty.
This baseline data will be essential for comparison later on.
Switch to DIY Nitro Fuel
After completing the baseline test, drain any remaining commercial fuel from the tank and refill it with your DIY nitro fuel blend.
Start the engine and let it warm up for a few minutes to ensure that the new fuel is circulating throughout the system.
The engine's behavior during the warm-up period can provide valuable insights into the new fuel's compatibility with your vehicle.
Conduct Performance Tests
Now, with the DIY nitro fuel in your vehicle, perform a series of tests to assess acceleration, top speed, and engine stability.
Record the results, as well as any differences in engine sound or responsiveness.
Time how long it takes for the tank to empty, just as you did with the baseline test. This will help you determine the fuel efficiency of your DIY blend.
Compare Results and Analyze Performance
With both sets of data in hand, compare the performance of your DIY nitro fuel to the commercial fuel.
Consider any noticeable improvements or declines in acceleration, top speed, and engine stability.
Additionally, compare fuel consumption times to determine if your blend is more or less efficient than commercial fuel.
Fine-Tune Your DIY Nitro Fuel Blend
Based on your performance analysis, you may find that your DIY nitro fuel blend requires some adjustments.
Fine-tune the fuel mixture by altering the ratios of nitromethane, methanol, and oil. Continue to test and adjust until you achieve your desired performance levels.
Safety Precautions
Remember, safety should always be your top priority when testing DIY nitro fuel. Conduct all tests in a well-ventilated, open area, away from flammable materials or other potential hazards.
Wear protective gear, such as goggles and gloves, and keep a fire extinguisher nearby.
Troubleshooting Common Issues with Homemade Nitro Fuel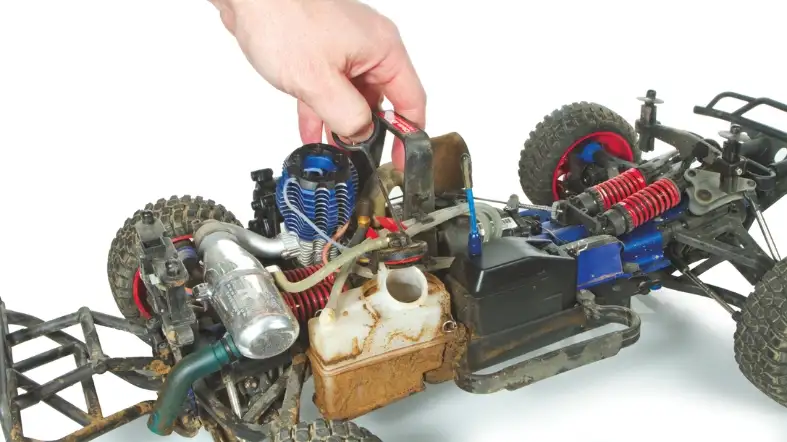 By following these steps, you'll be well-equipped to troubleshoot common issues with homemade nitro fuel and keep your engine running smoothly.
Identify the Nitro Fuel Mixture
To tackle nitro fuel issues effectively, you must first understand your fuel mixture. Commercial nitro fuel typically contains nitromethane, methanol, and oil.
The oil lubricates the engine, while nitromethane and methanol provide power.
Familiarize yourself with the recommended mixture ratios for your specific engine, and ensure you measure and mix your ingredients accurately.
Address Inconsistent Engine Performance
Inconsistent engine performance is a common problem when using homemade nitro fuel.
To remedy this, examine your fuel mixture for contamination. Ensure you store your fuel in a clean, airtight container away from sunlight and heat sources.
If the problem persists, adjust the nitro content to match your engine's specifications or experiment with different oil types for optimal performance.
Improve Engine Cooling
Overheating is a frequently encountered issue with nitro engines. To avoid this, check your fuel mixture's oil content, as it plays a crucial role in cooling the engine.
If necessary, increase the oil content, making sure to use high-quality oil that's compatible with your engine.
Additionally, inspect the cooling head and make sure the cooling fins are free from dirt and debris to ensure proper airflow.
Eliminate Engine Stalling
Engine stalling can result from an improper fuel mixture or an inadequate fuel flow. First, ensure your nitro fuel mixture follows the recommended ratios.
Next, check the fuel lines and fuel tank for leaks, blockages, or damage. Replace any damaged components and clean the fuel filter regularly to maintain the optimal fuel flow.
Optimize Engine Tuning
If you're still facing issues with your homemade nitro fuel, it might be time to fine-tune your engine.
Adjust the carburetor's needle valves to achieve the ideal air-fuel mixture for your specific engine.
Remember, the high-speed needle valve affects top-end performance, while the low-speed needle valve influences idling and low-speed performance.
Enhance Engine Longevity
To maximize your nitro engine's lifespan, use a high-quality fuel mixture with the right balance of nitromethane, methanol, and oil.
The oil in the mixture protects and lubricates the engine's internal components. Make sure you use top-grade oil, such as synthetic or castor oil, in the recommended proportion.
FAQs
Can I Make Nitro Fuel At Home?
Yes, you can make nitro fuel at home, but it requires a good understanding of the components and their ratios.
Additionally, you need to take proper safety precautions as nitromethane and methanol are flammable and can be hazardous if not handled carefully.
What Is The Ideal Ratio Of Nitro Fuel Components?
The ideal ratio of nitro fuel components depends on the specific RC engine and its requirements.
A common starting point is 20% nitromethane, 10-15% oil (usually a blend of castor and synthetic oil), and 65-70% methanol.
Where Can I Purchase The Components For Making Nitro Fuel?
The components for making nitro fuel can be purchased online or from specialty stores.
Nitromethane can be found at hobby shops or online retailers, while methanol can be sourced from automotive or chemical supply stores.
The oil can be found at hobby stores, online retailers, or automotive stores.
How Can I Save Money While Making Nitro Fuel?
To save money, consider buying the components in bulk, as larger quantities often come at discounted prices.
Additionally, you can mix the fuel in large batches to reduce waste and save time.
Be sure to store the fuel properly in a cool, dry, and well-ventilated area, away from direct sunlight and heat sources.
Final Words
Making nitro fuel cheaply is not only possible but also highly rewarding. By following our easy and cost-effective method, you have successfully unlocked the potential of homemade nitro fuel for your RC vehicles.
This not only saves you money but also adds a layer of personal satisfaction to your hobby.
So, go ahead and fuel your passion with confidence, knowing that you have mastered the art of affordable nitro fuel production. Happy racing!