The 8 Best Battery For Traxxas Slash 4×4 And 2wd
We may earn commission from links on this page at no extra cost to you. We only recommend products we back!
How to find the best battery for Traxxas Slash 4×4 and 2wd? Well, it is really challenging to discover the best battery packs for your Traxxas vehicle. To solve your problem I am going to share an unbiased review on the top 8 best batteries for Traxxas  Slash. In this review, you will also learn,
Top 8 best batteries for Traxxas Slash
How to choose the best one
And many more.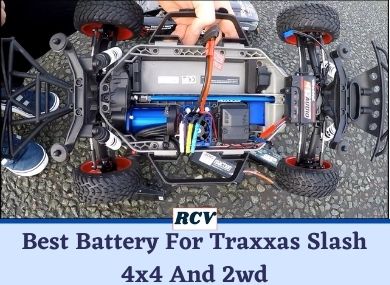 Quick Overview
Image
Product
Key Features
Price
1. Traxxas  3 cell lipo 6400mAh
● Improve performance & helps to reach maximum speed.
● Prevents damage.
● Faster & efficient LiPo balance charging.
● Auto battery recognition feature reduces charging faults.  
Check Price
2. Youme Power 6500mAh 60C lipo Battery
● Quick rechargeable.
● Durable cycle life Steady discharge curve.
● Helps to reach top speed with stability.
● High-quality li-polymer material.  
Check Price
3. Traxxas  3s 5000mAH  25C LiPo Battery
● Easy to install.
● Maximum speed.
● Enough run time.
● Quality construction.  
Check Price
4. Traxxas  5000mah 8.4 V
● Low resistance.
● Premium quality materials.
● High voltage.
● High current connectors.
● Maximum speed.  
Check Price
5. PowerHobby 5200mAh 50C 3s battery
● Huge capacity.
● High speed.
● 50C discharge rating.
● Improve mileage.  
Check Price
Our Overall #1 Rated Pick
Traxxas lipo battery is specially manufactured for Traxxas vehicles. This great battery comes with an exclusive formula to improve your Traxxas performance. It provides balance connectors that match with Traxxas's high current connector. That reduces fragile wires.
It comes with premium cells that have extra-wide discharge tabs. As a result, it is capable of minimizing resistance. It offers not only high current connectors but also 12gauge Maxx cable wire straight to the cell. This 6400mAh 25C is compatible with Traxxas  Slash 4×4 & 2wd, VXL & brushless edition models.
This compact battery pack offers maximum capacity & configuration. It introduces simple installation & maximum speed at an affordable price. Even it ensures smooth current flow with zero voltage loss. It provides a good grip & reverses polarity protection to deliver a perfect connection.
Traxxas Slash 4×4 And 2wd Battery Review
Youme 4S 14.8V Lipo 6500mAh 60C Battery
Youme power 6500mah lipo battery is engineered with advanced technology. That ensures a steady discharge curve, a high discharge rate to achieve maximum speed. Also, it offers maximum stability. This battery comes with a built-in protection system to offer safe charging & functionality.
But don't overcharge it above 4.2V to get the best performance. This 4s Youme power 60c battery maintains quality. It is a quick rechargeable & long cycle life battery that comes at a reasonable price.
This high-performing polymer battery is specially built for Traxxas Slash 4×4, X-Maxx & 2wd. Even it provides Traxxas plugs to easily install it. After fully recharging it you can ride for nearly 45-60 minutes. On a hard ride, I am impressed with its speed. Even on riding grass, dirt you can ride for more than 1hour.
Traxxas 3S 11.1V 5000mAh 3 Cell LiPo Battery
This Traxxas  3s is a 3cells battery pack that indicates high voltage like 11.1 V. That ensures you can achieve a pretty high speed with this battery. This race runner battery is specially designed for Traxxas  Slash 4×4 & 2wd. Well, it comes with a 5000mAh capacity.
So you can run a pretty long time with this battery. But as the run time increases that also increases your charging time. It provides an iD connector to easily fit it on your vehicles. The best part is it is specially formulated to ensure maximum speed in Traxxas vehicles.
To win a race this battery is worth considering. It maximizes Traxxas performance & offers long-time services.  Also, you can buy it at a low price.
Traxxas 2960X Series 5 5000mAh NiMH 7-Cell 8.4V Battery
To achieve a great speed to your Traxxas vehicle this 8.4 volt Traxxas  NiMH is a good choice. It is compatible with all Traxxas  1/10 scale vehicles or larger. This battery is a specially built version for Traxxas cars, trucks & boats. This battery offers high speed, acceleration & power to make your ride memorable.
It comes with solid construction. This premium quality battery provides low resistance cells. Also, it provides a silicone jacket & 12AWG wires, heavy-duty welded tabs. Besides, it provides high current connectors to handle the high current flow.
Moreover, it comes with a simple assembly process. You can easily install it on your vehicle & start a fun ride. The best part is the capacity of 5000mAh is representing the minimum running capacity, not the maximum time. In good riding conditions, you can drive more.
PowerHobby 3S 11.1V 5200mAh 50C Lipo Battery W XT60 Plug
PowerHobby brings this 3 cell exclusive battery, especially for Traxxas. It is one of the best batteries for Traxxas Slash 2wd. This lithium polymer battery comes with 11.1 voltage to ensure a high-speed ride. Besides, it has a maximum capacity 5200mAh that offers a quite long running time.
Besides, the safe discharge ratio is 50c which is also good. This high-performing lipo battery is also compatible with Traxxas  Slash 4×4, X-Maxx, E-Revo, E-Maxx,  2WD & many more.
Also, it works to improve your vehicle performance. It offers a high-speed run time without issues in any weather. Also, it comes with a great feature at a low price range. You can enjoy the full advantage of the power system with this battery.
Traxxas 2950X Series 4 4200mAh NiMH 7-Cell 8.4V Battery
This 7 cell Traxxas battery is one of the best batteries for Traxxas Slash 4×4.  Because It is specially formulated for Traxxas vehicles especially Slash 4×4 & 2wd.  Well, this battery comes with an 8.4 voltage that is enough to offer a cool ride. It also provides a 4200mAh capacity.
As a result, you can get a standard run time. This one is the best choice for budget customers. It is a basic battery to use your Traxxas vehicle.
This battery maintains quality & offers low-resistance cells. It also comes with a high current connector to handle the high current flow. The easy assembly & using process makes it more popular. As it is a 7-cell battery it offers 15% more voltage to derive maximum acceleration & speed. It can increase your speed up to 10mph.
Traxxas 2872 LiPo 3S 11.1V 5000mAh 25C Battery
Well, Traxxas  2872 lithium-ion battery is another great choice for Traxxas vehicles, especially Slash 4×4 & 2wd. This battery comes with a 5000mAh capacity. That offers an outstanding run time to make your ride special. This 3 cells battery comes with 11.1 voltage to deliver maximum speed on your ride.
No matter whether you drive on terrains it ensures a super-fast speed. Besides, the discharge ratio is 25C which is quite good.
It is formulated with high-quality materials to ensure long durability. For your racing car, you get an unbeatable speed & stable ride with this amazing battery. It works great with a good amount of power.
Melasta 8.4V 4200mAh 7-Cell Hump NiMH Battery
Melasta is a popular brand for a high-quality batteries. Especially when you have a Traxxas vehicle you should try this melasta unique power battery. It introduced NiMH technology to improve vehicle performance. This 7 cells battery comes with 8.4 voltage power to offer a high-speed ride.
Also, it provides a 4200mAh capacity to offer a good run time. It is a good choice for RC cars with a Traxxas plug. It offers easy assembly. Also, it easily fits on your Traxxas vehicle. It brings an advanced formula to offer maximum speed in racing cars. Also, it supports quick charge features.
Buying Guide for the Best Battery for Traxxas Slash
How to buy the best battery for a Traxxas vehicle? Well, it is challenging to find out the best battery based on your vehicle requirement. To remove your worries we are going to present a helpful buying guide. It will assist you to find the best battery for your Traxxas vehicle. Let's start with the buying guide to know the tricks.
Compatibility
Most of the Traxxas vehicles are compatible with LiPo or NiMH batteries. But few of them are not supported by some models. To make sure whether your preferable battery is compatible with your vehicle just check on Traxxas's website.
They have a list of suitable battery packs. You can easily find out your battery pack requirements from the website. But if you don't have enough time, check the above battery list for Traxxas  Slash 4×4 & 2wd.
Capacity
Your battery capacity is like the fuel of your vehicle. If you want a long time ride then you should purchase a high capacity battery.
The capacity determines how much you can run with your vehicle. Generally, the capacity is represented by milliamp per hour. The long run time you require, the high capacity you should look for.
Voltage
If you are a racer the key priority is voltage. Voltage determines how much speed you can achieve with your vehicle. Normally 2cells LiPo battery provides nearly 7.4Volt & 3 cells offer 11.1 volts.
Besides, 4 cells offer 14.8 V. The more cells indicate more voltage. So if you require more speed then choose maximum voltage. To achieve superior speed with stability high voltage is a must.
Discharge Rating
The discharge rating is generally represented by C. The battery discharge rating indicates how fast the battery can be discharged to avoid damage.
This discharge rating helps to calculate the maximum sustainable load amount for your battery. To avoid battery damage you can follow this load instruction. To calculate the battery load multiplied discharge rating with capacity in Amps. The result value is indicating your maximum battery load.
Types
You will find two types of batteries for the Traxxas vehicle. One is NiMH & another is LiPos. Both types have their pros & cons.  If you keep your vehicle idle for a long time then the NiMH battery will reduce its performance.
Besides, the LiPo battery needs balance leads for operating perfectly. The mechanism is a bit complicated. NiMH is a more durable choice than LiPo. But Lipo is more efficient & holds the energy to make an outstanding ride. If you are on a budget then NiMH is for you.
But if you agree to frequently change the battery then LiPo is good for you. LiPo is able to hold power. So depending on your need you can choose any of them. But the best lipo battery for Traxxas  Slash is unbeatable in providing high performance.
Traxxas Slash Battery (FAQs)
What is the best battery for Traxxas Slash 4×4?
For Traxxas 4×4 the suitable battery requirement is 5000mAh, 30-40C 2S or above. If you need more speed then 3s or 4s is good. You can buy any brand battery with this specification for Traxxas Slash 4×4.
How long does the battery run for Traxxas Slash?
The high-Quality battery pack that comes for Traxxas Slash is ensuring a long ride of 40-60 minutes. It provides a good run time. But the only problem is it takes almost 7-8 hours to recharge the pack.
Can you overcharge your Traxxas Slash battery?
Well, it is strictly prohibited to overcharge your Traxxas battery. It may damage your valuable LiPo battery. To protect your battery avoid overcharging & also use the correct charger.
How to know whether my Traxxas battery is dead?
When you notice your battery is fully swollen that indicates it is dead. You need to replace it. Also, when you charge the battery but it won't charge above 70-80% that means you need to replace the battery.
Final Thought
Buying a good quality battery protects you from several maintenance costs, stress & worry. To save your time we are coming up with the top 8 best batteries for Traxxas Slash 4×4 & 2wd. We only include the battery after checking compatibility, performance & durability.
To make your ride outstanding grab one battery from the above list.
The battery is a long-term investment. So don't jump only for a cheap price. Follow our buying guides to discover the best budget products. It will protect you from buying low-quality batteries.