Are you torn between the Arrma Kraton 8S vs Xmaxx? Can't decide which beast to unleash on the RC tracks? Well, look no further!
In a nutshell, the Kraton 8S is an off-road powerhouse with relentless speed, while the Xmaxx delivers superior control and durability.
This article aims to provide a comprehensive comparison, helping you make an informed choice.
Let's dive into the specifics, shall we?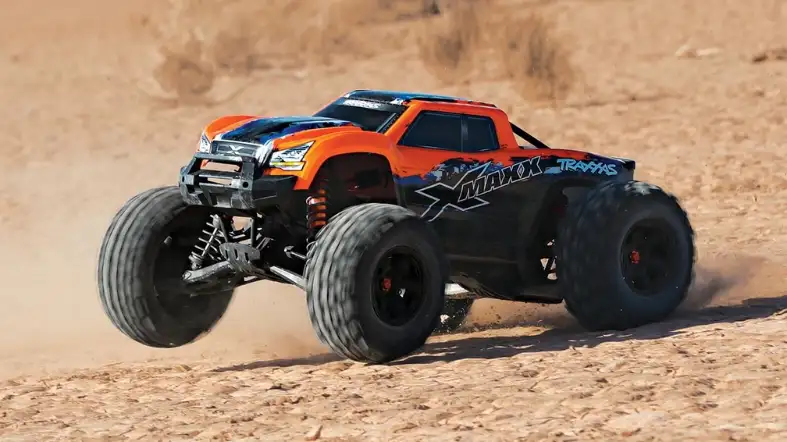 Image
Product
Pro Point
Price
ARRMA KRATON RTR RC Monster Truck
● Ready to run.
● Easy maintenance.
● 55+ MPH speeds
● All metal drive train.
● Sliding motor mount.
● Massive alloy shock.
● Oil-filled adjustable shock.
● Multi-split spoke wheels.
Check Todays Deal
Traxxas 8S X-Maxx Monster RTR Truck
● Lightweight.
● Fully assembly.
● 50+mph speed.
● Mammoth 8-inch tall tires.
● Huge ground clearance.
● Maxx-duty drive train.
● Exclusive self-righting.
Check Todays Deal
Difference Between ARRMA Kraton 8s And Traxxas X-Maxx 8s
| Name | ARRMA KRATON RTR RC Truck | Traxxas 8S X-Maxx RTR Truck |
| --- | --- | --- |
| Material | Alloy Steel. | Metal. |
| Item Dimensions(LxWxH) | 34.1 x 25.5 x 12.6 inches. | 30.67 x 22.26 x 13.79 inches. |
| Weight | 38 Pounds. | 19 Pounds. |
| Chassis | Laser-etched aluminum anodized chassis plat. | Modular chassis. |
| Design | Triangular structured center brace system.Oil-filled adjustable shocks with massive 20mm bore. | All-metal gear drivetrain with strengthened axles.Clipless body mount.ESC.Motor fans. |
| Optimal accessories | Spektrum Firma 1250Kv Brushless Motor.Spektrum DX3 3-channel 2.4GHz Radio160A Smart ESC.S905 Metal-Geared Digital Servo. | 1200XL brushless motor.TQi 2.4GHz radio.ESC and motor fans.The steering servo. |
Understanding the Key Differences: Arrma Kraton 8s Vs Xmaxx
The choice between the Arrma Kraton 8s and the Traxxas Xmaxx depends on your preferences and priorities.
Evaluate the performance, durability, battery life, customization options, and cost of each model to determine which RC monster truck best suits your needs.
Comparing Performance
Dive into the world of RC cars, and you'll find two giants standing tall: the Arrma Kraton 8s and the Traxxas Xmaxx.
When it comes to performance, you'll notice that the Kraton 8s boasts a powerful brushless motor, allowing it to reach top speeds of 55+ mph.
On the other hand, the Xmaxx features a Velineon VXL-8s motor, enabling it to reach speeds up to 50 mph.
Although the Kraton 8s holds a slight edge in speed, both models promise a thrilling ride.
Analyzing Durability and Build Quality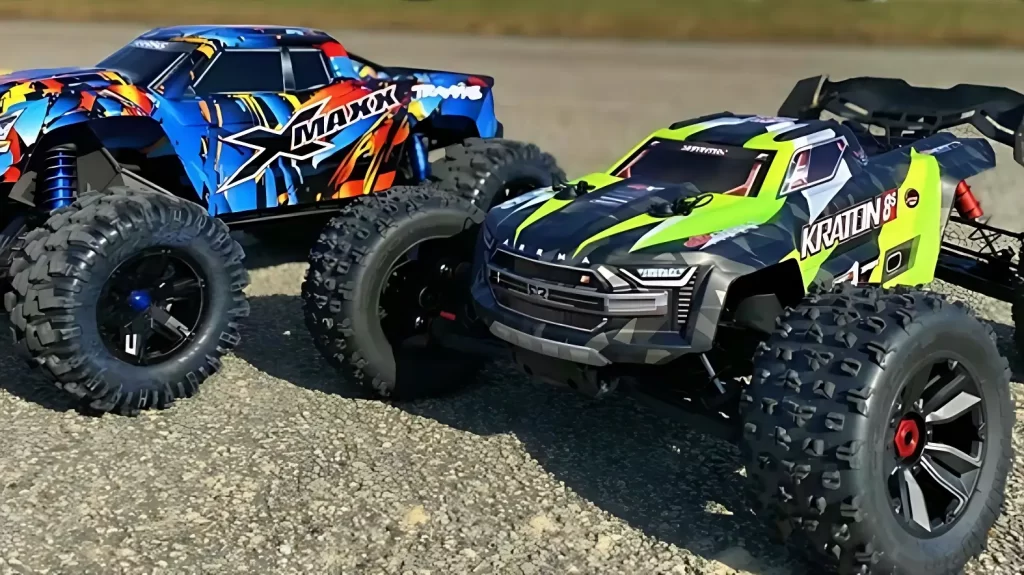 As you assess durability and build quality, consider the Arrma Kraton 8s' robust construction, which includes a 7075 T6 aluminum chassis, reinforced composite arms, and heavy-duty drivetrain components.
This design ensures the vehicle can withstand jumps, flips, and rough terrain.
Similarly, the Xmaxx boasts a robust build with its composite nylon tub chassis, durable suspension components, and reinforced drivetrain.
Both vehicles can endure a fair share of punishment, but the Kraton 8s' aluminum chassis might provide a slight advantage in terms of rigidity.
Examining Battery Life and Run Time
You can't ignore battery life when comparing these two RC giants. The Kraton 8s operates on two 4s LiPo batteries, providing you with a runtime of approximately 30-40 minutes, depending on your driving style.
The Xmaxx, on the other hand, requires two 4s LiPo batteries as well, but its run time varies from 20-30 minutes.
While both models deliver ample playtime, the Kraton 8s' longer battery life may be more appealing.
Exploring Upgrades and Customization Options
Upgrades and customization options play a significant role in the RC car hobby.
The Arrma Kraton 8s offers a wide range of aftermarket parts and upgrades, allowing you to enhance its performance, handling, and appearance.
Similarly, the Traxxas Xmaxx enjoys a vast selection of upgrade options, with many parts designed specifically for the model by Traxxas and third-party manufacturers.
Both vehicles provide ample opportunities for customization, so you can create a unique RC experience tailored to your preferences.
Weighing the Costs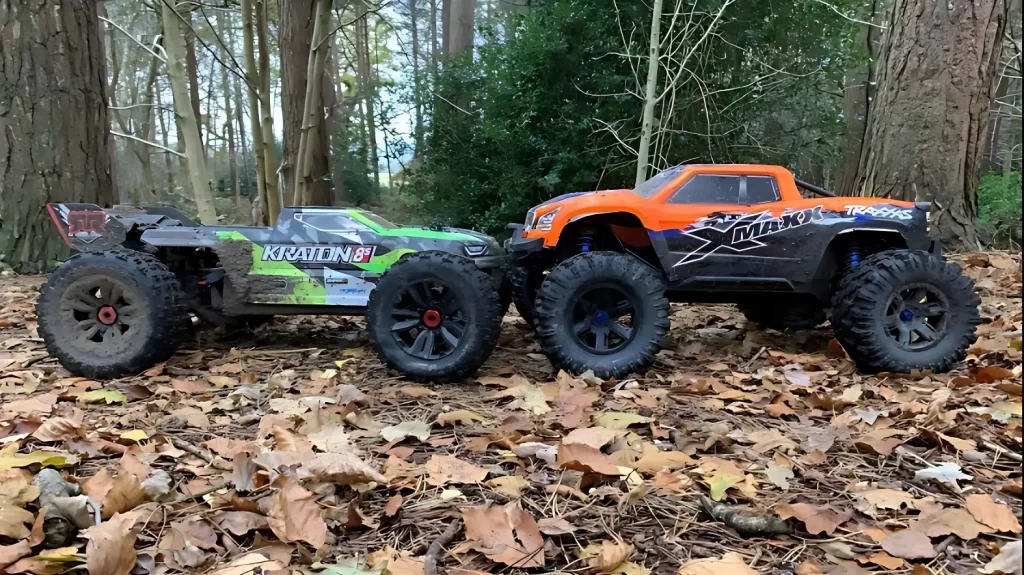 Lastly, you must consider the price when choosing between the Arrma Kraton 8s and the Traxxas Xmaxx.
The Kraton 8s typically comes with a lower price tag, making it a more budget-friendly option.
The Xmaxx, while more expensive, offers the benefit of Traxxas's extensive support network and brand reputation.
Consider your budget and the features that matter most to you when making your decision.
Accessories
When looking at accessories, both the Arrma Kraton 8s and the Traxxas Xmaxx offer a variety of options to enhance your RC experience.
The Kraton 8s provides LED light kits, wheelie bars, and alternative body shells, while the Xmaxx also offers LED lights, body options, and additional wheel and tire sets.
Each vehicle has a unique set of accessories, so you can customize your RC car to fit your style.
Turning and Handling
Handling is essential when it comes to RC cars, and both the Kraton 8s and Xmaxx boast impressive turning abilities.
The Kraton 8s features a responsive steering system, aided by thick sway bars and durable suspension components.
The Xmaxx, on the other hand, has a self-righting feature that allows the vehicle to flip back onto its wheels after a rollover, making it easier to get back into action.
Both models provide smooth turning and handling, but the Xmaxx's self-righting feature may give it a slight advantage in certain situations.
Jumping Capabilities
For those who enjoy getting air, the Kraton 8s and Xmaxx both deliver exceptional jumping capabilities.
The Kraton 8s' powerful motor and robust suspension system allows it to soar through the air with ease.
The Xmaxx, with its durable suspension and potent Velineon VXL-8s motor, also performs well on jumps.
Both models can handle impressive aerial feats, so your decision may come down to personal preference.
Terrain Versatility
When it comes to tackling various terrains, both the Kraton 8s and the Xmaxx excel.
The Kraton 8s's robust construction and powerful motor enable it to traverse mud, gravel, grass, and more with ease.
Likewise, the Xmaxx's sturdy build and potent motor allow it to conquer a range of surfaces effortlessly.
No matter which model you choose, you can expect a versatile RC car capable of handling various environments.
Maintenance and Support
Lastly, maintenance and support play a crucial role in the ownership experience of any RC vehicle.
The Arrma Kraton 8s comes with comprehensive documentation and online support, helping you keep your vehicle in top condition.
The Traxxas Xmaxx offers the advantage of the well-established Traxxas support network, which includes a dedicated customer service team, extensive online resources, and readily available replacement parts.
Both models provide solid maintenance and support, but Xmaxx's extensive support network might make it a more attractive option for some users.
Arrma Kraton 8s Vs Xmaxx: Which One is the Best?
Both the Arrma Kraton 8S and the Traxxas X-Maxx are powerful and popular RC monster trucks.
Choosing which one is the best depends on your specific needs and preferences.
In terms of size, the X-Maxx is larger and heavier than the Kraton 8S, which may be a deciding factor for some buyers.
The X-Maxx also has a higher top speed and can handle rougher terrain thanks to its larger tires and higher ground clearance.
However, the Kraton 8S has its advantages. It has a more efficient drivetrain and a longer battery life than the X-Maxx, making it better suited for longer runs.
The Kraton 8S is also more affordable than the X-Maxx, which may be an important consideration for some buyers.
Ultimately, both of these monster trucks are excellent options, and the choice between them comes down to personal preference and specific needs.
FAQs
Are Parts And Upgrades Easily Available For Both Models?
Yes, both Arrma and Traxxas have extensive aftermarket support and parts availability.
You can find a wide range of upgrade parts and replacement components for both the Kraton 8S and the X-Maxx.
Can I Use The Same Battery And Charger For Both Trucks?
Both trucks require 8S LiPo batteries, so you can use the same battery for each, provided they have compatible connectors.
You can also use the same LiPo charger, as long as it's capable of charging 8S batteries.
How Do The Suspension Systems Compare Between The Kraton 8S And X-Maxx?
Both trucks feature adjustable, oil-filled shocks, and long-travel suspension systems designed for off-road use.
The suspension systems on both trucks provide excellent handling and shock absorption, but the X-Maxx has a slightly more sophisticated setup.
Are Both Trucks Waterproof?
Yes, both the Arrma Kraton 8S and Traxxas X-Maxx are designed with waterproof electronics, allowing them to run in wet conditions.
However, it is essential to properly maintain and clean the trucks after use in wet or muddy conditions to avoid damage and prolong their lifespan.
Final Words
The Arrma Kraton 8s and the Traxxas X-Maxx are two exceptional RC vehicles that have garnered a considerable following among hobbyists and enthusiasts.
Each model boasts its unique features, capabilities, and advantages, making them suitable for different preferences and needs.
The Arrma Kraton 8s excels in its durability, innovative design, and impressive handling.
Its strong chassis and reinforced parts make it an excellent choice for users looking for a vehicle that can withstand extreme bashing and jumps.
On the other hand, the Traxxas X-Maxx shines in its overall size, stability, and ease of use.
Its self-righting feature and smart electronics make it a great option for beginners and experienced users alike.
Ultimately, the choice between the Arrma Kraton 8s and the Traxxas X-Maxx will depend on individual preferences and requirements.
Both vehicles offer exhilarating performance and a thrilling driving experience, ensuring that no matter which one you choose, you will not be disappointed.