Welcome to the exciting world of radio-controlled (RC) cars, where the thrill of driving and racing miniaturized vehicles has captured the hearts of enthusiasts of all ages! If you're a newcomer or a seasoned RC hobbyist, understanding the essential parts of an RC car is crucial to get the most out of your experience.
In this comprehensive guide, we'll explore the various components that make up an RC car, such as the chassis, motor, battery, and more. We'll also delve into the unique features and functions of each part, enabling you to optimize your RC vehicle for better performance, improved handling, and enhanced durability. So, buckle up and let's hit the road as we journey through the fascinating anatomy of an RC car!
Main Parts of RC Cars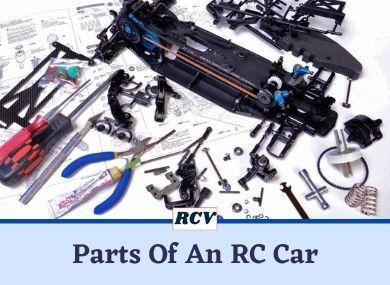 A lot of varieties of RC cars are available in the market, but majorly main parts remain the same. Let's dive into the river of components of RC and see how it works.
Being an RC lover, you must know about every part of the car. Also, you can make a homemade RC car. Let's dive into the parts.
Discover the Chassis and Frame: Building the Base of Your RC Car
The chassis acts as the backbone of your RC car, providing a strong foundation for all other components. Made from materials such as plastic, aluminum, or carbon fiber, it offers the perfect balance of weight and durability. Choose the right chassis material to optimize your car's performance.
Explore Frame Designs
The RC car frame design contributes significantly to its overall performance. Two popular types are the ladder frame and the monocoque frame. The ladder frame boasts ruggedness and strength, making it perfect for off-road adventures. On the other hand, the monocoque frame delivers superior rigidity and lightweight construction, ideal for on-road racing.
Choose the Right Suspension System
The suspension system plays a crucial role in your RC car's performance, as it absorbs shocks and ensures smooth handling. Two main types of suspension systems are the independent and the solid axle.
The independent suspension allows each wheel to move independently, providing better control on uneven surfaces. Meanwhile, the solid axle suspension offers simplicity and durability, perfect for high-speed tracks.
Pick a Suitable Wheelbase
The wheelbase of your RC car, or the distance between the front and rear wheels, affects its handling and stability. A shorter wheelbase offers improved maneuverability and faster cornering, while a longer wheelbase provides better stability and smoother handling.
Consider your driving style and the type of track you'll be racing on to determine the ideal wheelbase for your car.
Select the Right Tires
Tires greatly influence your RC car's performance, grip, and handling. Different tread patterns, compounds, and sizes cater to specific terrains and conditions.
For example, slick tires are perfect for high-grip surfaces, while knobby tires excel on off-road terrains. Experiment with various tire types to find the perfect match for your RC car and the surface you'll be racing on.
Suspension System: Ensuring a Smooth and Stable Ride
A suspension system is a crucial component of a vehicle, designed to ensure a smooth and stable ride by connecting the vehicle's body to its wheels. It plays a vital role in providing comfort to passengers and maintaining the stability and handling of the vehicle, while also protecting the car from damage caused by uneven road surfaces.
The primary functions of a suspension system include:
Absorbing Shocks and Vibrations
The suspension system absorbs the impact from bumps, potholes, and uneven road surfaces, preventing it from reaching the vehicle's occupants. This results in a more comfortable ride and reduced wear and tear on the vehicle.
Ensuring Vehicle Stability
By keeping the wheels in contact with the road, the suspension system provides the necessary traction for acceleration, braking, and cornering. This ensures that the vehicle remains stable and responsive during various driving conditions.
Supporting Vehicle Weight
The suspension system is responsible for supporting the weight of the vehicle, evenly distributing it across all four wheels, and maintaining the correct ride height.
Maintaining Proper Wheel Alignment
The suspension system keeps the wheels aligned, which is essential for even tire wear and optimal vehicle performance.
There are two primary types of suspension systems:
Independent suspension: In this system, each wheel is allowed to move independently from the others, enabling better handling and improved ride quality. This type of suspension is commonly used in modern passenger cars and SUVs.
Dependent suspension: In this system, the movement of one wheel is directly related to the movement of the opposite wheel on the same axle. This type of suspension is more commonly found in older vehicles and heavy-duty trucks, as it is generally more robust and can handle heavier loads.
Various components make up a suspension system, such as springs, shock absorbers, struts, control arms, and anti-roll bars. Each component plays a specific role in maintaining the vehicle's stability, comfort, and handling. In conclusion, the suspension system is an essential part of a vehicle's overall performance and safety, ensuring a smooth and stable ride for passengers and drivers alike.
Electric Motors vs. Nitro Engines: Powering Your RC Car
Electric Motors and Nitro Engines are the two primary power sources for RC (Radio Controlled) cars. Both have their advantages and disadvantages, catering to different preferences and skill levels of RC enthusiasts. Here's a brief comparison between the two:
Electric Motors
Power Source: Electric motors use rechargeable batteries (usually LiPo or NiMH) as their power source. This makes them more eco-friendly and cost-effective in the long run.
Ease of Use: Electric RC cars are generally easier to use and maintain, making them suitable for beginners. They require less tuning and maintenance compared to nitro engines.
Noise: Electric motors are quieter than nitro engines, allowing them to be used in more locations without disturbing neighbors or wildlife.
Performance: Electric RC cars are known for their instant torque and impressive acceleration. They can also be upgraded easily with higher-capacity batteries and more powerful motors.
Run Time: The run time of electric RC cars is limited by the battery capacity, and batteries may take time to recharge. However, having spare batteries can help alleviate this issue.
Nitro Engines
Power Source: Nitro engines run on nitromethane fuel, which is a mixture of nitromethane, methanol, and oil. This fuel is flammable and requires proper handling and storage.
Experience Level: Nitro engines are more complex and require a higher level of expertise for tuning and maintenance, making them more suitable for experienced hobbyists.
Noise: Nitro engines are louder due to their internal combustion process, which can limit where they can be used.
Performance: Nitro RC cars offer a more realistic driving experience, simulating the sound and feel of a real combustion engine. They have a steady power output and can run longer without needing to refuel.
Run Time: While nitro RC cars have longer run times compared to electric cars, they require frequent refueling and can be more expensive to operate over time.
Transmission and Gearbox: Controlling Speed and Torque
Transmission and gearbox systems are essential components in vehicles, including RC cars, as they help control speed and torque. They allow the power generated by the motor or engine to be efficiently transferred to the wheels, enabling the vehicle to move at different speeds and maintain optimal performance.
Here is a brief overview of transmission and gearbox systems, focusing on their roles in controlling speed and torque:
Transmission
The primary function of a transmission is to transfer power from the motor or engine to the wheels. In doing so, it adjusts the output speed and torque, allowing the vehicle to accelerate, decelerate, or maintain a constant speed.
There are two main types of transmissions: manual and automatic. Manual transmissions require the driver to manually change gears, while automatic transmissions change gears on their own, based on the vehicle's speed and load.
Gearbox
A gearbox is a mechanical component that houses a set of gears, which play a crucial role in controlling speed and torque.
The gears within the gearbox work together to convert the input speed and torque from the engine or motor to the desired output speed and torque at the wheels. This conversion is achieved by altering the gear ratios.
Gear Ratios
Gear ratios are the relationship between the number of teeth on the input gear (connected to the motor or engine) and the output gear (connected to the wheels). By changing the gear ratios, the gearbox can alter the speed and torque at the wheels.
A higher gear ratio increases torque but reduces speed, while a lower gear ratio increases speed but reduces torque.
Speed and Torque Control
The transmission and gearbox systems work together to provide the appropriate speed and torque for the vehicle's current driving conditions. For example, when climbing a hill, the vehicle may require more torque and less speed; the gearbox will select a higher gear ratio to achieve this.
Conversely, when driving at high speeds on a straight road, the vehicle will require less torque and more speed, so the gearbox will select a lower gear ratio.
Tires and Wheels: Traction and Performance on Different Terrains      
Tires and wheels are essential components of any vehicle, including RC cars, as they directly affect traction, performance, and the overall driving experience.
The type of tires and wheels used on an RC car can significantly impact its ability to traverse and perform well on different terrains. Here's a brief overview of how tires and wheels influence traction and performance on various surfaces:
Tread Patterns
The tread pattern on a tire has a significant impact on its traction and performance. Different tread patterns are designed for specific terrains or driving conditions, offering optimal grip and handling. For example, slick tires have minimal tread and are ideal for smooth surfaces like asphalt or concrete, while off-road tires have aggressive tread patterns for better grip on loose dirt, gravel, or grass.
Tire Compound
The material used to construct the tire, also known as the tire compound, affects its performance on different surfaces. Softer compounds provide more grip but wear out faster, making them suitable for racing or high-performance driving. Harder compounds last longer but have less grip, making them ideal for casual or long-term use.
Tire Size and Width
The size and width of a tire can impact its performance on various terrains. Larger tires with wider contact patches distribute the vehicle's weight more evenly, providing better traction and stability on uneven surfaces.
Smaller tires with narrower contact patches are lighter and more responsive, making them suitable for high-speed racing on smooth tracks.
Wheel Construction
The material and construction of wheels can influence the overall performance and handling of an RC car. Lightweight materials like aluminum or carbon fiber reduce the vehicle's unsprung weight, resulting in quicker acceleration, more responsive handling, and improved suspension performance. Heavier materials like steel or plastic are more durable and can withstand harsher terrains but may negatively impact performance.
Wheel Offset and Backspacing
Wheel offset and backspacing refer to the positioning of the wheel relative to the RC car's chassis. Adjusting these parameters can affect the vehicle's overall stability, handling, and performance.
A wider wheel offset increases stability, particularly on rough terrains, while a narrower offset provides more responsive handling for high-speed racing.
Batteries and Fuel: Keeping Your RC Car Running
Batteries and fuel are essential energy sources that keep your RC car running, with each offering distinct advantages and drawbacks.
Understanding the differences between these power sources can help you make informed decisions about the type of RC car you prefer and how to maintain its optimal performance. Here's a brief overview of batteries and fuel for RC cars:
Batteries
Types: Electric RC cars rely on rechargeable batteries as their power source. The most common battery types used in RC cars are Lithium Polymer (LiPo) and Nickel-Metal Hydride (NiMH). LiPo batteries are lightweight, have a high energy density, and offer excellent power delivery. NiMH batteries are heavier and have a lower energy density but are more robust and less sensitive to overcharging.
Voltage and Capacity: Battery performance is determined by its voltage and capacity. Voltage (measured in volts) affects the RC car's top speed and acceleration, while capacity (measured in milliamp-hours or mAh) determines the run time. A higher voltage results in faster speeds, and a higher capacity allows for longer run times.
Charging and Maintenance: Proper charging and maintenance of RC car batteries are crucial to ensure their longevity and performance. Always use a compatible charger and follow the manufacturer's guidelines for charging times and methods. It is essential to store batteries in a cool, dry place and avoid overcharging or over-discharging them to prevent damage.
Environmental Impact: Batteries are an eco-friendly power source compared to nitro fuel, as they produce no emissions during operation. However, batteries require proper disposal to prevent environmental harm.
Fuel
Composition: Nitro engines in RC cars use nitromethane fuel, a mixture of nitromethane, methanol, and oil. This fuel is flammable, requires proper handling, and can be more expensive than batteries in the long run.
Performance: Nitro-powered RC cars offer a more realistic driving experience, as they simulate the sound and feel of a real combustion engine. They have a steady power output and can run for extended periods without needing to refuel.
Refueling and Maintenance: Nitro engines require regular refueling during operation. Additionally, they demand more maintenance than electric motors, such as tuning, cleaning, and regular oil changes.
Environmental Impact: Nitro engines produce exhaust emissions, which contribute to air pollution. They are also noisier than electric motors, making them less suitable for use in noise-sensitive areas.
Radio Systems: Staying in Control of Your RC Car
Radio systems are a fundamental component of RC cars, enabling users to remotely control their vehicles. They consist of a transmitter (the handheld controller) and a receiver (located inside the RC car) that communicate via radio waves.
Understanding the key aspects of radio systems can help you make informed decisions about the best options for your RC car and ensure smooth control. Here's a brief overview of radio systems for RC cars:
Frequencies
Radio systems for RC cars operate on specific frequencies, typically within the 27 MHz, 72 MHz, or 2.4 GHz bands. The 27 MHz and 72 MHz bands are less common nowadays, as they can experience interference from other devices operating on the same frequencies.
The 2.4 GHz band is the most popular choice for modern RC cars, as it offers a more reliable connection and minimal interference.
Channels
The number of channels in a radio system refers to the number of distinct control functions it can handle. A basic RC car requires at least two channels: one for steering and one for throttle control. More advanced RC cars may require additional channels for features like gear shifting, brake control, or even camera operations.
Transmitter and Receiver Pairing
To ensure seamless communication between the transmitter and receiver, they need to be correctly paired. In older radio systems, this is achieved by matching the crystal frequency on both devices.
In modern 2.4 GHz systems, a process called "binding" is used to create a unique link between the transmitter and receiver, ensuring that they communicate exclusively with each other.
Digital and Analog Systems
RC radio systems can be either digital or analog. Digital systems offer more precise control, programmability, and a faster response time. Analog systems, while more affordable, have slower response times and are generally less accurate.
Features and Programmability
Modern radio systems often come with a range of features and programmability options. These can include customizable controls, multiple model memory (allowing you to control different vehicles with one transmitter), dual-rate settings, exponential settings, and more.
These features can enhance the control and performance of your RC car, allowing you to fine-tune your driving experience.
Body Shells: Customizing Your RC Car's Aesthetics and Aerodynamics
Body shells are an essential aspect of RC cars, allowing enthusiasts to customize their vehicle's appearance and enhance its aerodynamics. These shells come in various materials, styles, and levels of detail, giving hobbyists the opportunity to personalize their RC cars to match their preferences.
Here's a brief overview of body shells and their impact on aesthetics and aerodynamics:
Materials
RC car body shells are typically made from materials like polycarbonate (Lexan), ABS plastic, or fiberglass. Polycarbonate is the most common choice due to its lightweight and durable properties, making it resistant to cracks and impact.
ABS plastic and fiberglass are more rigid and can be more detailed, but they are generally heavier and more prone to damage.
Styles and Themes
Body shells come in various styles and themes to cater to different tastes and preferences. Popular themes include replicas of real-life racing cars, off-road vehicles, or even fictional designs from movies and TV shows.
Customizing your RC car's body shell allows you to express your personality and stand out from the crowd.
Painting and Detailing
Many body shells come unpainted, providing a blank canvas for hobbyists to unleash their creativity. Painting and detailing your RC car's body shell can range from simple color schemes to intricate designs, logos, or decals.
When painting a polycarbonate shell, always use paints specifically designed for polycarbonate to ensure proper adhesion and durability.
Aerodynamics
In addition to aesthetics, body shells also influence the aerodynamics of your RC car, affecting its performance and handling. The shape, contours, and features of a body shell can impact air resistance, downforce, and weight distribution.
For racing purposes, a streamlined and lightweight body shell with strategically placed vents or wings can improve handling and speed by reducing air resistance and increasing downforce.
Compatibility and Mounting
When selecting a body shell, ensure it is compatible with your RC car's chassis and wheelbase. Most body shells are designed to fit a specific range of chassis sizes and have pre-drilled mounting holes or dimples to aid in proper alignment.
Always secure the body shell to the chassis with the provided clips or fasteners to ensure stability during operation.
Essential Tools and Accessories for RC Car Maintenance and Repairs
Maintaining and repairing your RC car is essential to ensure its optimal performance, longevity, and reliability. Having the right tools and accessories on hand can make the process more efficient and enjoyable.
Here's a list of essential tools and accessories for RC car maintenance and repairs:
Screwdrivers
A set of high-quality screwdrivers, including both Phillips and flat-head varieties in various sizes, is essential for assembling, disassembling, and adjusting your RC car components.
Hex Drivers (Allen Wrenches)
Hex drivers are necessary for working with hex screws commonly found in RC cars. A complete set of metric or imperial hex drivers, depending on your car's specifications, is a must-have.
Nut Drivers
Nut drivers are used to install or remove nuts in your RC car. A set of nut drivers in various sizes matching your car's hardware is invaluable.
Pliers
A variety of pliers, such as needle-nose, side cutters, and standard slip-joint pliers, can help with tasks like gripping, cutting, and bending wires or small parts.
Hobby Knife
A sharp hobby knife or a box cutter is useful for trimming plastic parts, cutting decals, or opening packaging.
Tweezers
Precision tweezers come in handy for handling and placing small components or decals.
Soldering Iron
A soldering iron is essential for electrical repairs or modifications, such as connecting wires or installing new components.
Digital Multimeter
A digital multimeter helps you diagnose and troubleshoot electrical issues by measuring voltage, current, and resistance.
Thread-locking Compound
Thread-locking compound prevents screws from loosening due to vibrations or stress. It's crucial for securing metal-to-metal connections in your RC car.
Double-sided Tape and Velcro
These are useful for securing components like receivers, ESCs (Electronic Speed Controllers), or batteries to your RC car's chassis.
Cleaning Supplies
A selection of brushes, cleaning sprays, and compressed air is necessary for keeping your RC car clean and free from dirt, dust, and debris.
Pit Mat or Towel
A pit mat or towel provides a clean and organized work surface, preventing small parts from getting lost and protecting your work area from spills or damage.
Carrying Case or Storage Box
A dedicated carrying case or storage box helps you organize and transport your RC car, tools, and accessories safely and conveniently.
Spare Parts
Having a stock of spare parts like screws, nuts, bearings, gears, and other commonly replaced components can save time and frustration when making repairs.
FAQs
What factors should I consider when choosing tires and wheels for my RC car?
Key factors to consider when selecting tires and wheels include tread patterns, tire compounds, tire size and width, wheel construction, and wheel offset and backspacing. These factors affect the RC car's traction, performance, and handling on different terrains.
How do I maintain my RC car's battery or fuel system?
For battery maintenance, use a compatible charger and follow the manufacturer's guidelines for charging times and methods. Store batteries in a cool, dry place, and avoid overcharging or over-discharging. For nitro fuel systems, use the recommended fuel mixture and ensure proper storage and handling. Regularly clean the fuel tank, fuel lines, and carburetor to prevent clogging or contamination.
How can I customize my RC car's body shell?
You can customize your RC car's body shell by selecting a unique style or theme, painting it with your desired colors or designs, and adding decals or other detailing. Additionally, you can modify the body shell for improved aerodynamics or weight reduction.
Final Words
Mastering the various parts of an RC car is essential for any enthusiast looking to enhance their overall experience in the thrilling world of RC racing. From the sturdy chassis to the powerful motor, the efficient battery, and precise electronics, each component plays a vital role in the performance and handling of your beloved miniature vehicle.
Understanding these integral parts allows you to fine-tune your RC car, troubleshoot issues, and make informed decisions about upgrades and modifications. As you continue to explore this fascinating hobby, you'll not only become more proficient in maintaining and optimizing your RC car, but also develop a deeper appreciation for the intricate world of radio-controlled vehicles. So, here's to many thrilling races, epic drifts, and unforgettable memories in the exhilarating realm of RC cars!