What Age Is Appropriate For Power Wheels?
We may earn commission from links on this page at no extra cost to you. We only recommend products we back!
Are you unsure whether your kid is too young or old to ride a power wheel? Yes, that's valid. Because these tiny vehicles have age restrictions.
As a result, the first thing you should inquire about is the age range for power wheels. In this guideline, we will discuss what age is appropriate for Power Wheels?
What Age is Appropriate for Power Wheels?
What age is appropriate for power wheel cars depends on various factors, such as the child's maturity level, physical abilities, and understanding of safety precautions. However, most people agree that power wheels are generally appropriate for children ages 3 and up.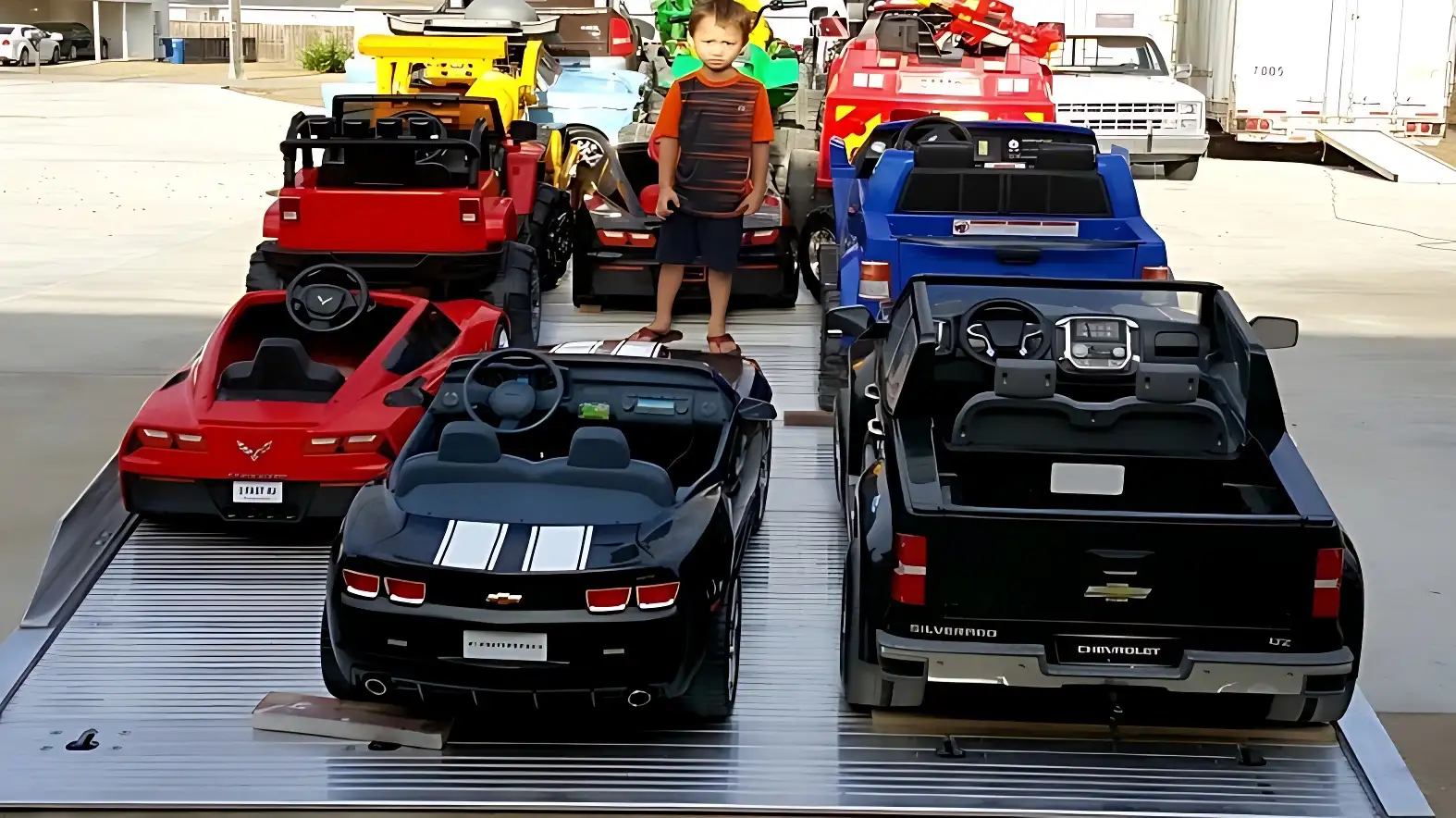 But, it's better to give your kids Power Wheels when they're between 3 and 8. This age range is known as the sweet spot, in which the kids appreciate the present, enabling you to utilize its benefits fully.
Besides, some parents choose to wait until their child is a bit older, such as 5 or 6, before allowing them to ride a power wheel. This is often done out of caution, as power wheels can reach high speeds and be challenging to control.
What to Consider When Buying a Power Wheel for Your Child?
When purchasing a power wheel for your child, there are many factors to consider. The following tips will help you choose the right power wheel for your child.
Age
Your child's age is one of the most important factors to consider when choosing a power wheel. You will find a label when you check the toy package when you buy a power wheels car for your child, where it is written that the toy is suitable for any age.
Every ride-on car on the market is designed for a specific age. You must buy a suitable toy car for your children considering their age.
Read More: Can A 2 Year Old Drive A Power Wheels?
Size
The model and age range determine the size of the Power Wheel ride-on vehicle. You must consider the size of the Power Wheel when purchasing for your kids and your home's size and configuration.
While it is usually suggested that you match the Power Wheel ride-on vehicle to your child's age group, there are times when other physical criteria must be considered.
If your child has outgrown their age group, you may wish to examine whether the toy car's size is appropriate.
Examine the legroom to ensure adequate for your child to be comfortable and drive safely. Also, double-check the power wheels car measurements. Finally, consider whether your child could easily drive it in your backyard.
Read More: Can You Put A Remote Control On Power Wheels?
Seats
One fantastic feature about Power Wheels is that it may be shared among multiple children, allowing them to enjoy their rides.
A single passenger behind the driver is possible for a typical Power Wheels ride-on vehicle. The market for two-seater Power Wheels vehicles is hot.
You could also pick a tow-seater if you want that. In addition, there are one-seaters available for kids aged three to five years old.
However, if you're looking for a small power wheels car that can accommodate your child's needs, there are many factors to consider.
Read More: Best 2 Seater Ride On Car With Parental Remote Control
Weights
The age of your child must be considered when driving a power wheel. Because in the market you will find power wheels cars of the different weight range. So, it is essential to choose a power wheels car that can adapt to your child's weight.
Type
You will find two types of cars on the market one is an electric car and a traditional paddle car. You can choose one considering the age of your child. However, electric vehicles are more popular than paddle cars in the market.
Because they mimic real-world cars like the Ford Mustang, Mercedes-Benz, and Jeepney Wrangler, they are usually powered by 6V, 12V, and 24-volt batteries, and all vehicles have different usage times. If you give the car to a small child, less than an hour of driving time will suffice.
On the other hand, older children want to run the power wheel for more than an hour after each charge. Some models have a remote control that allows parents to change the speed and direction of the vehicle.
On the other hand, a paddle car is similar to the original design and a predecessor of the electric automobile. You can choose any one type of power wheel considering the age and safety of your child.
Read More: 9 Best 24 Volt Battery Powered Ride On Toys
Speed Limit
Speed limits are one of the features that you should consider when buying a power wheel for your child. This ensures that your kid does not go over the maximum speed limit. Children's ride-on cars have speed limits. The same rules apply to actual automobiles; the speed limit affects drivers' safety.
If the following speed limit is adhered to by age group, your kids will get the appropriate protection in the Power Wheels vehicle. Below we will give you the maximum speed of a Power Wheels car considering the age of the children:
For children 3 and under – 3 MPH
For children ages 4 to 6 years – 4 MPH
For children ages 8 to 10 – 5 to 8 MPH
Visual Design
There are several different theme options available from Power Wheels, which is excellent for families with various age groups and genders. Disney Frozen and Barbie are two examples of good themes for girls. Other themes, such as Jurassic Parks and Lightning McQueen, are appropriate for boys.
Pink and purple are popular colors for girls, whereas blue and red are preferred colors for boys. Depending on your child's favorite color, you may select other hues such as yellow, green, white, or black.
If your kids love a particular theme, you don't have to stick to the stereotype. In general, there are many themes available for various age groups.
Read More: Best Electric Cars For 10 Year Olds To Drive
Why is it Important to Consider the Age Before Purchasing the Power Wheels?
The Power wheels are the best battery-operated ride-on cars for kids. It has been observed that most parents think that it is just a toy for their children, and they don't need to consider anything else before purchasing it. 
However, it is not true because there are certain things that you need to consider while buying a power wheel for your kid.
The seatbelt will not fit around your child, and they will be at risk of being hurt if the car is forced to come to a sudden stop.
Older children will put too many items inside the vehicle, and when they do so, the thermal fuse cut out will trip, stopping the car until the excess weight is removed.
An electric toy vehicle intended for younger children will be uninteresting to an older child. When kids are given electric cars with a high-speed limit, they won't be able to drive safely.
When you went to buy a power wheels car for you kids, you must consider the above things. 
Final Thoughts
The best part about a Power Wheels ride-on car for your child is that it will keep them entertained for hours. It might seem like it would be difficult to choose the finest one, but once you have a few options in mind, this task becomes simple.
Hopefully, after reading this article, you will be able to buy one of the best power wheels for your child and be able to ensure their safety.