Best 2 Seater Ride On Car With Parental Remote Control 2023
We may earn commission from links on this page at no extra cost to you. We only recommend products we back!
Looking for a great gift for a toddler this year? Check out the best 2 seater ride on cars with parental remote control!
These vehicles are fun and safe for kids to drive, and come with a remote control for parents to use. Whether you're looking for a car for a birthday present or for Christmas, we've got you covered!
Quick Comparison
Image
Product
Key Features
Price
1. Best Choice Products Licensed Land Rover
● Weight capacity: 128 lbs.
● Remote control and manual.
● Recommended for 3 years and up to age.
● Creates a low speed of 1.8mph and a max speed of 3.7mph.
Check Price
2. Fitnessclub 12V Powered Ride On Car
● Maximum weight limit – 88 lbs.
● For over 3 years boys and girls.  
● Speed starts from 2.5 mph up to 4 mph.
● 2.4 GHz Bluetooth remote control or foot pedal and steering wheel.
Check Price
3. Moderno Kids 12V Led Wheels 2-Seater
● 2 powerful motors.
● Maximum weight capacity: 100lbs.
● Long-distance 2.4Ghz parental remote control.
● Suitable for 2-4 years old toddlers and 3-6 years old single rider.
Check Price
4. Uenjoy 12V 2 Seats Kids Ride On Car
● Double driving motor.
● Speed: 3-5 km per hour.
● Maximum weight capacity: 77 lbs.
● Good for 37-96 months old kids.
● 2.4G remote control or electric foot pedal and steering wheel.
Check Price
5. Jaguar F-Type 12V Luxury Ride On Car  
● 2-second buffer booting.
● Maximum rider weight – 66 lbs.
● Suitable for 2-6 years of age.
● Self-drive feature and parents remote control.
Check Price
6. Uenjoy 12V Kids Police Ride On Car
● SUV battery operated.
● Maximum load limit– 66 lbs.
● Perfect for 37-96 months old kids.
● 2.4G remote control or electric foot pedal and steering wheel.
Check Price
7. Uenjoy 12V Electric Ride On Cars
● Real-like off-road design.
● Maximum load capacity- 66 lbs.
● Maximum speed 5 km per hour.
● Suitable for 1-3 years old kids (Remote only) and 3-5 years old kids(manual and remote).
Check Price
8. Aosom 12V 2-Seater Car Truck
● Speeds: 1.8mph -3mph.
● Maximum load- 110 lbs.
● Aggressive off-road style.
● Recommended for 37-96 months old kids.
Check Price
9. BAHOM 12V Ride On 2 Seater Electric Cars
● Two driving modes.
● Realistic design and functional.
● Maximum weight capacity- 35 kg.
● Suitable for 3-8 years old kids.
Check Price
10. JAXPETY Red Benz Licensed Ride On Car
● Maximum load capacity- 88 lbs.
● Suitable for 37-96 months old kids.
● Good on both flat and tough terrains.
● Two driving modes with 2.4G.
Check Price
Here is the best 2 seater ride on car with parental remote control: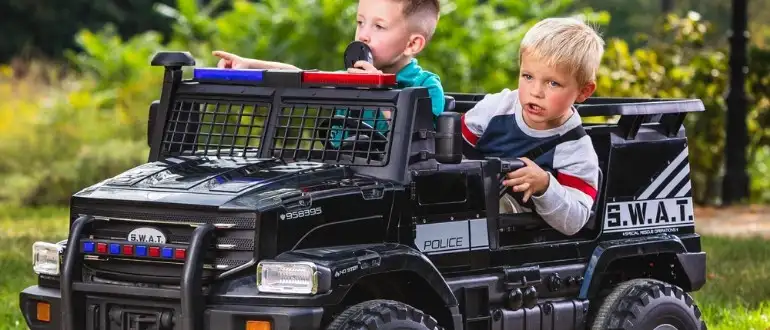 1. Best Choice Products Kids 12V 2-Seater Licensed Land Rover
Best Choice Products is famous for its popular, innovative and timeless toys that would always thrive in your home. This kid's 12V 2-person seating officially licensed Land Rover by BCP is a high-quality product and is completely equipped with the latest features.
Let's first talk about its eye-catching design. The red color of it's going to attract your kid. This Land Rover is crafted smart and tough with PP plastic and a durable metal frame to remain undamaged by years of use.
Kids can comfortably sail on it and also can share it with their friends, siblings or cousins. The 12V Land Rover allows your child to drive either using the remote control or manually.
The 2.4GHz remote control with forward and reverse, and speed selection features will safely guide the kids when required.
This 12v ride on car with remote control is equipped with 4-wheel suspension as well as treated tires which ensure smooth riding. Starting from 1.8 mph lower speed to 3.7 mph higher speed, kids will enjoy the variation while driving this 2-seater car.
What more? To make your kids riding on it more enjoyable, this Land Rover comes with an AUX player. Kids just need to plug in a device to the AUX player and enjoy their best-loved music.
Additionally, kids will surely be going to have fun with the startup sounds and horns, and the LED headlights which will create a real-like riding atmosphere.
You can easily store this large remote-control car as there is space underneath the hood. The handle on its back bottom allows transporting easily while not using it.
This 128 lbs weight capacity Land Rover will hold up well with great fit and finish. Your 4-5 years old kids seem to like having amazing hours with this car.
2. Fitnessclub 12V 2 Seater Ride On Car With Parental Remote Control
Do you have preschoolers at your home? Then this 12V ride on car with remote control electric cars by Fitnessclub would be the suitable one.
This ride-on truck is designed scientifically and can be a perfect gift for a 3+ year kid. The double door design of this truck ensures the safety of your kids.
They can play with it both indoors and outdoor. This 2 seater ride on car 12V is engineered with two modes of control such as parental remote control by 2.4G Bluetooth and battery operated.
If your kids prefer, they can cruise on it by the steering wheel and foot pedal. Your kids' safety is Fitnessclub's priority.
So they build their electric truck keeping that in consideration. As a result, you see its wheels are equipped with a spring suspension system ensuring to have even and regular consistency of riding.
This premium quality toy car is equipped with a four-wheel suspension design with a slow start function.
With two modes of design, kids can operate this 12V ride on car with remote control by 2.4G remote control or foot pedaling and steering wheel.
With a speed variation from 2.5 mph to 4 mph, this truck is so simple to ride. For smooth riding, it contains 2 forward and reverses speeds for manual riding and remote control 3 speeds each. Kids can enjoy music as well as stories while riding on it by connecting it by USB.
Read More: 9 Best 24 Volt Battery Powered Ride On Toys
3. Moderno 12V Explorer Truck 2 Seater Ride On jeep With Parental Remote Control
For your 3-6 years old children, you can pick this amazing jeep. It looks just as awesome in reality as it does in the picture.
This 12V power wheel features 2 strong motors, highest 2-5 mph speed along with 2 forward speed on manual riding and 3 speeds on the parental remote control, 1 reverse speed.
The 2.4Ghz long-range full function parental remote control comprises with "Stop" function. Your kids will be mesmerized with the realistic features of this toy car such as real-like working LED light bars and headlights, taillights, lights and gauges, dashboard, and openable hood and doors.
The desegregated MP3 equipped with FM Radio, Bluetooth, AUX MP3 audio input is able to play music files from USB Flash Drive, Micro SD card, or any external devices such as iPhone, or Android phones, iPod, and iPad. What makes this toy car supreme?
Well, this ride-on jeep is designed with an electric brake system and soft start which offer a reliable braking system and gradual acceleration.
The PU leather seat is soft perforated and 2 ways adjustable. The safety seat belt is also a 2-way convertible and kids can use it as a single belt for one or as 2 separate belts for two kids.
This car has got LED lights embedded in soft EVA foam rubber tires with a wide track and zero maintenance.
The underbody located soft glowing blue LED light, horn sound, digital battery power screen- all these enhance the excitement of playtime.
Depending on your kid's riding condition, this electric car can run for 45 min to 90 min. This is an awesome ride-on toy car that definitely will make your kids happy and so you.
4. Uenjoy 12V 2 Seater Power Wheels With Parental Remote Control
Are you searching for a ride on a car that can hold your two kids of a different age range? Then this ride-on racer car by Uenjoy is the one for you.
Even siblings with an age difference of 2 years and 6 years can easily get fit into this toy car together as this car is one of the biggest out there in the market.
This 2 seater power wheel features a large weight loading capacity, 4 wheels suspension, safety belts, multi-function, and 2.4G parental remote control.
Kids will enjoy smooth driving with easy control on grass, dirt, or even hard surfaces. The 2-seats, riding with a friend model bring more fun for kids.
The high traction and four wheels suspension allow the toy car to perform well on any surface. The good quality, tough shape, and good capacity of bearing load lead this Uenjoy ride on car to ensure great performance. Kids will enjoy a realistic atmosphere due to the front and backlights.
The multi-function feature includes a high and low variation of speeds, real horn, windshield, roll bars, forward as well as backward option, Bluetooth and MP3 holder, adjustable volume, and kid's key. Whether indoor or outdoor, this is one of the super rides on cars that you can count in for your child.
5. Jaguar Authorized F-Type 12V Luxurious 2 Seater Ride On Car
Are your kids ready to hop on the driver's seat and safely hit the road? Then you can pick these F-type 12V luxurious kids to power wheels by Jaguar.
This officially licensed kids ride on cars 2 seater is a real fun thing to zip around the road with 4.3 mph speed.
The Jaguar F-Type comprises an electric pedal control system that simulates a real car. With a front single driver in, this vehicle completes with deeply treaded hard plastic wheels and chrome hubcaps which allow good performance even when the child takes it on rough surfaces.
With 1 12V powered battery, this car keeps going for a longer time duration of playing. To add a fun dimension while your kids are playing with it, this toy car comes featured with the realistic sounds of the engine including MP3 connectivity.
Your kids can play any of their favorite songs through iPod or iPhone. In case, parents want control of this amazing toy car, there is an exciting feature of additional remote control.
Your 2-6 years kids are just perfect to ride on this Jaguar F-type. The large bench seat easily accommodates 2 kids. The openable doors are thick as a regular car. Your kids will surely love this awesome colorful car.
6. Uenjoy 12V Kids Police 2 Seater Ride On Police Car
Wondering which toy car to gift your little master? Then why you don't try this police ride on the car by Uenjoy? Double driving modes operated by this 12V battery-powered kids electric ride on car is something special for special kids. This stylish car comes with an eye-catching and adorable design.
Kids can manually operate these 3 speeds accessible cars by gas pedal and steering wheel. Otherwise, there are 3 speeds accessible parental remote control options for you to take control over it. the car looks like a real one with headlights, top lights, rear lights, and flashing lights.
The fun twice up with the music button and horn button embedded steering wheel. The extra features include early music and story teaching, a USB port, built-in music, an AUX cord, a walkie-talkie, and siren wailing.
There is a portable handle under the car head. You can pull the handle like luggage to move it while the battery runs out.
The strong powered wheels are designed with a shock absorber that ensures the safety of your kids. Kids can drive with comfort and at the same time listen to their favorite songs.
They are safe with parental remote control, a front-wheel suspension system, and an adjustable seat belt.
7. Uenjoy 12V Electric 2 Seater Ride On Electric Car
Let your kids enjoy the freedom of childhood and dominate the streets with the Uenjoy 12V kids electric ride on cars.
This 2 seater ride on the remote control is designed with an off-road realistic UTV design. The Uenjoy ride on car features a high chassis style, strong driving force, and anti-explosion soft wheels.
Your kids can have a great experience of driving while riding on different rough terrains. This UTV ride on the car by Uenjoy is just perfect for 1-3 years old kids with remote control only and 3-5 years old with both manual and remote control.
The dashboard comprises various engaging functions including stories, and songs. Kids can play their preferred music by connecting the device via USB, Bluetooth, MP3 port, or TF-card.
Kids will like the smooth and easy way of driving the car with pedals and gear sticks. Parents are most welcome to take part in controlling the car with 3 forward speeds. Uenjoy Ride on the car is made with consideration of your kid's safety.
Both the front and back wheels are made of non-toxic durable plastic comprising the spring suspension system. This results in comfortable and smooth-riding no matter indoor or outdoor.
For your child's maximum safety, this 2 seater ride on car 12V comes with a seat belt, double lock door design, and parental remote control.
8. Aosom 12V Kids Electric 2 Seater Ride On Parental Car
If you are looking for a new edition to your kid's car collection, then this electric 2-seater ride on police car by Aosom is the one you should have a look at. This dynamic ride-on truck completes with remote control as well as in-car steering.
The Aosom ride on car features a strong 12V twin motor with wing mirrors, steering wheel, head and tail lights, forward and reverse gears and foot pedal.
This 2 seater ride on car remote control offers real-deal a like experience of driving a completely loaded SUV to your kids. To add fun to this experience, there is an MP3 input function that allows kids to tune in to their favorite numbers.
Kids with their besties are safe on this police toy car as the wide seats of the Aosom 2-seater are equipped with safety belts.
Children can have sparking imaginative play with these realistic police vehicles for up to one hour depending on the speed as well as use.
9. BAHOM 12V Kids 2 Seater Parental Ride On Car
Let your kids have a cool driving experience with this stylish 2-seats ride on the truck by Bahom. This modern appearance and entirely functional configured 2-seater electric truck give your kids the ideal car experience.
Riding on one of this best ride on car with parental remote control combines with real sound of the engine, LED light, horn, and power display.
What is special about this ride-on truck? The Bahom ride-on truck is equipped with a start-up one button driving function, driving start-up key, which makes this toy car more realistic. Your child can also play audio via different external ports such as USB, MP3, or Bluetooth.
The rubber wheels are designed with a shock absorber ensuring comfort while riding. Kids are safe with the adjustable seat belt.
You can be assured of their fun and safety at the same time with the two operation modes. The Bahom 2 seater ride on the truck is indeed a cool electric car for 10 year olds to drive.
Read More: Top 7 Best Power Wheels For 4 Year Old
10. Jaxpety Red Benz Licensed 2 Seater Ride On Car
This luxury roadster will make your kid eye-catching amongst the other kids. The Jaxpety ride on car is the mini replica of the original Benz car that comes featured with all the latest functionalities.
You will like all the high performances of this 2 seater power wheel including slow start function, openable doors, forward and backward function, MP3 multifunctional player, bright LED lights, built-in music, USB and AUX connector, voltage display, double modes, volume adjustment, horn, and a slot for TF card.
With double driving mode, your little mast r can operate this car on their own with the foot pedal and steering wheel.
Besides, parents can also take part in equally controlling this beautiful car with a 2.4G wireless parental remote control.
The shock-absorbing 4 wheels are constructed with durable PP ensuring longevity. So, why you would hesitate to buy such a nice vehicle to gift your junior master?
Read More: How To Make 12v Power Wheels Faster?
Does it worth buying a remote control 2 seater ride-on-car?
Riding on toy cars was not much safe for the child even several years back. Additionally, kids had to control it on their own or ask for their parent's help to move the ride-on cars earlier.
But recently, with increased demands, the ride-on toys come featured with the latest functionalities that keep entertaining the little masters for hours indoors as well as outdoor.
Power wheels have been a new concept of kid's playtime under parent's watchful eyes. Bringing home a 2 seater car with parental remote control is a win-win situation for both of you and your kids.
So, get the best ride on car with parental remote control from our top listed items below following by proper guidance.
Read More: 9 Best Ride On Cars For 5 Year Olds
Buying Guideline For The Best 2 Seater Ride On Electric Car
Most of the 2 seaters kids electric ride on cars move with chargeable batteries. Then why you should get the best ride on a car with parental remote control.
If the ride-on car comes featured with a parental remote control function it would be great. With this feature, not only the kids can have fun, even the parents can control the movement of the ride on the car.
Parents are always anxious about the safety of their kids. The parental remote control option gives them a space to look over while kids are playing and to be precautious if there is any possibility of a fatal situation. And the best part is that your kid won't even realize it.
You can choose whether remote or manual modes with a switch in the dashboard of the electric car. While in a manual mode, kids can control the vehicle by themselves with the steering wheel and pedal. And, the parental remote control function gets activated once you choose to remote control mode.
You will find that there are 3 types of control systems for remote control rides on cars such as Bluetooth, Radiofrequency, and Smartphone apps. Among these, most electric cars run with a Radiofrequency control system.
However, in recent days, smartphones and Bluetooth systems have been getting popular as well. No wonder, these amazing realistic ride-on cars are a great result of advancements in technology.
But, there are so many varieties, styles, features, and models offered with different types of ride-on cars. Finding the best 2 seater ride on cars with remote control is a tricky task to do.
To choose the best option for your little master, you've to keep certain essential aspects of your consideration. If you're about to buy a ride-on toy car for your child, follow the key points below, hence these will help you to decide correctly-
What your child wants
Everything you do is for your child. So, try to know what your child feels interested in. This process simplifies your decision.
For example, your kid can like a ride-on toy from any of his preferred cartoon characters or choose to have a full replica model.
Child's age
Every ride-on toy car has a recommended range of a child's age by the manufacturer. Before deciding to purchase one, check on the right child's age for the vehicle.
Though the 2 seater ride on car/jeep/truck with parental remote control comes equipped with all the necessary safety features, it is essential to make sure your desired toy car matches your kid's age.
Read More: 7 Best Remote Control Monster Truck for 5 Year Old
Remote Control Range
Another important factor to consider is the range of parental remote control. A longer remote-control range ensures a safe ride and excitement as well. And with a broader range of remote control, your kids can utilize the complete compound.
Comfort
Riding a toy car is fun, but comfort also matters. Check on the seats of the electrical car are enough stable and supportive for the kids while they are boarding on it. To avoid discomfort and any kind of inconvenient situation, it would be good if the battery comprised of overload protection.
Safety
You cannot compromise with safety when it is about your kids. So, these rides on toy cars must have to be safe for kids and toddlers.
The good thing is that resembling their real-life counterparts, most of these latest tech toys incorporates the same safety functions in their systems.
The best 2 seater ride on cars with remote control includes safety features such as spring suspensions, great breaking mechanism, seat belt, etc.
It would be wise to check on with the manufacturer entity if the car comes with ASTM International's Standard Consumer Safety Specification or Consumer Product Safety Commission.
Battery Capacity
The kids ride on cars 2 seater is generally equipped with a 12V rechargeable battery. Based on the frequency of use and load carrying capacity, a 12V battery provides a driving duration of one or two hours.
Additionally, remember to check out if the model comes to you with all the necessary equipment to recharge the car battery.
Bonus features
You can also check on what bonus features come with your desired toy cars. Most of the electric ride-on cars feature MP3 functions, working turn signals, lighting, and retractable windows, which are not mandatory though but double the excitement.
Final Words
Zooming around with the 2 seater ride on cars is not just for fun, kids get the opportunity to practice fine motor skills, balance, and safety as well.
Playing with these electric cars results in making the kids realize the way of navigating, handling steering, and so more basic things.
Parental assistance adds a plus point to these 2 seater rides on cars which help the kids to develop the autonomy need of traveling by them in the future.
So, bring home today one of the great toys of the twenty-first century, the best 2 seater ride on car with parental remote control, and let your kids enjoy their childhood to the fullest.