Can A 2 Year Old Drive A Power Wheels?
We may earn commission from links on this page at no extra cost to you. We only recommend products we back!
You might be thinking of giving a Power Wheels car as a gift for your child's birthday. But your child is only 2 years old! Not sure if your baby will be able to drive the power wheels.
If you are not sure then you have come to the right place. Well, keep reading to know more about can a 2 year old drive a Power Wheels?
Can a 2 Year Old Drive a Power Wheels?
Yes, of course, two-year-olds can drive Power Wheels. However, you must choose a vehicle that matches their size so that they can reach the pedals.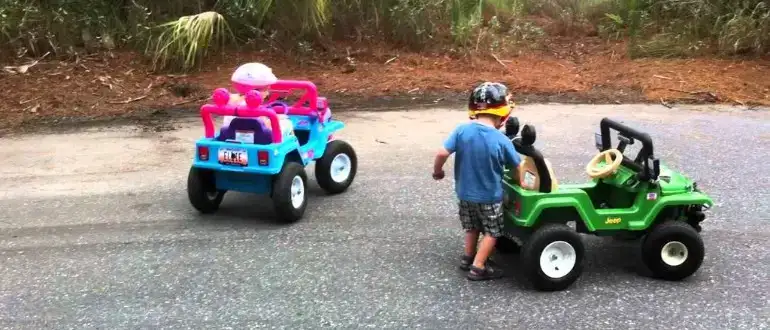 Hopefully, they will be able to acquire the motor and coordination skills needed to drive a battery-powered car at this age. 
Two-year-olds can walk and run with confidence at this time. This is a great time for them to play with a Power Wheels car.
You must choose power wheels with a low-speed limit and hard materials for your 2-year-olds. Toddler power wheels are designed with many safety features for the safety of kids. So that your kids can enjoy their ride safely.
What Features Should be Considered When Buying Power Wheels for a 2-year-old? All Power Wheels cars offer lots of fun designs and features for 2-year-olds.
But there are some features to keep in mind when buying the best power wheel car for your child. Here are some features you should consider when buying a power wheels car for your 2-year-old child:
Parental Override
When buying a Power Wheels car for your child you must make sure that the parent override feature is present in the car. This will allow you to take control of your child's car.
Read More: Best 2 Seater Ride On Car With Parental Remote Control
If you see that your child is in an unsafe situation or for some reason they are losing control of their power wheel. Power wheels with this feature then come with a remote control that will allow you to control the car remotely. This feature is very important for the safety of your children.
High-speed Lockout
This is a feature that allows you to control the speed of the power wheels. This feature allows you to restrict or limit access to maximum speed if your child is traveling with his or her power wheels. 
High-speed lockouts are very helpful for kids who are just learning to use their power wheels or new drivers. If you notice that your little kid is moving very fast then you will be able to easily control his speed with this feature.
Power-lock Brake
The most important feature of all power wheels is the power-lock brake. This feature is automatically enabled when your kids are driving and if at some point the accelerator removes their foot from the pedal.
Your 2 year old does not know how to accelerate and brake, so this is a very important feature for them.
Besides, the car will slow down and stop as soon as your child removes their foot from the "gas" pedal. Moreover, it can be effective when your children are driving down a steep hill and lose control of the speed of the vehicle or panic when they fall into a frightening situation.
Check The Acceleration
To ensure that your youngster's power wheels operate smoothly, you should double-check the accelerator.
When you drive your automobile, it does not accelerate quickly and reaches its maximum speed when you press the gas pedal.  
The gradual acceleration feature replicates this; It allows the vehicle to move at its maximum speed gradually, much like your car. gradual release of the gas pedal on a Power Wheels vehicle is essential to avoid jerks and sudden stops that can be dangerous.
It is also important to check the brakes before you allow your kid to ride the vehicle. Most power wheels come with two different types of brakes; handbrakes and footbrake.
Seatbelt
Make sure the car has seatbelts before buying a Power Wheels car for your child. This is very important for your two year old baby because it helps keep your baby safe in the car. 
When your kids drive over a random surface or hit a wall or a tree, they can get out of the car and get hurt. Seatbelts are very important to protect them from this danger.
Forward and Reverse Mode
Although this feature is not a necessary feature of your 2 year old's car. But if you find a power wheel that has forward and reverses modes, you might want to consider it for your child. This will make your child's driving experience much more fun.
Is Power Wheel Safe for 2-Year-Olds?
yes, it is safe for a 2-year-old to drive a power wheel. However, you should always supervise your child when they are using one of these toys.
Additionally, make sure that the area where they will be driving is clear of obstacles. Finally, teach your child how to stop the power wheel before they get on it.
The safety of your child while driving a Power Wheels is directly linked to how safely or dangerously they drive it.
As a result, while the vehicle's design makes it extremely safe, your child's driving might be the cause of an accident.
But you must be careful when your kids go out driving with power wheels. Keep an eye on kids when they ride a car so they don't get caught in an accident. But you must let them run the power wheels freely so that they can do everything themselves.
Additionally, make sure the area where they drive is unobstructed. Lastly, teach your child how to stop before running the power wheel.
Read More: How Long Does A Power Wheels Battery Last?
FAQs
Should a 2-year-old Drive a Power Wheel?
Unfortunately, there is no real clear answer to this question. Honestly, whether a 2-year-old child can drive depends entirely on your child, because not all children are the same, every child is different.
If you think your child has good working motor skills and good coordination then you can allow your child to drive Power Wheels. After all, it's up to you to decide if your two-year-olds will drive.
Remember, if your child does not have the skills to drive a power wheel, it is best not to give it to them. The power wheel can be dangerous for your child if used improperly.
Can I Get Remote Control Power Wheels For 2 Year Old?
Most remote control power wheels are designed for children ages three and up. However, there are a few models that are available for children as young as two years old. 
These models typically have smaller dimensions and lower speeds, making them more appropriate for younger children. If you're interested in purchasing a remote control power wheel for your two-year-old, you can buy it.
What's the top Speed of a Power Wheels car for a 2-year-old kid?
The maximum speed of a power wheels car for a child of 2 years is 5 miles per hour. Manufacturers of power wheels limit the maximum speed to 5 miles per hour. They determine the speed of the vehicle considering the safety of your child.
Final Thoughts
Power wheels are a great source of entertainment for kids. Moreover, children can learn basic driving lessons at a very young age through it. However, whenever you buy a Power Wheels car for your child you must consider their safety.