How Many Volts Can A Power Wheels Handle?
We may earn commission from links on this page at no extra cost to you. We only recommend products we back!
Power Wheels is a battery-powered ride-on car for kids that comes in a variety of colors and styles. These toy cars for kids come with different types of voltage batteries. 
Moreover, the power wheel's battery voltage directly affects the vehicle's performance. So, now the question is, how many volts can a Power Wheels handle?
How Many Volts Can a Power Wheels Handle?
Depending on the power wheels model, a power wheel can handle 6V, 12V and 24V. The higher the voltage in the power wheels car battery, the stronger the toy car will be. Everything from the motor to the gear of your power wheels car is affected by this voltage.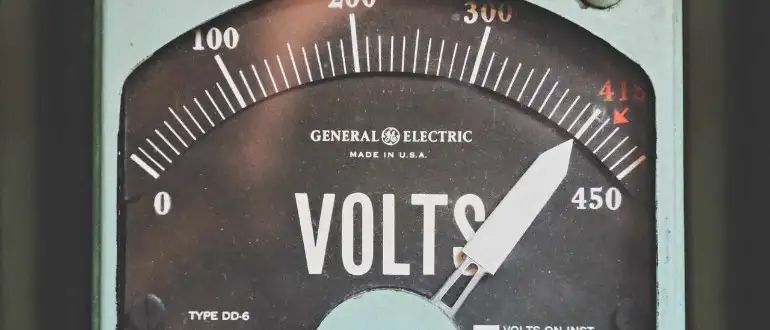 If you want to speed up your power wheels, you can add a high voltage battery to the toy car. However, the power wheels do not recommend upgrading the current battery voltage. However, it would be best to make sure that the power wheels car can safely handle high voltage.
The Maximum Voltage of Power Wheels
The motors are one of the most critical elements in determining your Power Wheel's maximum capacity. The motors use the electricity from the batteries to drive the gears and efficiently cause the wheels to rotate. Battery capacity is usually close to the engine's maximum.
For example, if your Power Wheels come with a 24V motor but 12V batteries, you may swap the batteries to a 24V battery. The motors aren't the only vehicle components that influence your Power Wheels' maximum voltage.
Read More: Can You Put A Remote Control On Power Wheels?
Other power wheel parts, such as the gears, tires, and other elements, also impact a car's ability to accommodate voltage increases. This is why you need to choose a compatible battery for your Power Wheels car, as it is most compatible with your car or propulsion system.
That implies you should probably stick to the battery that came with your Power Wheels. Despite warnings from manufacturers, some consumers continue to overvolt their Power Wheels batteries, which is referred to as overvolting.
Read More: Why Won't My Power Wheels Move?
Why Do People Overvolt Their Power Wheels?
When you install an 18V or 24V battery to speed up your child's 12-volt power wheels, this is called overvolting. There are many reasons behind overvolting in power wheels. Below we discuss some of the reasons:
To Increase Speed
Allow a three-year-old another Power Wheels and observe their excited reaction as they race down your driveway.
However, we hope to see the energy drain away when they become more established. When your children reach the age of five, you may reasonably anticipate them to be on your back for a new toy.
Due to the high cost of these toy cars, many consumers choose to improve their existing battery capacity rather than purchasing a new one. This will allow your children to use the more experienced device for longer.
If your Power Wheels batteries have been in use for a long time, you may notice that they don't run as long as they used to. A battery redesign's additional benefits include extending the battery life.
Read More: How To Tell If Power Wheels Battery Is Charging?
To Boost the Force
If your Power Wheels are unable to climb over minor bumps in your driveway, they may require more driving force. A few popular overvolting hacks may be discovered with a quick internet search.
Many parents have tried this and had good results. You would read several online testimonials from happy parents who are delighted to show off their children gliding smoothly over bumps in the road.
What Happens When a Power Wheels Car Overvolts?
Increasing your child's power wheels car battery voltage will increase the speed and power of the car. However, overvolting can have some negative effects on your power wheels, which are discussed below:
Motor Burns Out
When you increase the battery power, it can cause your car's motor to explode. Suppose the maximum power of your car's motor is 12V, but you have installed a new 16V battery in the car. Then the motor of your Power Wheels car will break down very quickly.
The higher you go from the engine's maximum limit, the more the time your engines will be damaged. High powered power wheels are prone to frequent motor replacement. Climbing hills and stumps can cause the motor to fall due to increased pressure.
Destroyed Gears
The power wheel transmits power to the battery motor, which causes the gears to spin. The teeth are subsequently in charge of the tire's speed. In short, raising battery capacity has an impact on gear speed as well.
A typical electric power driving mechanism is a gearbox made up of several plastic gears, each with its teeth clamped to the other. The energy your battery replacement creates can grind the gears, causing the teeth to wear away.
Problem with Tire Traction
The faster your new battery can offer, the more likely it is that your power wheel tires will no longer be safe to run at top speed.
Most improvements like this necessitate tire replacement in order to restore traction. To prevent movement and protect your kid, you'll need extra friction between the tires and the flooring.
A relatively cheap and simple upgrade is adding traction. It generally entails rolling an aged battery tire over a current one.
FAQs
1. How Do You Know The Power Wheel Battery Voltage?
It is very easy to know the power wheel's battery voltage. If you want to know the power wheel's battery voltage, you can read the product's specifications.
Or, the power wheels have a little level attached to the battery cartridge of the car, where the battery's voltage is specified.
An even easier way is to read the user manual that comes with the car. After all, you will be able to know the toy car battery voltage using a voltmeter.
2. Is A 24-Volt Battery Faster Than A 12-Volt Battery?
Yes. Of course, a 24-volt power battery is much faster than a 12-volt battery. A 24-volt battery in a Power Wheels car can reach a maximum speed of 6 miles per hour, whereas a 12V battery can reach a speed of 6mph. Voltage is not a factor.
The speed of your power wheels will depend on other factors, such as the rider's weight and the terrain.
On the other hand, the battery's voltage does not affect the speed of charge or discharge. The only thing that affects the voltage is the amount of energy that can be stored in the battery.
3. Can I Put A 12V Battery In A 6v Power Wheel?
Yes. You can use a 12-volt battery in a 6V volt power wheels car. However, the 8-volt power wheels are not designed for 12-volt batteries.
But if you want to get the best results from it, you need to make some adjustments to the car's wiring system and electronic components, such as converters and motors.
If you do not replace the battery with other components, your power wheel may be damaged. It's important to read the instructions that come with the power wheel to make sure you're doing everything right.
Final Thoughts
Now you know that power wheels come with different voltage batteries. Since the toy car's voltage rating directly affects the toy's performance, power, and weight limits. You must be careful when choosing a power wheels car battery. We hope that this article is a beneficial article for you.