How To Bind RC Transmitter And Receiver? Step By Step Guide
We may earn commission from links on this page at no extra cost to you. We only recommend products we back!
Whatever you call a remote controller, radio controller, or transmitter, if you don't how to bind RC transmitter and receiver, you won't get the enjoyment after a certain time.
Because you have to upgrade your RC car with an advanced transmitter and receiver to boost their power.
In this guide, we will help you to learn the proper way to bind an RC transmitter and make you familiar with its related information.
So, let's read the article till the end and get suggestions from RC experts.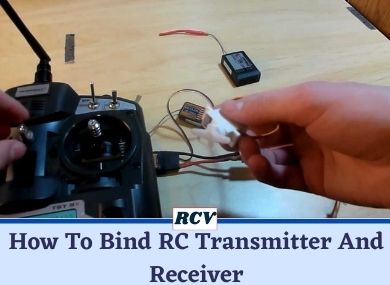 Types of Transmitter
While we are talking about remote control RC cars there are several types of transmitters available. In this guide we will describe the two most popular transmitters of them:
Pistol Grip transmitter
According to the name tag, this transmitter is designed with a hand-gun style layout. It has a trigger that greatly operates the throttle.
Similarly, it has a wheel that riding on the side is in charge of the steering. for the weight balance, the batteries are held especially, held in the butt of the handle.
However, the transmitter is always not suited to left-handed operators, but it comes with the modern trend of style to control the RC car.
Thanks to its self-cantering rotating steering input, compact and ergonomic profile that makes it possible.
Stick transmitter
Strick transmitter is the most common transmitter between RC fand and drone pilots. This highly adjustable transmitter comes with two input sticks to offer you a two-dimensional input.
However, the transmitter is expensive and doesn't allow kids to play with it.
Transmitter Channels
The transmitter comes with a variety of channels. Conventionally one channel is connected with the steering servo and the other two connect with a speed controller to control the throttle.
Even you will find sets with a third or fourth channel that are usually reserved for remotely operating lights or a winch.
Transmitting over 2.4Ghz
If you want to operate your model remotely you have to exist robust wireless data between the model and your hand controls.
It designs with modern digital radio systems to employ direct sequence or made with automatic frequency hopping technologies that greatly distribute their transmissions over a broader selection of frequencies in the 2.4Ghz spectrum.
Most importantly these systems are extremely robust and resistant to interference. As a result, it offers an impressive range despite its compact external antennas.
How to bind RC transmitter And Receiver
Most of the RC transmitter brands offer pre-bound transmitters to their respective receivers. But you need to replace the components, you can follow these steps to set up them.
The tools you will need are the receiver accessible, a charged battery in the model, and charged batteries in the transmitter.
Syncro System (Kyosho)
Usually, the Syncro system is used in a range of models including Fazer Rage, Fazer T1 drift car, Outlaw Rampage, and many more. With the binding stick, you have to hold down the bind button powering up the model.
You will notice the transmitter LED will flash quickly. Then you have to turn on the transmitter before releasing the bind button. Then the receiver LED will re-light to ensure the proper process.
TQi Top Qualifier (Traxxas)
Another extremely-ergonomic high-performance system you will ever find on Merc G500, TRX-4 Land Rover is Traxxas' radio.
If you want to rebind this radio press and wish to hold the red set button on the top of the RC transmitter while you turn it on, it's led should flash red gradually.
At the same time, you can seat the release button. While you turn on the speed controller press and hold the link button on the receiver end.
Finally, you can release it when powered up. If you find the receiver and transmitter light turn green, you can take it for granted.
Tactic TTX300 Binding (Axial)
You will find this transmitter and receiver system on the RTR Axial SCX10ii. To bind this, you have to power up both receiver and transmitter and turn on the RC car.
Then push and hold the link button that you will find on the receiver box. You have to push and hold it until it turns red just before turning off. Finally, its receiver LED will flash once and return to a solid one.
Transmitter adjustments
Rc transmitter also features adjustment controls to change the signals. It also allows you to remotely change things including the steering dead point and how subtle throttle controls or steering are.
Besides, high-end radios from Flysky or Spektrum may come with a backlit LCD to help with adjusting the settings. However, the massive majority depend on potentiometer dials for changes.
Trim Adjustment
Usually, a trim adjustment will let you superbly tune the inputs from your RC transmitter.
Especially, while an RC car isn't tracking straight, this is the dial you have to reach for. To switch the steering wheels left the trim adjusted anti-clockwise.
Remember that, the steering will move without any input. Trims are relevant for throttle. to ensure the RC car doesn't reverse or accelerate by itself it adjusts the neutral position.
These are greatly useful for refining inputs on RC transmitters to offer a physical ratio adjustment in the throttle from 50:50 to 30:70.
Dual Rate Adjustment
For the analog adjustment on RC crawlers, this rate adjustment system scale and cap the input. Besides, it adjusts the 'throw' of the input. It means scaling down then, then it ensures the use of the entire travel of the steering.
With this dual-rate adjustment twisted right down on the throttle, beating the gas will affect the transmitter expressing the ESC to go about 30% throttle.
Likewise, for steering, it winds the wheel way over will only provide a fraction of the steering angle it usually would.
If you are a speed lover and want to drive your RC car at a higher speed, this type of transmitter will greatly help you.
Even it doesn't need any traction control or gyro assist. It is also helpful where extreme steering-angle can lose control.
So, if you want to run a top speed in the carpark, it will always dial the steering dual rate down to ignore this.
This concept also uses to dual rate adjustment of the throttle. While you are driving on loose surfaces cap power use this throttle dual-rate adjustment. At the same time, it allows a beginner to run a powerful RC car.
End-point Adjustment
You can adjust the endpoint individually for left and right with forward and back. To ensure the quality of turning on both the left and right sides, you can apply to fix that.
Similarly, endpoint adjusting also ensures that the best RC crawler is going full throttle through the transmitter trigger detained at full throw.
If your car doesn't go as it should, first of all, check the ESC or battery and then check the endpoint properly.
On the other hand, if the RC transmitter doesn't have manual endpoint adjustment, still you can configure it by entering a programming mode.
Before pressing a switch on the receiver and setting the following endpoint, you have to hold your steering at that desired point.
Exponential Adjustment
The feature lets you adjust the behavior of your transmitter inputs. you will find it on higher-end controllers. Besides, it not only allows you to make softer the initial steering input lacking sacrifice the full steering lock.
But make the RC car more stable as it inputs a bit of steering adjustment at high speed. If you want to make slow the primary values up to say half a chance of the steering wheel, an exponential adjustment will help you to make it possible.
Powering up
Most of the RC transmitter design with a power switch to start them and includes an LED so you can see their power status.
If the connection states changed or the battery goes low, this LED light will alert you by mentioning to your manual for further explanation.
It is most essential to ensure the power down the transmitter since some only have power-down timeouts or warning buzzers.
On the other hand, most of the transmitters allow four AA batteries while some premium transmitters come with removable battery trays. If you find the style of connector, you can change with greater-capacity rechargeable NiMH battery packs.
Advanced transmitter features
Usually, people use the bundled transmitter but there has a great advantage to buying a higher-end transmitter.
Multi-model support
The specialized transmitter comes with profiles to let you bind the controller to a range of models, each with its refinements and setup. So, you can control more than one RC car without mention fewer batteries to find.
Simulator support
It also features a USB port for informing their firmware. But if you get an RC transmitter like Flysky's GT3B, it will allow you to use the controller like a PC controller.
Without the risk of trashing an expensive RC car, you can drive it in a simulator game environment by using this RC transmitter.
Final words
Hope you now know how to bind the RC transmitter and receiver to upgrade your RC car to take their capability to next level.
As we mentioned above there is a range of transmitters. But the right decision will be choosing a transmitter according to your RC vehicle.
Bind its proper way and get back to the track and surprise your competitor with the most powerful RC car.