In the world of radio-controlled (RC) vehicles, the ability to control your model with precision and reliability is paramount. The cornerstone of this control is the communication between the RC transmitter and receiver. For newcomers and seasoned hobbyists alike, it is essential to understand the process of binding these two components to ensure seamless connectivity and avoid any interference.
In this guide, we will provide you with a comprehensive overview of how to bind RC transmitter and receiver,
offering step-by-step instructions and useful tips to help you achieve a strong and reliable connection between your devices. So, buckle up and get ready to take full control of your RC adventures!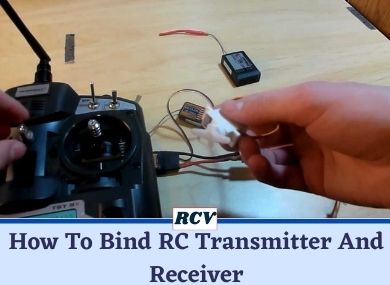 Find the Perfect RC Transmitter and Receiver Pair
By following these steps, you can confidently choose the right RC transmitter and receiver pair for your model:
Evaluate Your Model's Requirements
To choose the right RC transmitter and receiver pair, first assess the specific needs of your model. Consider the number of channels required, as well as the desired range and functionality.
When selecting a transmitter, also factor in its ergonomics, ease of use, and available features. Remember that more complex models typically require a higher number of channels and advanced functions.
Research Available Brands and Models
Once you have a clear understanding of your requirements, research various brands and models to find the ideal RC transmitter and receiver pair. Popular brands include Spektrum, Futaba, and FrSky.
Read product reviews, watch tutorial videos, and consult online forums to gather valuable information from other hobbyists. This will help you make an informed decision and narrow down your options.
Compare Features and Pricing
As you explore your options, compare the features and prices of different RC transmitter and receiver pairs. Look for essential features such as telemetry, programmable mixes, and dual rates.
Keep your budget in mind, but don't sacrifice quality for a lower price. Remember that a reliable, high-quality transmitter and receiver are crucial for a successful RC experience.
Choose a Compatible Pair
When selecting an RC transmitter and receiver, make sure they are compatible. Most brands use specific communication protocols, like DSMX for Spektrum or ACCST for FrSky. To ensure a strong connection, choose a transmitter and receiver that use the same protocol.
Additionally, double-check that your chosen transmitter can support the number of channels needed for your model.
Consider Future Expansion
Before making your final decision, consider any future plans to expand your RC collection. Selecting a transmitter with more channels and features than you currently need might save you from having to buy another one later.
Investing in a versatile transmitter now can provide room for growth and save you time and money in the long run.
Test Before Committing
If possible, test the RC transmitter and receiver pair before making a purchase. Visit a local hobby store or connect with fellow hobbyists to try out different options. Testing the equipment will help you determine whether it meets your needs and preferences in terms of ergonomics and functionality.
How To Bind RC Transmitter And Receiver: A Step-By-Step Guide
By following this step-by-step guide, you can easily bind your RC transmitter and receiver, ensuring a reliable connection and a smooth RC experience:
Power Off Your Transmitter and Receiver
Before you begin the binding process, make sure both your RC transmitter and receiver are powered off. This is essential for establishing a secure connection between the two devices.
Insert the Binding Plug
Locate the bind port on your receiver, which is typically labeled "BIND" or "BND." Insert the binding plug, which should have come with your receiver, into this port. The binding plug acts as a jumper, enabling the binding mode on the receiver.
Power On the Receiver
With the binding plug inserted, power on your receiver. Most receivers have a dedicated power source, such as an external battery or an Electronic Speed Controller (ESC) with a Battery Eliminator Circuit (BEC).
When the receiver is powered on, you should see a rapidly blinking LED light, indicating that it is in binding mode.
Activate Binding Mode on the Transmitter
Now, power on your transmitter while holding down the bind button or switch. The location of the bind button varies between different transmitters, so consult your manual if you're unsure. Some transmitters might also require navigating through a menu to activate the binding mode.
Establish a Connection
Once both devices are in binding mode, they should automatically establish a connection. The receiver's LED light will change from rapidly blinking to a solid color, usually green or red, signaling that the binding process is complete.
If the light does not change, double-check that your transmitter and receiver are using the same communication protocol and try the process again.
Power Off and Remove the Binding Plug
After the binding process is complete, power off both the transmitter and receiver. Remove the binding plug from the receiver's bind port, and store it in a safe place for future use.
Test the Connection
Power on both the transmitter and receiver again to ensure they are connected properly. Test the controls to verify that the transmitter is communicating with the receiver and controlling your RC model as expected. If everything works as it should, you have successfully bound your RC transmitter and receiver.
Powering Up Your RC Transmitter: Tips for Optimal Performance
By following these tips, you can power up your RC transmitter for optimal performance and ensure a smooth, enjoyable experience:
Choose the Right Batteries
Selecting the correct batteries for your RC transmitter is crucial for optimal performance. Check your transmitter's manual to determine the recommended battery type, such as AA or rechargeable LiPo batteries. Always use high-quality batteries from reputable brands to ensure consistent power delivery and prevent damage to your transmitter.
Monitor Battery Levels
Keep an eye on your transmitter's battery level, as low battery power can lead to reduced range and signal strength.
Most transmitters feature a battery level indicator on their display, so check this regularly to avoid any unexpected power loss during operation. Replace or recharge your batteries as needed to maintain peak performance.
Store Batteries Properly
Proper battery storage is essential to prolong their lifespan and maintain their performance. Remove batteries from the transmitter when not in use for extended periods.
Store batteries in a cool, dry place, away from direct sunlight or heat sources. Additionally, avoid mixing old and new batteries or different battery types, as this can cause imbalances and reduce overall performance.
Update Firmware Regularly
Keep your RC transmitter up-to-date by regularly checking for firmware updates from the manufacturer. Firmware updates can improve the performance, stability, and compatibility of your transmitter. Consult your transmitter's manual or the manufacturer's website for instructions on how to update the firmware.
Perform Range Checks
Before each use, perform a range check to ensure your transmitter is functioning optimally. A range check involves testing your transmitter's signal strength at different distances from your model.
Consult your transmitter's manual for the proper procedure for conducting a range check. Performing range checks can help identify any potential issues before they become problematic during operation.
Maintain a Clean Transmitter
Keep your RC transmitter clean and free from dirt, dust, and debris. Accumulated grime can negatively impact your transmitter's performance and may even cause damage over time.
Use a soft cloth or brush to gently clean the exterior and control surfaces. Avoid using harsh chemicals or excessive water, as they can damage the electronics or other sensitive components.
Troubleshooting Common Binding Issues: Tips and Tricks
By using these tips and tricks, you can effectively troubleshoot common binding issues and establish a strong connection between your RC transmitter and receiver:
Issue 1: Transmitter and Receiver Are Not Compatible
Ensure that your transmitter and receiver are compatible by checking that they use the same communication protocol, such as DSMX, ACCST, or AFHDS. If the devices use different protocols, they will not be able to bind, and you'll need to find a compatible pair to proceed.
Issue 2: Transmitter and Receiver Are Too Close
During the binding process, place your transmitter and receiver at an appropriate distance from each other, typically around 3 feet (1 meter) apart. Being too close or too far away can cause interference or weak signals, preventing successful binding.
Issue 3: Low Battery Power
Low battery power in either the transmitter or receiver can lead to binding issues. Ensure both devices have fresh, fully charged batteries, and check the battery level indicators to confirm adequate power levels before attempting to bind.
Issue 4: Binding Plug Not Inserted Correctly
Double-check that the binding plug is correctly inserted into the receiver's bind port. If the plug is loose or not fully seated, the receiver may not enter binding mode. Ensure the binding plug is securely in place and retry the binding process.
Issue 5: Incorrect Binding Procedure
Follow the binding procedure outlined in your transmitter and receiver manuals. Holding down the bind button or navigating through the menu may vary between models, so consult the documentation to ensure you're following the correct process for your specific devices.
Issue 6: Interference from Other Devices
Electromagnetic interference from nearby electronic devices or other RC transmitters can disrupt the binding process. To minimize interference, bind your devices in a clear area away from potential sources of interference. Additionally, avoid binding multiple transmitters and receivers in close proximity simultaneously.
Issue 7: Damaged or Faulty Equipment
If you have followed all the steps correctly but are still experiencing binding issues, your transmitter or receiver may be damaged or faulty. Inspect the devices for visible damage, such as broken antennas, loose connections, or damaged ports.
If you suspect a fault, contact the manufacturer or retailer for assistance or consider replacing the problematic device.
Safely Storing and Transporting Your RC Transmitter and Receiver
Properly storing and transporting your RC transmitter and receiver are crucial to maintaining their performance and longevity. Follow these guidelines to ensure your equipment stays safe and ready for use:
Remove Batteries
Before storing or transporting your transmitter, remove the batteries to prevent any accidental power-ups or battery leaks that could damage the device. Similarly, disconnect the receiver from its power source.
Use Protective Cases
Invest in a protective case specifically designed for your RC transmitter. These cases often feature foam padding or compartments to keep your transmitter secure and prevent damage during transportation. You can also store your receiver in a small, padded case or bag to protect it from potential impact or pressure.
Protect Antennas
Ensure that the transmitter and receiver antennas are safely positioned to prevent bending or breakage. For transmitters with collapsible antennas, make sure to retract them before storing or transporting. For receivers with external antennas, consider using protective tubes or sleeves to safeguard them from potential damage.
Keep Accessories Together
Store all accessories, such as the binding plug, cables, and spare parts, in a separate compartment or bag to keep them organized and easily accessible. This will prevent them from getting lost or damaged during transportation.
Avoid Extreme Temperatures and Humidity
Store and transport your RC equipment in a temperature-controlled environment, avoiding extreme heat or cold. Exposure to harsh temperatures can negatively impact the performance and lifespan of electronic components.
Additionally, avoid storing your transmitter and receiver in humid or damp environments, as moisture can lead to corrosion or damage to internal components.
Handle with Care
When transporting your RC equipment, handle it with care to prevent accidental drops or impacts. Ensure that your devices are well-secured in your vehicle, and avoid stacking heavy items on top of your transmitter or receiver case.
Keep Away from Magnetic or Radio Interference
Store and transport your transmitter and receiver away from strong magnetic fields or devices that emit radio frequency interference, such as power transformers, Wi-Fi routers, or other RC equipment. Exposure to such interference can negatively impact the performance of your transmitter and receiver.
FAQs
Do I need to bind my transmitter and receiver every time I use them?
No, binding is typically a one-time process. Once you've successfully bound your transmitter and receiver, they should remain connected until you decide to bind them to different devices.
Can I bind multiple receivers to a single transmitter?
Yes, many modern transmitters allow you to bind multiple receivers by using a model memory feature. This enables you to switch between different RC models without needing to rebind each time. However, you cannot control multiple receivers simultaneously.
Can I bind my transmitter to a receiver from a different brand?
It depends on the communication protocols used by the transmitter and receiver. Some brands use proprietary protocols, making them incompatible with other brands. However, some devices support cross-brand binding using universal protocols like PPM or S.Bus. Always check compatibility before attempting to bind devices from different brands.
Final Words
Binding your RC transmitter and receiver is a crucial step to ensure seamless communication between your devices. By following the step-by-step guide provided in this article, you'll be well on your way to mastering this essential skill.
Remember, practice makes perfect, and with the expert advice from John Doe, you'll be confidently binding your RC equipment in no time. So go ahead, enjoy the world of RC hobbies with newfound expertise and a reliable connection between your transmitter and receiver. Happy flying!