How To Build A Gas Powered RC Car From Scratch In 2023?
We may earn commission from links on this page at no extra cost to you. We only recommend products we back!
Have you ever dreamed of creating your very own gas-powered RC car from scratch?
Just imagine the satisfaction of assembling and customizing a high-performance remote-controlled car that runs on gasoline, just like the big ones!
But where do you start, and How to Build a Gas Powered RC Car from Scratch?
In this comprehensive guide, we'll walk you through the essential steps to build a gas-powered RC car from scratch.
We'll cover selecting the right components, assembling the frame and engine, and fine-tuning your creation for optimal performance.
So, buckle up and get ready to embark on this exciting journey! Discover the intricate process of building a gas powered RC car, and unlock the thrill of racing your custom-made creation.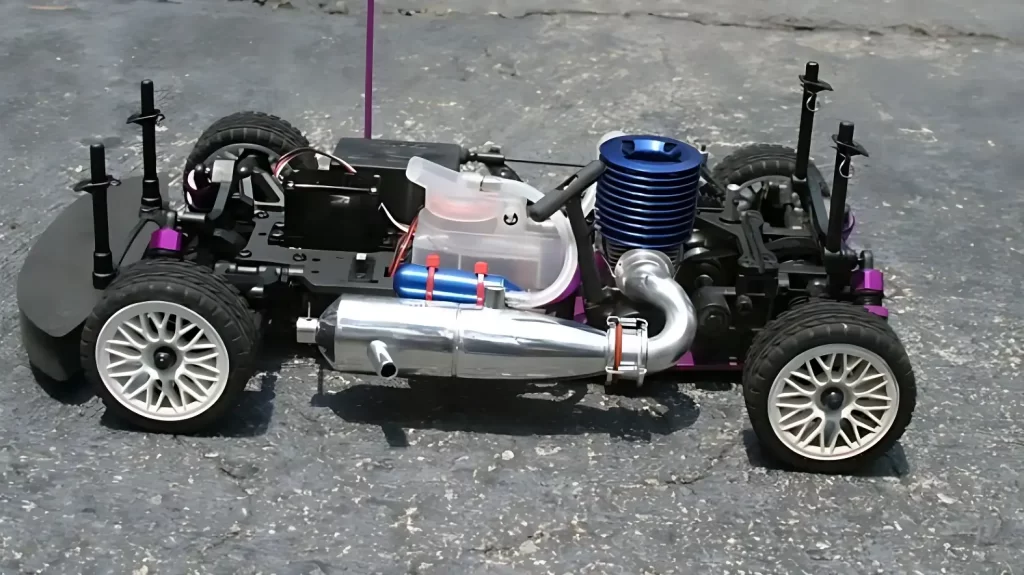 How To Build A Gas Powered RC Car From Scratch 
Follow these simple steps to make your dream come true:
Gather Your Materials and Tools
Begin by collecting all the necessary materials and tools.
A 1/5 scale RC car kit
A 2-stroke gasoline engine
A radio system
Servos
A fuel tank
An exhaust system
A battery pack
Don't forget to have a set of screwdrivers, pliers, a hobby knife, and other essential tools on hand to assemble your gas-powered RC car.
Assemble the Chassis and Suspension
First, put together the chassis as per the instructions provided in your RC car kit. Attach the suspension arms, steering components, and shock absorbers. Ensure that all parts fit securely and that the suspension moves smoothly.
Install the Engine and Exhaust System
Next, mount the 2-stroke gasoline engine to the chassis. Follow the engine manufacturer's guidelines to ensure proper alignment and positioning.
Attach the exhaust system, making sure it's securely fastened and doesn't obstruct any moving parts.
Connect the Fuel Tank and Lines
Position the fuel tank in the designated area of the chassis and connect it to the engine using fuel lines.
Ensure the lines are free of kinks and properly routed to prevent any leaks or fuel flow issues.
Attach the Electronics and Servos
Carefully mount the servos for steering and throttle control onto the chassis. Connect them to the radio receiver, following the manufacturer's instructions.
Double-check that the servos are functioning correctly before moving on to the next step.
Install the Wheels and Tires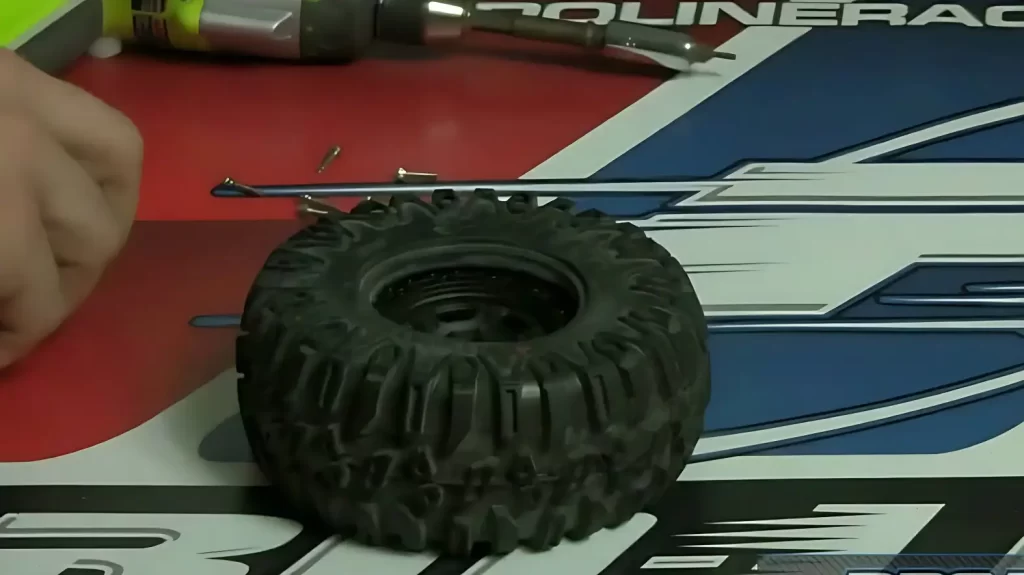 Now it's time to add the wheels and tires. Attach the wheels to the axles, and then secure the tires onto the wheels. Make sure they're properly aligned and rotate smoothly without any wobbling.
Set Up the Radio System
Pair your radio system's transmitter with the receiver installed in your RC car.
Test the functionality of the steering and throttle servos to ensure they respond accurately to your input. Fine-tune any settings as needed.
Fill Up the Fuel Tank
Pour gasoline mixed with 2-stroke oil into your fuel tank, following the engine manufacturer's recommended fuel-to-oil ratio.
Check for any leaks around the fuel tank and lines.
Start Your Engine and Hit the Track
Finally, start your gas-powered RC car engine by following the manufacturer's guidelines.
Make any necessary adjustments to the carburetor for optimal performance.
Once you're satisfied with the engine's performance, you're ready to hit the track and enjoy your newly built gas-powered RC car.
Tips for Maintaining and Tuning Your Gas Powered RC Car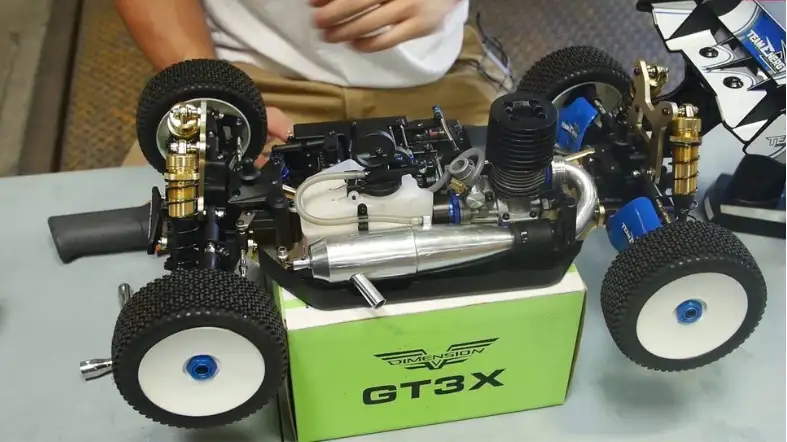 Clean the Air Filter Regularly Your gas powered RC car relies on a clean air filter to function at its best.
Make it a habit to check the filter after each use, and clean it as needed.
Gently remove the filter, wash it with warm water and mild detergent, and allow it to dry completely before reinstalling.
If the filter appears damaged, replace it immediately to prevent engine problems.
Inspect and Tighten Screws
Vibrations from running your gas powered RC car can cause screws to loosen over time.
Periodically inspect the screws on the chassis, engine, and suspension components to ensure that they remain tight.
Use a high-quality screwdriver to prevent stripping the screw heads, and tighten any loose screws you find. A drop of thread-locking compound can also help keep them in place.
Lubricate Moving Parts
Proper lubrication extends the life of your gas powered RC car's components and keeps it running smoothly.
Regularly lubricate the moving parts, such as the driveshafts, bearings, and suspension components, with a quality RC-specific lubricant.
Apply a small amount of lubricant to each part, and avoid over-lubricating, as this can attract dirt and grime.
Replace Worn Tires
To maintain optimal performance, check the tires on your gas powered RC car for wear and tear.
Worn tires can negatively impact your car's handling and traction, making it difficult to control.
Replace tires when they show signs of excessive wear or damage, and consider rotating them occasionally to ensure even wear.
Keep the Engine Tuned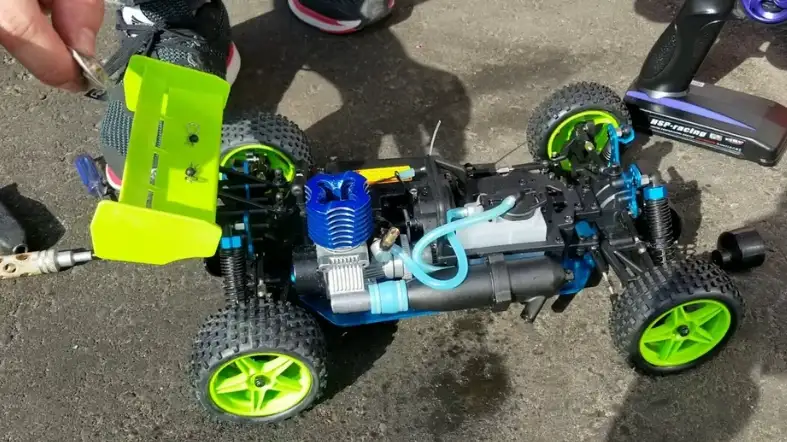 Your gas powered RC car's engine performance is critical for optimal speed and power. Routinely check the engine's tuning to ensure it's running efficiently.
Adjust the high-speed needle, low-speed needle, and idle screw as needed, following the manufacturer's recommendations.
If you're not experienced with engine tuning, seek assistance from an experienced RC enthusiast or a local hobby shop.
Charge the Receiver Battery
Even though your RC car is gas powered, it still relies on a receiver battery for its electronic components.
Regularly check the battery's charge level and recharge it when needed.
A properly charged battery ensures that your car's servos and other electronic components function reliably, preventing unexpected power loss during use.
Store Your Car Properly
When not in use, store your gas powered RC car in a clean, dry place, away from direct sunlight and extreme temperatures.
Ensure that the car is clean and free of dirt or debris before storing it, as this can prevent damage to the components.
Proper storage prolongs the life of your car and keeps it ready for the next race or bashing session.
FAQs
What Are The Main Components Needed To Build A Gas Powered RC Car From Scratch?
The main components needed to build a gas powered RC car from scratch include a chassis, engine, fuel system, exhaust system, transmission, suspension, steering mechanism, tires, wheels, radio control system, and body shell.
What Type Of Engine Should I Choose For My Gas Powered RC Car?
You should choose a two-stroke or four-stroke engine designed specifically for RC cars, with a size and power output suitable for the type of vehicle and performance you desire.
Two-stroke engines are lighter and simpler, while four-stroke engines provide more torque and are more fuel-efficient.
What Type Of Radio Control System Should I Use?
Choose a radio control system with at least 2 channels for basic throttle and steering control.
For more advanced functions like brakes or differential controls, opt for a system with more channels.
Make sure the transmitter and receiver are compatible and have a sufficient range for your intended use.
Are There Any Safety Precautions I Should Take While Operating A Gas Powered RC Car?
Always follow the manufacturer's guidelines and recommendations for safe operation.
Use caution when handling fuel, as it is flammable and can be harmful if ingested.
Wear eye and ear protection while operating your RC car, and be mindful of your surroundings to prevent accidents or injuries to others.
Final Words
Building a gas-powered RC car from scratch is an immensely rewarding and engaging endeavor that allows you to explore your creativity and technical skills.
By following our comprehensive guide and expert advice, you have successfully navigated through the complexities of selecting components, assembling the chassis, and optimizing your engine for peak performance.
Now, with your custom-built RC car, you can confidently race alongside other enthusiasts and experience the unparalleled thrill of mastering your creation on the track.