4 Easy Steps To Make 12v Power Wheels Faster In 2022
We may earn commission from links on this page at no extra cost to you. We only recommend products we back!
Today I will show you how to make 12v power wheels faster. Following this inexpensive and fast way, you will be able to boost your power wheel speed up to 50%. But be informed that it may be hard on gearboxes and motors. To make this happen you will need some simple hand tools with a fuse holder and a pair of batteries.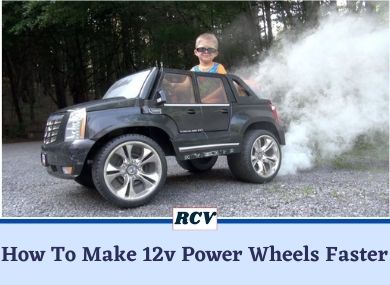 Besides, you will need strippers and crimpers. At the same time mini pliers, soldering iron and mini screwdriver set will help you to open lots of potential mods. Multimeters also play a vital role in troubleshooting. On the other hand, you will need one 12v battery and one 6v battery with the same Ah(amp-hour) rating to confirm even discharge.
Usually, Ah is reveals capacity, so higher Ah batteries will ensure BPRO drives longer. It will be better if you upgrade stock brand batteries to aftermarket SLA. The reason is Stock power wheels batteries come with sensitive internal thermal fuses and they can stop the vehicle randomly.
Don't forget about a few crimp connectors and fuse/fuse holders. It will play a crucial role if you don't want to set your kid on fire.
How To Make 12v Power Wheels Faster? 4 Easy Steps
Step 1: Wire the Batteries in Series
You can wire batteries in series or parallel. Usually series combine their voltage, to increase speed. On the other hand, parallel combines Ah, to lengthen run time. This mod is the main configuration that boosts the speed of the 12v power wheel and makes it faster.
Then connect the batteries from 12v positive to 6v negative. Similarly, you have to connect 6v positive and 12v negative to the factory wiring. Then add a fuse holder on the positive side, either right after the batteries or between the two batteries.
Besides, you can make terminal connections with various terminal fittings and crimping tools.
Here you will have jumper wire between a female spade terminal on one end and batteries with a ring terminal on the other. Then use bullet connectors on the car connections.
The last 1/4″ of cable is exposed bare, the fitting is slid over the bare cable and the crimper crushes the fitting onto the cable. This makes a mechanical joint that is extra resistant to vibration and drive than a solder joint. Accurately what we want for a connection on a toddler's toy that will be active all over the backyard.
Step 2: Trim to Fit the Batteries
If your two batteries didn't fit perfectly underneath the Jeeps hood you can check them in a variety of positions. Even it doesn't fit they can mark the body and cut it out with multitool.
Step 3: Fit and Wire Batteries
In this part, you have to set the batteries into the recent cut cavity. Ensure that they have strongly fit in the place. Besides, you can add a hold-down strap of the near sort. But you have to make sure that the connection doesn't come apart.
Then bent them to the shop wiring and linked leads for charging via your transmitter. After pressing the device to confirm everything is working, it's time to go.
Step 4: Add Heatsinks
However, it's optional, but adding heatsinks to the motor will help you to prevent burning. Especially they are very cheap and add a great advantage.
How To Modify Power Wheels To Ride Better And Go Faster?
The power wheel is a good vehicle to enjoy the ride, but it will be better if you add more speed. In this section, we will show you how to make them speedy. So, let's start.
Install a New Motor
First of all, open the motor and upside down the car. After taking out the wheel, open up the motor using a screwdriver and shake it until it comes loose.
Ensure that your power wheel supports the motor. Then take the brushless motor from the second car and wipe it with a rag to remove dirt.
Let's set a solder-free spade connector on the brushless motor pin. If you can't remove it, then get a new one from the local hardware store.
Put the brushless motor again in the Power Wheels. push the motor so that the shade can go first. Attach the hardware in a position to prevent moving the battery. It may take a bit of twisting and turning so be patient.
Then connect the wire to the brushless motor. Get rid of the wires from the motor. using the same connectors let's Connect them to the new motor. Even you are allowed to replace the battery if you wish.
Finally, thread back the wheels and check it. If the remote and motor match well, you won't face any trouble driving the ride on an electric car. As it will get enough speed, check it in a smooth area.
Install a Battery
Firstly, choose the battery that will be suitable for your Power Wheels. in this case you can check the user manual to know which battery to get. However, a range of Power Wheels batteries is available in the market but they are expensive as well. So, it will be better if you go for aftermarket batteries
A Flathead screwdriver will help you to remove the top side of the battery. Then pull off the top using a screwdriver and take the edges off. While removing the top part, ensure that it doesn't get damaged. As it will need to hook up your new battery so make Steer clear of the black connector inside the battery. Be aware, if it gets hurt, you will have to replace it.
Then take off the connector from the battery. It may shape a bit and then come out. Try to take out some positive and negative wire if possible. Then pin them as close to the battery as you can.
To ensure a crisp and clean-cut, you can use a wire cutter. Then Dispose of batteries correctly.
After that, you have to hook up the positive side's battery connector. To get better performance you should use a 3-amp fuse in a fuse box.  Then band a centimeter of wire cover from every side. set the visible wire in a wire connector and Crimp the connector.
Remember, the positive connector will be white or red. After crimping the connector, set one of the wire fuse wires to the other side's battery connectors. to attach the fuse onto the connector lets Crimp down.
You have to cover properly all the exposed wires. After doing this, set a protected female spade on the connector's negative wire. Again, properly Cover the exposed fuse wire. In this case, go to the hardware store with your battery to get a suitable spade connector for it.
Joint the connector with your replacement battery. You have to Hook up the connector's negative wire on to the replacement battery's negative terminal. Conversely, connect the positive wire onto the positive terminal.
Finally, everything is done. Now you are ready to set your Power Wheels upright and check it out.
Some Tips and Warnings
Don't use old batteries.
Every 12v rechargeable batteries have a limited number of charges and discharges.
Lastly, ensure your RC has the latest batteries before testing those Power Wheels.
Conclusion
That's all about our "How To Make 12v Power Wheels Faster" guide. Eventually, power wheels are an amazing toy to ride on. But upgrading them with higher speed and power will allow them to fly. Following the guide, you will be able to make your dream come true.
So, whether you want to install a new motor or battery, you will get nothing but a serious speed.