How To Program A Remote Control To A RC Car?
We may earn commission from links on this page at no extra cost to you. We only recommend products we back!
Upgrading a remote controller with multi-devices will surely take you a step ahead of challenges, but how to program a remote control to an RC car can be a tricky task.
You have to concentrate on several important matters before starting the process.
That's why we come out with this complete guide so you can successfully make the change and enjoys a new experience. So let's dig into it.
How To Program A Remote Control To An RC Car?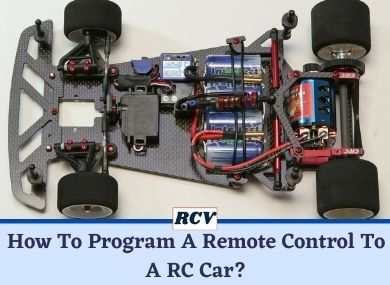 Generally, programmable RC transmitters for RC vehicles allow a user to control several cars by using a single remote.
If you program the frequency of an RC car into the RC transmitter you will discover that you have to reprogram it afterward.
However, the reprogramming process of an RC transmitter is the same for all the models and makes. It also allows you to do it very easily within a few minutes.
First of all, you have installed the transmitter software that includes the RC transmitter into your computer.
Then you have to connect the transmitter cord to the computer's USB port.
After that connect the other end of the cord to the transmitter.
If the work is done, power on the RC transmitter.
Let's open the remote control transmitter software.
Then go to the file option and pick your transmitter from the devices list and import. The process will direct the current programming of the RC transmitter onto your computer. Now you can delete the frequencies programmed that you don't want to use.
Then type the frequencies that you want to program into your remote control transmitter. Let's go to file and save the changes that you have made to your RC transmitter's programming.
How To Change The Frequency On Remote Control Car?
Considering the style of RC car and remote there is some option that allows you to change the process. Usually, all the inexpensive RC cars come with the same frequency.
However, some inexpensive RC cars offer several frequencies to choose from. This type of RC car is designed with a 27 MHz frequency. Let's choose two different processes.
Changing a removable crystal on the remote controller from cheap remotes is the old way to change frequency.
You can still try this process but it will be a bit costly. Besides, make sure the removable crystal mount is properly matched with the crystal mounted on the remote control car receiver.
The other and latest way to change it is a radio frequency remote control that allows you to pair with the receiver.
You may have to pay an extra cost for 2 sets of these styles of RC cars that can run these systems. But still, it's a better system and also includes replaceable parts for the RC cars when they break.
It Is Allowed To Use A Different Remote For RC Cars?
In short, you can but here is a condition. If your RC car and the remote controller include the same frequencies, then you can control your car with a different remote.
Can I program my own remote?
It depends on the model and the age of your RC car. You can program a replacement yourself by button pushes on the fob and a series of key turns in the ignition.
So check the product manual for instruction and the guide we mentioned above will help you to do so.
Does it allow binding any transmitter to any receiver?
Yes, you are allowed to bind a transmitter with any receiver. But before ensure that you have a changing antenna to transmit. An antenna is necessary as it will make the change automatically for you. Otherwise, transmitter power may destroy your receiver.
Final words
Programming a remote control car will boost your crawling experience. It will allow you to control several RC cars with the same remote control. How to program a remote control to an RC car is such a process that makes it happen.
Hope now you have confidence enough to start the process. Finally, read the user manual instruction if there has a specific requirement. Let's upgrade your remote controller with a multi RC car and enjoy your changing mood.