What Are The RC Scale Sizes? Ultimate Guide For 2023
We may earn commission from links on this page at no extra cost to you. We only recommend products we back!
RC or radio-controlled cars are the most famous toy among all the generations for decades. These are usually miniature vehicles that come in the form of full-size automobiles.
They are made in different scale sizes. So, the RC scale size means is giving you complete information based on scale as you are going to buy for the first time.
As a result, you can make an informed decision from a range of stylish options. Let's begin!
RC Scale Sizes Definition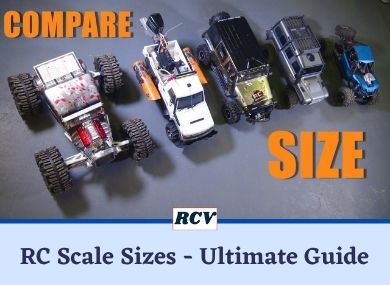 RC car scale varies the meaning of a radio-controlled short car's model that you can compare with your full-size version vehicles. Besides, it's a way to express your inner hobbies and feelings through toys.
For example, if you are a racing lover you can get a radio-controlled car model like Ferrari or a Jaguar race car. An A1:10 Indy Formula 1 RC car is ten times minor than the real car on the race track.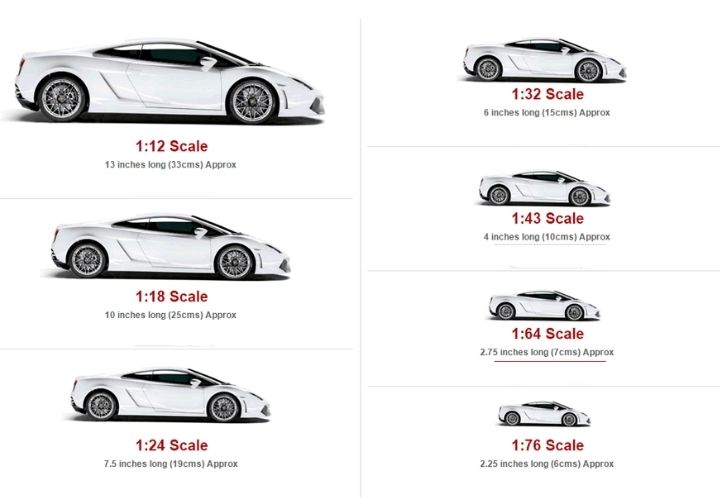 The main intent behind the scale sizes is to shape your mind picture on how small or big the RC car is. That's the way a 1:43 scale model car gets 3.5 to 5 inches in length.
Similarly, A 1:24 and 1:12 models are available about 5 to 8 inches and 14 to 16 inches correspondingly.
In short, the lower the ratio, the smaller the size, between the car's actual version and the RC automobile.
It means you should pick a higher ratio like 1:43 if you want to buy a smaller RC car. Conversely, if you want a bigger one, you should go for a lower ratio like 1:2.
Different Scales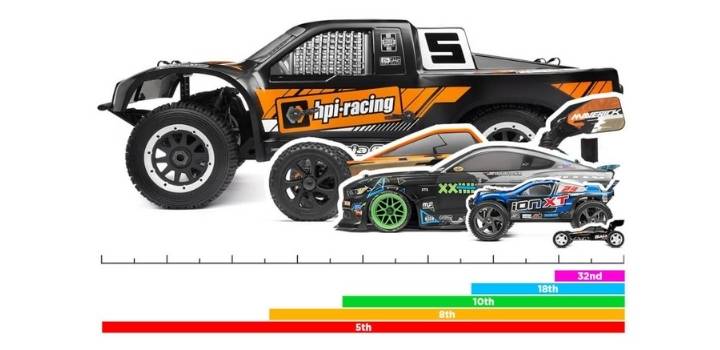 As we discussed above, hopefully, you have got an idea of scale size. But when it comes to the different scale sizes you will discover a range of numbers including, 1:6, 1:8, 1:10, and 1:12. Among them, the most regular size or scale of an RC car is a 1:8 scale.
Besides, you will find much smaller scales if you want small-RCs. 1:28 and 1:64 are the most typical of them. Remember that as the scale of an RC is comparative to its full-size vehicle, there will be vastly different in size at the same scale vehicle.
For example, a 1:8 Army tank is much bigger than 1:8 scale sports cars. The reason behind it is a full-size tank is much bigger than a full-size sports car.
At the same time, "scale RC,", "scale model," or "large-scale RC" explain an RC vehicle that is not only an authentic, paint job, realistic replica in body styling, and performance but a scaled-down version of another vehicle in size.
How big is a 1/8 scale RC car size?
1:18 scale RC car comes in a bigger but bearable size if you compare with another scale size. Though other bigger scale is also available, this model is well accepted between the RC fan who wants a bit large size.
These scale cars body is available in a few different types. Among them, prototype bodies and GT bodies are the most extreme and durable. The average 1/8 scale On-Road car is 270mm wide and a wheelbase is 295mm. Besides they are made with 0, 5mm-1,5mm thick bodies.
1/8 scale monster truck size and weight
1:8 scale monster trucks are famous for extreme conditions like Rock Mountain. As a 1:8 scale, the Redcat Racing monster truck offers a large wheel in front and a small wheel in the back as it suitable for a muddy surface.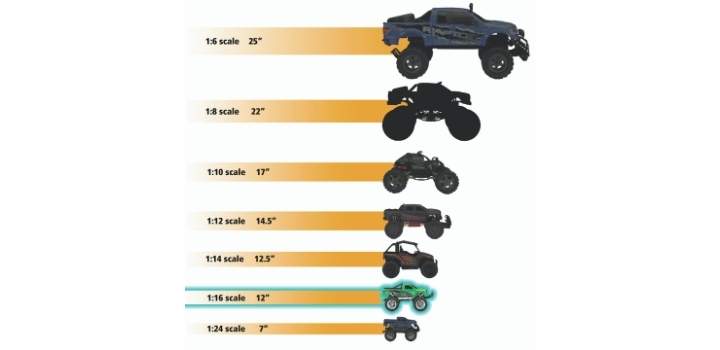 Seize and weight
The Redcat Racing monster truck comes in 20 x 15 x 10 inches in size and 10.93 pounds in weight.
1/8 scale buggy size and weight
With stronger chassis and more clearance for stones, 1/8 scale buggy is great for rock climbing. With 30 mph speed and waterproof features, they get special attention for outdoor fun.
As 1:8 scale ARRMA 1/8 RC Speed Buggy available in 20.12 x 12.05 x 7.68 inches and 10.78 pounds
1/8 scale RC stunt truck size and weight
If you are a stunt lover and want to get its experience through an RC scale crawler in a bigger size, then a 1/8 scale stunt truck is for you. These are so tough and powerful with their design that can stunt almost anywhere in any condition.
ARRMA Stunt Truck RTR comes in L x 21.26″ (540mm), W x 18.15″ (461mm), H x 9.06″ (230mm) and Wheelbase is 12.91″ (328mm). Besides, its weight is 17.6 pounds.
Additionally, you will find several types of 1/8 scale RC cars in the market including, Tamiya RC, landslide xte, jeep wrangler. They are also great for different purposes according to their name tag.
What is the best 1/8 scale RC car in the market?
How big is a 1/10 scale RC car size?
As a beginner, you should know the 1/10 scale size car is the most famous scale among the RC lover. As it varies the average RC size, you will feel both realistic and toy fun.
The average size of a 1/10 RC car is –
448-549 mm L x 196-367 mm W x 106-232 mm H in mm
17.5-21.6″ L x 7.8-14.4″ x 4.2-9.1″ in inches
Weight: 1.45-5.1 kg or 3.2-11.2 lbs.
1:10 Scale Short Course car Size and Weight
As a popular option, nearly all the major brands offer one or more short course truck. For example, Traxxas has a huge number in the 1/10 category
Let's see the size of the most popular 1/10 Scale Short course truck
   Size in mm
568 mm x 296 mm x 214 mm x 335 mm
Size in inches
22.36″ x 11.65″ x 8.4″ x 13.2″
It also gets 2.44 kg or 5.37 lbs weight with a 2S 5000 mAh LiPo battery and 2.16 kg or 4.76 lbs weight without batteries
1:10 Scale Monster Truck Size and Weight
A monster truck is great for the muddy and rocky surface. They can do a great job with their wheel and tires.
Let's see the size and weight of 1/10 Scale Monster truck
   Size in mm
549 mm x 367 mm x 232 mm x 329 mm
  Size in inches
21.6″ x 14.5″ x 9.12″ x 12.96″
This truck is 4.86kg or 10.71 lbs weight with a 4S 5000 mAh LiPo battery And 4.4 kg or 9.7 lbs weight without batteries
1:10 Scale Buggy Size and Weight
Buggy is great for off-road. They also offer high speed. This model is brilliant for clay or dirt track and you should avoid tall grass as the ground clearance is low.
The average size and weight is:
 Size in mm
413 mm x 250 mm x 178 mm x 286 mm
 Size in inches
16.25″ x 9.84″ x 7″ x 11.25″
Following the Traxxas Bandit, these are 1.64kg or 3.61 lbs weight with a 2S 5000 mAh LiPo battery and 1.36kg or 3 lbs in weight without batteries
Except for these models, you will find the RC Stadium Truck model in a 1:10 scale. It is also brilliant like its name tag.
What is the best 1/10 scale RC car
How big is 1/12 scale RC car
As we mention above the bigger the scale, the smaller the size. Therefore 1:12 model RC cars come in approximately 5 to 8 inches. They are popular for high speed as they offer up to 50 km/h. At the same time, this remote-control RC delivers hours of action with the racing ability of all kinds of extreme terrain.
Let me inform you these 1/12 scale car is available in a range of versions including, trail king, RC monster truck kit, buggy, bulldozer, and jeep wrangler. Some of the types explain below
1/12 scale trail king-size and weight
With strong chassis construction and excellent climbing performance, these 1/12 scale trail kings are perfect for all-terrain. Among several brands, HAIBOXING is one of the popular brands that offer perfect size and weight for both kids and adults. This model comes in 15.35 x 9.96 x 6.1 inches and 3.3 pounds in weight.
1/12 scale bulldozer size and weight
This 1/12 scale RC bulldozer will boost your kid's skill in construction. With affordable prices and ultra-modern technology, it's a great opportunity to teach kids through play. Kyosho brand offers a great 1/12 scale bulldozer with L x 365 mm, W x 320 mm, and H x 220 mm in size.
1/12 monster truck size and weight
Though 1/12 scale but a monster truck come in a bigger size. With large design and decent speed, a 1/12 scale monster truck is ready to offer you extreme driving fun. Among a range of brand BEZGAR is a reputed one that offers long-lasting fun in all the weather. This model comes with 12.6 x 5 x 8.9 inches in size and 2.2 pounds weight.
1/12 scale buggy size and weight
If you are an RC buggy lover then you should consider this scale. With the ideal size and high-speed performance, it will make your day. As it offers up to 50KM/H speed you will get extra attraction on the racing track. WLtoys RC Cars are the most famous brand among the 1/12 scale buggy that comes in 16.54 x 9.65 x 7.09 inches in size and 6.56 pounds weight.
What is the best 1/12 scale RC car?
Tecesy 1/12 Scale 4WD Off-Road RC Car
Hosim Large Size 1:12 Scale Electronic Monster Truck
WLtoys RC Cars 1/12 Scale All-Terrain Off-Road Rock Crawler
How big is 1/14 scale RC car
1/14 scale car comes in 11-13 inches length with lightweight weight. With a range of options, there has the opportunity to choose according to the style including claiming, high speed, of road, and on-road performance. Lots of brands are also available who offer extreme quality RC cars at a decent price. Especially, a range of a modern stylish car is available in 1/14 scale. Among them, the most popular are Lamborghini, ford, and Bugatti.
1/14 scale construction vehicle size and weight
As a construction lover, you will find the most stylish remote control excavator both for you and your kids on this scale. These are fully functional and long-distance controller that comes to offer you real fun. With metal shovel and light sounds, these are 24 x 13.8 x 9.6 inches and 9.15 pounds weight.
1/14 scale Ferrari size and weight
Almost every brand has some stock of 1/14 scale Ferrari. Because of the decent size, these models are very popular among the RC fan with their realistic look. So if you are a Ferrari fan you must be considered 1/14 scale RC car. As a famous brand, RASTAR RC made a 1/14 scale Ferrari with 13.3 x 5.9 x 3.3 inch in size and 2.76 pounds weight.
1/14 Scale Lamborghini size and weight
If you are a Lamborghinis fan, you have to be happy with the 1/14 scale. Because of a medium-size car, a 1/14 scale makes it even batter stylish as an RC car toy. With high-performing design and realistic features, you will feel a real driving experience. Similar to the Ferrari, the RASTAR brand is also known for producing the world's best RC Lamborghini car. They design the car with 12.76 x 6.5 x 3.54 inches in size and 2.56 pounds weight.
1/14 scale buggy size and weight
As a buggy lover, you may consider a 1/14 scale. Though it will be small in size still it will provide great outdoor fun. With a high-torque and extremely powerful brushless motor, you won't feel the unsatisfied adventure. However, too many brands are not available for this model but Team Associated is a pretty good brand for this model. They offer 1/14 scale buggy 12.88 x 16.88 x 5.5 inches in size and 3.72 pounds in weight.
What is the best 1/14 scale RC car?
MDGZY 1/14 Scale RTR High-Speed Racing Monster
BeeBean Climbing Monster Truck with Wearable Watch Controller
RASTAR 1/14 Scale Ferrari RC Car
How big is a 1/16 scale RC car
The biggest size is the 1/16 scale offer is 14 inches. You can still enjoy the fun of wheel-to-wheel Slash 4X4 racing with this mid-level scale. Especially, in this area, you will find 550 power largest motor within a mini model. 1/16 scale RC car comes with almost half the size of the 1/10-scale. At the same time, you can enjoy up to 40mph which is considered as decent speed for a beginner,
1/16 monster car size and weight
Monster car in this scale comes with full of features. Being is short with high powerful motor they made the rock crawling so much easy even for kids. 1/16 scale monster car also offers a quality car with long-lasting fun. But it will be difficult for you to choose the best one while so many brands offer 1/16 scale monster car. Jaydear is one of them who offer 11.1 x 7.6 x 6.3 inches and 1.95 pounds monster truck.
1/16 brushless car size and weight
You will find a unique design Brussels car in 1/16 scale. The scale makes it even batter with the perfect size. If you want something with a waterproof RC truck, brushless motor, and a long-distance car we recommend you to go with this 1/16 scale. Blomiky brand will make your job easy as it offers 11.61 x 9.25 x 3.94 inches and 2 pounds Brushless truck.
1/16 RC truck size and weight
A high speed 1/16 RC truck will be a surprising gift for kids. These RC trucks offer you to run up to 40kmh with up to 25min nonstop fun. As an adult, you can also enjoy with this real-looking all-terrain off-road RC truck. PHYWESS RC Cars offer 11.65 x 10.2 x 7.44 inches and 3.31 pounds 1/16 RC truck.
Except for these types, you will find nitro RC truck, hosim RC, and deerc RC car in the 1/16 scale section. These all suggest different types of models and styles.
What is the best 1/16 scale RC car?
VATOS Spirit Brushless Shockproof Waterproof RTR Hobby Cars
NUOKE RC Car Remote Control Truck
Cradream Remote Control Car
How big is a 1/18 scale RC car
1/18 scale is the last considerable size as a toy for outdoor fun. However so many options still available but they will be too small to go for crawling. On the other hand, it's a pocket-size scale that allows you to enjoy in office, home, or garage. These RC cars can run up to 36+ KM/H speeds which can be easily handled by kids or beginner. The average size is available in the market is 11 inches x 5 inches x 4 inches.
1/18 scale monster car size and weight
Though short in the size you will find 1/16 scale car with an extra-large wheel. With decent speed, you won't feel any problem with the small size. Lots of brands offer 1/18 scale off-road, waterproof, and high-speed monster car. There is not much difference in size and weight, even price is also close to each other.
1/18 scale ambulance size and weight
Almost all scales offer some unique models that suit perfectly with the size. 1/18 scale ambulance one of them. The scale fits this model so right that you can't avoid it. The best part is it will make your kids familiar with emergency help and will aware of health. As a result, he will get learn through play. Not all the brands offer 1/18 scale ambulance but you can get a quality one from Auto World Store. They offer 16 x 5 x 5 inches and 3.74 pounds RC ambulance.
1/18 RC racing car size and weight
1/18 scale offers a lot of RC racing car keeping in small. You can easily find a 30+ kmh high-speed racing car to challenge the limit as lots of brands previously available. Some of these offer up to 30+ min nonstop play as well. Even you will get nigh crawling opportunities while some have LED front light. As a 1/18 scale RC car producer EP EXERCISE N PLAY brand offer 11.81 x 7.87 x 7.87 inches and 2.7 Pounds RC racing car.
1/18 scale buggy size and weight
Most of the RC car lover loves to play with a buggy. That's why the manufacturer made this model in almost every scale. It's mean if you are a buggy lover and want something in a small size you will get it. Though they come in small size its design and stylish look feel you real buggy. For example, the HAIBOXING brand made a 1/18 scale buggy with exclusive design and realistic metal. They also offer it within 10.1 x 8.7 x 5.9 inches and 0.024 ounces
What is the best 1/18 scale RC CAR?
DEERC Brushless All Terrain off Road Truck
GoolRC WLtoys Electric RTR Monster Truck
DEERC Off-Road Monster Trucks
What's bigger 1/10 or 1/16 scale
Before getting the answer you have to consider some facts. The question varies with a different meaning in a different place. For example, if you just consider the scale the answer will be 1/10. According to the ratio, the bigger the scale, the smaller the size. So 1/16 is smaller than the 1/10 scales. But if you are in the crawling world and want to know which RC scale is bigger? Is it 1/10 or 1/16, then you have to consider the vehicle for you want to know? For example, a 1/10 scale excavator is much larger than a 1/10 scale RC car.
So it depends on the actual size of the car. In short, if the real car gets bigger size, the RC car will be bigger than the same scale competitor. Conversely, if you consider a real small size vehicle, the RC crawl will also be small that the same scale RC car. But note that, they won't be of low quality at all. The most important thing is RC car cover all the feature in a short form that exists in a real vehicle. That's the way it offers you a real car driving experience.
RC Scale Sizes Guide – Summary
We have covered all most all RC scale sizes in this article. So hopefully you get it effective. The best thing is you will get all most every car in RC form to choose from. Even some of these come with two driving modes, LED light, front and back cage, vibrate mode, and more. In short, if you are a vehicle lover and to make your dream come true through an RC car, it's possible. Just consider which size and style you want to go for.