Traxxas Rustler 4×4 VXL Review In 2022
We may earn commission from links on this page at no extra cost to you. We only recommend products we back!
Are you an enthusiast for miniature cars? Then you surely know the iconic Traxxas Rustler 4×4 VXL.
It is one of the big bash vehicles in car history. It has been a top seller from the day it was released. In this discussion, we will notify you-
A brief review of Traxxas Rustler 4×4 VXL
Details speculation and features of the vehicle
Pros and cons
And much more!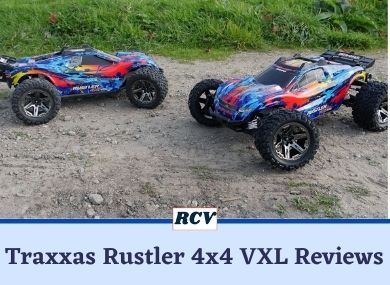 Quick Review
Image
Product
Key Features
Price
Traxxas Rustler 4×4 VXL
● 4wd electric car.
● Velineon 3500 motor.
● Traxxas Talon tires.
● Brushless power system.
● Weight 5.12 Ibs.
● Can do backflips over ramps.
Check Price
Traxxas Rustler 4×4 VXL Reviews
Yours crave for ultimate user experience, and superior quality will be over with Traxxas Rustler's help. But before buying his beast of the road, let's lookout for some important factors. How well is this new design 4×4 hold up? How easy to drive this vehicle? Is it the iconic bash in the car history? In this review, you will find out all these answers.
Size
Traxxas Rustler is an RTR kit with 4wd model. Besides, the vehicle is equivalent to the big version with a scale of 1/10. The car has a length of 18.78 inches and a width of 12.94 inches. The car weighs approximately 5.12 Ibs. Besides, the wheelbase of the vehicle has a size of 11.62 inches.
Body Specification
This Rustler is detailed with attractive body features. The overall look and the structure make it a top-notch collection of Traxxas. Car Collectors find it mesmerizing over any other car on their shelf. Its shaft, speed controller, gear style, clutch-type, and even batteries are unique and perform like the big size. This version can be small, but its features can shock you entirely.
The stock servo gives enough speed and the right balance in turning and jumping. Besides, its wheels and tires are fully workable and controllable. Its drive shafts are plastic sliders. Moreover, the car performs rear and front gear style. You will get a VXL-3s brushless speed controller with this waterproof plastic body vehicle.
Battery and accessibility
You will not get any battery with the package.  So, it would help if you bought some AA cell batteries to run the transmitter. The truck will need a two or 3S LiPo pack to complete its structure. A battery charger is also needed to use the car. The LiPo pack helps to serve power to start the vehicle.
For first-time users, these two batteries are going to feel a lot of speed. IF you higher the power from 2S to 3S, it feels about twice faster. The energy you will achieve is more than enough to rock the road. You can perform extreme stunts and catch a lot of airtime with a smooth landing in this power system.
The top speed you will get from this car is almost 28 mph. The runtime is 1947 mAh after a 5-minute run. Wheelie or backflip both are a piece of cake for this vehicle when it is on 3S power. This electric 4wd car comes with insane energy, and this power goes to the wheel by the rear to rear axle. This accessibility makes the truck incredible and better than its competitors.
Tires
The tires are from the Traxxas Talon series. Each tire has a size of 2.8 inches. You can run with this tire on any surface you prefer. The quality can be average, but the performance it delivers is beyond perfection. The tires last for a long time and give their best grip.
Moreover, the structure is rigid and looks almost the same as the scale. You do not have to make any modifications to the tires. It is usable right after the box.
Usability
Turning: The car's quality defines its usability. Traxxas crew introduces Rustler with great piston and oil settings as well as superior weight distribution. The vehicle can move and turn like a pro scale car. On a looser surface like sand and mud, the point does some misconduct; otherwise, it goes on point. Its apex helps it turn smoothly in the corner entry. The whole turning thing depends on how much power you let loose. A little practice will help you with turning the car into the air.
Jumping: You can experience vast and long jumps with Rustler. Also, it performs a top-notch landing from few feet. The truck has a 4wd system that helps in correcting pitch in the air. It breaks to bring the nose down and exhales gas to bring the nose up. The vehicle might have some trouble with rough surfaces, but it does a tremendous job jumping on smooth surfaces.
Bumps: Your brand new Rustler will eat up any bubbles like a monster. It drives precisely in rough sections of dirt, gravel, etc. Your Traxxas loves to go in these kinds of ugly spots. Though it provides 50 mph speed on the smooth surface, the rate does not decrease in bumpy roads.
Road driving: the Rustler was not designed for pavement use. But, it delivers a great customer experience on-road drives. The shocks of it handle every road joints and holes easily. The vehicle has a brushless power system that provides a pretty good grip on the tap. You will enjoy speed runs as well as long wheelies with this extraordinary car.
Grass: the car works well on grass too. Tires and 4wd system together do a stable job. The combination of all factors makes the car aggressive in the grass. Shorter grass will not have any impact, and taller grass almost gets chewed by this beast. The high speed and the tires make it a lot easier to ride this vehicle on the grass.
Why Should You Buy It?
Now, the question is, why Traxxas Rustler? Some specific factors will make you realize that this is the vehicle that will cheer your mind.
This product is best in the class with no time flat. You can make this work right after the box. Also, the product is quite tidy and does not need much repairing. Still, hex and wrench will be provided with the package if you face some troubles.
The car has a classic basher look. It gives you a pretty realistic feel and has great detailing on the body graphic. Its shocks might be a little backdated but do the job precisely. Additionally, you can have fun, including jumping, speed racing, and flipping with this little truck. The car comes with good steering and supreme control power.
You may be thinking about the price with these features come along. But the price is only $399 with the most fantastic deals. Any damaged part can also be replaced as the pieces are always available in the market. With this price, the power you get is beyond worth it.
Final Verdict
In summary, we have included every piece of information you need to know about Traxxas Rustler 4×4 VXL in this article. This small truck will cost you some bucks but can give you much more joy. If you are really enthusiastic about this product, then do not delay. Hope on, bring the beast home.