Traxxas Rustler 4×4 VXL Review In 2023: Unleashing the Ultimate RC Bashing Machine
We may earn commission from links on this page at no extra cost to you. We only recommend products we back!
Are you ready to elevate your RC experience with the Traxxas Rustler 4×4 VXL? What makes it a must-have for hobbyists and enthusiasts alike? We're here to give you the lowdown on this high-performance, brushless stadium truck.
In a nutshell, the Rustler 4×4 VXL boasts unparalleled speed, durability, and versatility, making it a top choice for off-road adventures. In this Rustler 4×4 VXL review, we'll dive deep into its features, performance, and potential upgrades to help you make an informed decision.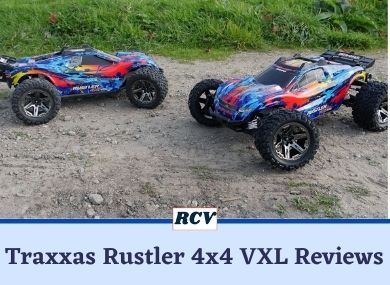 Quick Review
Image
Product
Key Features
Price
Traxxas Rustler 4×4 VXL
● 4wd electric car.
● Velineon 3500 motor.
● Traxxas Talon tires.
● Brushless power system.
● Weight 5.12 Ibs.
● Can do backflips over ramps.
Check Price
Traxxas Rustler 4×4 VXL Reviews
The Traxxas Rustler 4×4 VXL is a high-performance, ready-to-run (RTR) radio-controlled (RC) stadium truck designed to provide exhilarating off-road experiences. With its powerful Velineon brushless power system, advanced TSM (Traxxas Stability Management) technology, and rugged 4×4 drivetrain, the Rustler 4×4 VXL is capable of delivering thrilling speed, handling, and durability.
The Traxxas Rustler 4×4 VXL is an impressive RC stadium truck that offers high-speed performance, advanced technology, and rugged durability. This truck is perfect for those looking to experience off-road excitement, whether they are beginners or seasoned RC enthusiasts.
Key Features
Design and Build Quality: Engineering a Rugged RC Monster
You'll appreciate the sturdy design and top-notch build quality of the Traxxas Rustler 4×4 VXL. Its reinforced chassis, modular design, and heavy-duty materials make this RC truck a reliable choice.
The low-CG design ensures stability, while the adjustable wheelie bar helps you maintain control during high-speed runs.
Power and Performance: Experiencing the Velineon Brushless Power System
Expect thrilling power and performance from the Rustler 4×4 VXL. The Velineon brushless motor system delivers intense speed and torque, capable of reaching up to 60 mph with the right battery.
The VXL-3s electronic speed control provides smooth, precise handling, allowing you to take full advantage of the truck's capabilities.
Off-Road Capabilities: Conquering Terrain with the Rustler 4×4 VXL
Conquer off-road terrains with ease, thanks to the Rustler 4×4 VXL's versatile capabilities. The truck's high ground clearance, large tires, and advanced suspension system allow it to tackle various obstacles, from rocks to mud.
With the TSM (Traxxas Stability Management) system, you'll experience improved handling and control, ensuring your off-road adventures are both exciting and manageable.
Waterproof Electronics: All-Weather Fun and Durability
Don't worry about water, mud, or snow ruining your fun—the Rustler 4×4 VXL comes with waterproof electronics. The truck's ESC, receiver box, and steering servo all have waterproof protection, ensuring that you can enjoy your RC adventures in any weather without damaging the components.
Upgrades and Customization: Making Your Rustler 4×4 VXL Unique
Personalize your Rustler 4×4 VXL with an array of upgrades and customization options. Traxxas offers various performance parts and accessories, such as aluminum shock caps, steel CV driveshafts, and high-capacity batteries.
You can also opt for different body styles and paint schemes to make your truck truly unique. With so many options, you can tailor the Rustler 4×4 VXL to match your preferences and enhance its performance even further.
Pros and Cons: Evaluating the Traxxas Rustler 4×4 VXL Experience
The Traxxas Rustler 4×4 VXL is a popular remote-controlled (RC) stadium truck that has garnered both praise and criticism. Here are the key pros and cons of this model:
Pros
Performance: The Rustler 4×4 VXL is known for its high-speed performance and impressive power. With the Velineon brushless motor system, it can reach speeds of up to 65+ mph.
Durability: The truck is built with high-quality materials and components, making it robust and capable of withstanding rough terrain and impacts.
Handling: With its 4×4 drivetrain, the Rustler 4×4 VXL provides excellent traction and handling, allowing for precise control and maneuverability.
Waterproof Electronics: The truck is equipped with waterproof electronics, making it suitable for use in various weather conditions and allowing for easy maintenance.
TSM (Traxxas Stability Management): The Rustler 4×4 VXL features TSM, which helps maintain control during high-speed runs, cornering, and uneven surfaces.
Easy-to-Use: The truck is user-friendly, making it suitable for both beginners and experienced RC enthusiasts.
Upgradeability: The Rustler 4×4 VXL has numerous upgrade options available, allowing users to customize the truck according to their preferences and requirements.
Cons
Price: The Rustler 4×4 VXL is relatively expensive compared to other RC trucks in its category, which may be a deterrent for some buyers.
Battery and charger not included: The truck does not come with a battery and charger, requiring an additional investment.
Limited run time: Depending on the battery used, the run time may be shorter than desired, which could limit the enjoyment of extended play sessions.
Plastic parts: Although the truck is generally durable, some plastic parts are prone to breakage or wear, especially with heavy use or harsh conditions.
Unboxing the Beast: What's Included in the Package
Discover the Excitement Inside
Get ready to experience the thrill of unboxing your Traxxas Rustler 4×4 VXL. The moment you open the package, you'll find everything you need to start enjoying this high-performance radio-controlled (RC) car. To help you make the most of your Traxxas Rustler, we've compiled a list of items you'll find in the box, along with their functions.
Meet Your Fully-Assembled Rustler 4×4 VXL
As you lift the lid, you'll first lay eyes on your fully-assembled Traxxas Rustler 4×4 VXL. This beast comes ready to race, equipped with a powerful Velineon brushless motor system that delivers incredible speed and torque.
The innovative waterproof design allows you to drive through puddles and snow without worrying about damaging your RC car.
Hold the Power: The TQi 2.4GHz Radio System
You'll find the TQi 2.4GHz radio transmitter in the box, which grants you complete control over your Traxxas Rustler 4×4 VXL. The advanced technology ensures a reliable connection between the transmitter and the vehicle, even in crowded environments with multiple RC cars.
Keep Going with the Traxxas Power Cell Battery
To fuel your RC adventures, a Traxxas Power Cell 7-cell NiMH battery comes included in the package. This high-capacity battery provides extended run times and impressive power output, keeping your Rustler 4×4 VXL running at peak performance.
Charge Up with the 4-Amp DC Charger
To keep your Traxxas Power Cell battery charged and ready for action, a 4-amp DC charger is also included. The charger ensures fast and efficient charging, so you can spend less time waiting and more time enjoying your RC car.
Stay in Control: High-Torque Waterproof Servo
The high-torque waterproof servo included in the package ensures precise steering control, even in wet conditions. The servo's robust waterproof design provides reliable performance, regardless of the environment.
Secure Your Ride: The Body Clip Retainer Set
To keep your Rustler 4×4 VXL looking sharp and secure, a body clip retainer set is included. The retainer set ensures your RC car's body remains firmly in place, protecting the internal components during high-speed runs and daring jumps.
Extra Support: The Accessory Bag and Tools
Finally, an accessory bag with essential tools and spare parts is included in the package. These handy items will help you maintain and fine-tune your Traxxas Rustler 4×4 VXL for optimal performance.
FAQs
What is the top speed of the Rustler 4×4 VXL?
The Traxxas Rustler 4×4 VXL can reach speeds of up to 65+ mph with the optional high-speed gearing and a 3S LiPo battery (both sold separately). However, out-of-the-box, with the stock gearing and a 2S LiPo battery, the truck can reach speeds of around 40-45 mph.
What type of battery does the Rustler 4×4 VXL require?
The Traxxas Rustler 4×4 VXL requires a 2S or 3S LiPo battery with a Traxxas iD connector. The specific battery capacity and discharge rating will depend on your desired performance and run time. Please note that the battery and charger are not included and must be purchased separately.
How durable is the Rustler 4×4 VXL?
The Rustler 4×4 VXL is designed with durability in mind, featuring a modular composite chassis, heavy-duty driveshafts, and sealed differentials. However, like any RC vehicle, it is still susceptible to damage from severe impacts or misuse.
Can I upgrade or customize my Rustler 4×4 VXL?
Yes, the Traxxas Rustler 4×4 VXL is highly customizable, and Traxxas offers a wide range of performance and cosmetic upgrades to enhance your vehicle. Upgrades include aluminum suspension components, high-speed gear sets, different tire options, and more.
Is the Rustler 4×4 VXL waterproof?
Yes, the Rustler 4×4 VXL features waterproof electronics, including the Velineon VXL-3s ESC, the Velineon 3500 brushless motor, and the high-torque digital steering servo. This allows the truck to be driven through puddles, wet grass, and even snow without damaging the electronics.
Final Words
The Traxxas Rustler 4×4 VXL has proven itself to be an exceptional RC stadium truck, offering a thrilling combination of speed, durability, and adaptability. Whether you're a seasoned enthusiast or a newcomer to the hobby, this powerful machine is sure to impress and provide endless hours of enjoyment. As we've discussed in our review, the support from Traxxas and the availability of upgrades further enhance its appeal, making it a worthy investment for anyone passionate about RC off-roading. So go ahead and give the Rustler 4×4 VXL a try—you won't be disappointed!