How To Tell If Power Wheels Battery Is Charging?
We may earn commission from links on this page at no extra cost to you. We only recommend products we back!
So, you've bought a power wheels vehicle for your kids. It was a lot of fun to ride around this summer for them. But the problem is many do not realize that their child's power wheels are being charged. 
So, are you curious to know how to tell if the power wheel's battery is charging? If yes, then you have arrived at the right place.
How To Tell If Power Wheels Battery Is Charging?
To test a battery, a digital voltmeter is all you need. If you prefer, any other voltage meter will do the job, then you can. Besides, Keep an operational battery charger on hand as well.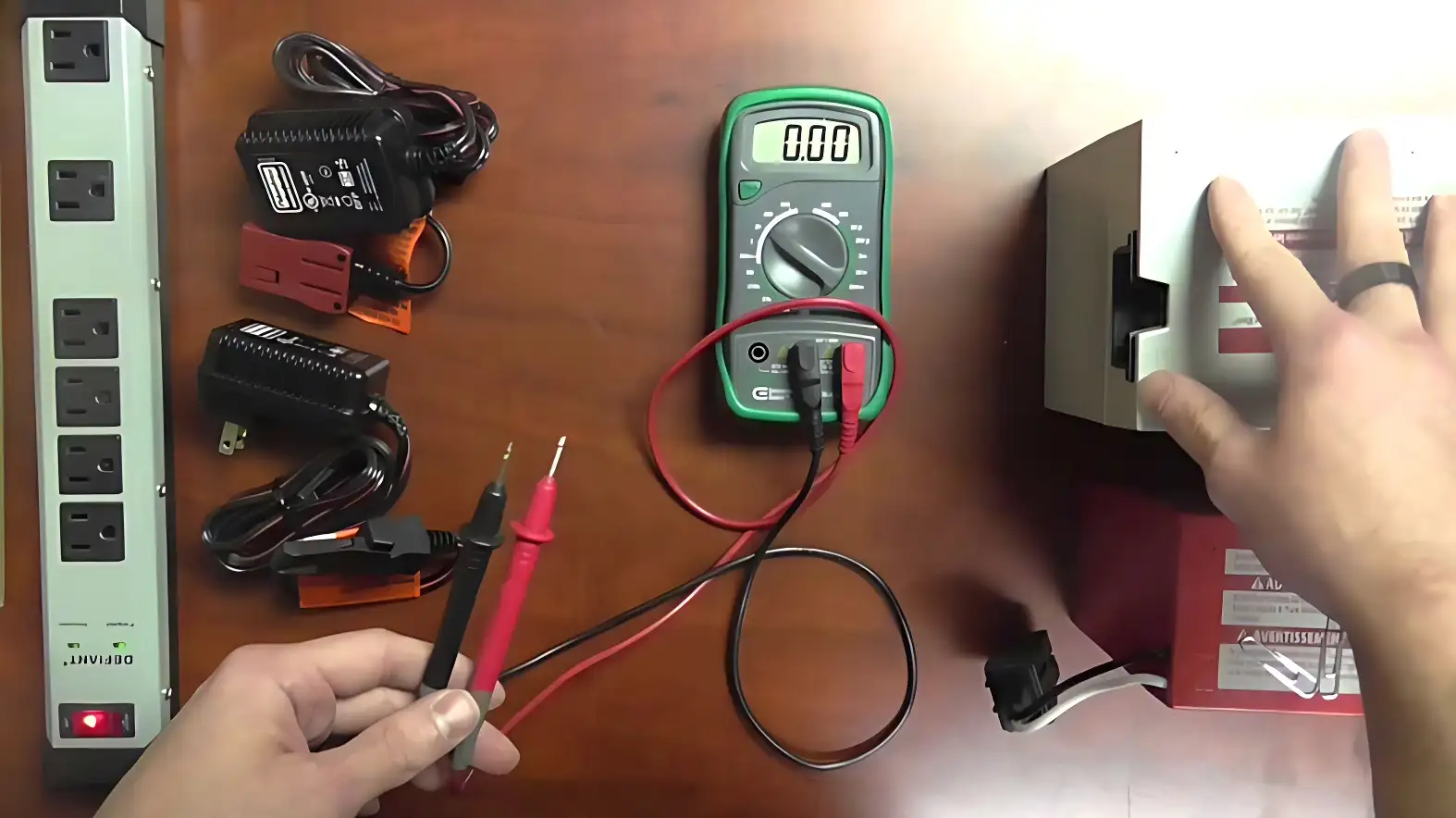 Because it will be required for your initial testing. Besides, you must charge the battery for at least half an hour before testing to verify whether it is charging or not.
Read More: How Long Does A Power Wheels Battery Last?
How to Check Power wheels Battey Charging Status
Batteries include sulfuric acid (electrolyte), which must be handled with care. Follow the below procedure to see if your power wheel car battery is charging:
Now at first, locate the positive and negative prongs of the battery to determine its voltage.
When you've decided which leads are positive and which ones are negative, then set the dial on your digital voltmeter to the voltage dc section, where a charging sign should be visible.
Utilizing a 12-volt application will ensure that the meter provides the most precise reading feasible.
The built battery status indicator on a Power Wheel battery charger confirms that the unit is functional.
When the charger is off and clamped to the battery, the solid green hue indicates that it is charging. The flashing green light informs you that the battery isn't ultimately charged but has enough power to use.
Remember that the green color indicates that the battery is ultimately charged. If the charger's red-light flashes, it might indicate a problem with the battery.
Charge the Power Wheels Battery with a Trickle Charge
If you have the correct adapter, a trickle charger may be used to recharge a Power Wheels battery. However, it's critical not to overcharge the battery.
Before connecting the Power Wheels battery to your car's battery, make sure it is at least 12.6 volts. Because most 12V batteries can be charged to a voltage of approximately 12.6 volts, they are frequently used in toy vehicles.
Keep an eye on the battery in your child's toy vehicle, as anything more than two amps might overheat and destroy it. Connect the toy car's battery wires to the vehicle's battery. Check that the positive and negative connections are connected.
Note that: Only utilize the power wheel charger that came with your automobile. Otherwise, a replacement charger with the same function will sufficiently charge your ride-on vehicle batteries.
Read More: Can You Put A Remote Control On Power Wheels?
Why It is Important to Checking Car Battery Charging Status
It is essential to check the power wheel battery charging status because if the battery is not charging, the power wheel will not work.
The power wheel battery charging status can be checked by looking at the power indicator light on the power wheel. If the light is green, the power wheel is charging. If the light is red, the power wheel is not charging.
Besides, the charging duration of a Power Wheel battery is approximately 18 hours. Knowing if it's charging or not is crucial since it will save your time and help you avoid disappointment.
We've said that a charger might be used to determine if a Power Wheel battery is being charged. However, not all chargers are capable of this. The best method is to use a voltmeter or install a battery indicator, which makes life much easier.
Therefore, knowing the charge status of a Power Wheel's battery can help you make better decisions. If the voltage of your Power Wheel's battery does not rise above 11 volts after charging for over 18 hours, it is time to replace the battery.
Read More: What Happens If You Don't Charge Power Wheels Battery For 18 Hours
How Do You Tell if Your Car Battery Voltage is Adequate?
Checking the battery voltage is essential for ensuring that the battery is fully charged. For this easy test, all you need is a voltmeter. Once you've got it in your hands, check out the battery's positive and negative prongs with the voltmeter.
Then grab a voltmeter and set it to 20 volts on the DC side of the meter. Ensure the positive probe is touching the positive prong on your battery socket. The negative probe should also be connected to the battery's negative prong.
When the two prongs are connected firmly, the reading on your voltmeter will show. A voltage measurement of 12.6 volts (or higher) is acceptable as long as the battery is 12 volts or higher.
A voltage reading of fewer than 11.8 volts, on the other hand, is considered poor, and a new battery may be essential.
Why Does a Power Wheels Battery Die?
A battery will not function if it is unused for a lengthy period, but this does not indicate that it is dead. Even if you fully charge the battery before storage, the natural discharge rate decreases and drains the battery over time. This causes the cell to be discharged entirely within a year's time.
There can be many reasons behind the death of a battery. The most common reason is that the battery is old and needs to be replaced.
Also, a faulty power wheel battery charger can kill your car battery. Another common reason is that the battery is not properly charged. If you do not charge your power wheels properly, it will slowly kill the battery.
On the other hand, battery problems can also be caused by a problem with the power wheel car wiring or a loose connection. If you notice that the battery is frequently dying, it is best to take the power wheel car to a qualified repair shop for testing.
Finally, keep in mind that power wheel batteries are designed to be used for a limited time. If the battery is being used excessively, it will eventually die. That's why try to limit the amount of time the power wheels vehicle is used each day and make sure to charge the battery regularly.
Read More: Is There A Fuse On Power Wheels?
How Long Does the Power Wheels Battery Last?
If properly cared for, a power wheel battery lasts between two and four years. In general, producers recommend that you follow these guidelines:
Charge it for the advised duration (18 hours for the first time and no more than 30 hours after that).
Under any circumstance, avoid short-circuiting the battery's terminals.
Do not fully discharge the battery before charging it. In the long run, this destroys it.
Always charge the power wheels' battery before putting the car away and at least once a month during winter or times when it isn't in use.
All you have to do is look in your owner's handbook for all of the care instructions.
Final Thoughts
We hope you have learned how to know if Power Wheels Battery is Charging. As you know, a charging battery for a Power Wheel requires only two things: a charger and a digital voltmeter.
On the other hand, a digital voltmeter displays a change in voltage, and the voltmeter is the most reliable method of determining if a Power Wheel battery is charging.